"We Are Begging for Oxygen," Say Catholic Organizations Responding to India's Second COVID-19 Wave
As India faces the worst coronavirus wave since the beginning of the pandemic, Catholic organizations plead with their government and the international community to put people's lives first.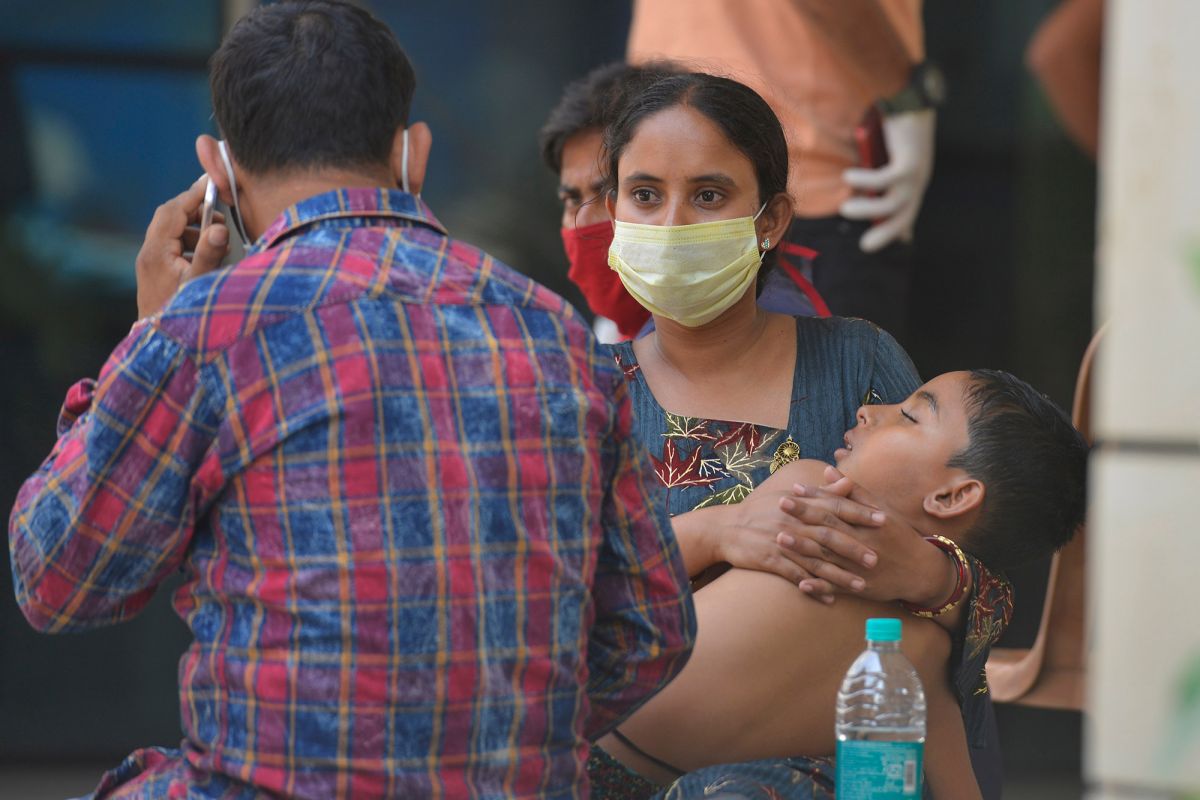 "I was admitted to the Holy Family Diocesan hospital [in New Delhi]. Around 500 people come for treatment every day. There are 385 oxygen beds and all of them are occupied. The Intensive Care Unit is full, as are the emergency services," reports Sr. Rani Punnaseril HCM, known as Sr. Kochurani. Her voice is hoarse, a lingering sign of her recent battle with COVID-19 and subsequent pneumonia.
Sr. Kochurani is the Regional Secretary to the Conference of Catholic Bishops of India (CCBI)'s Commission for Migrants in the North region, which includes the capital city of New Delhi and its surrounding area. Although she has not yet fully recovered from the disease, Sr. Kochurani is among the luckier patients. As hospitals are overflowing, many never access care.
"It is the same in the other hospitals. We do not have enough oxygen for the people. Oxygen plants are empty and oxygen cylinders and life-saving medicines are not available," Sr. Kochurani explains. "And people who are not able to reach the hospital in time are dying on the way."
Migrants are especially vulnerable to this second wave of COVID-19, which has been devastating India over the past weeks. The transmission of new, more lethal variants of the virus and the government's early reluctance to declare restrictions to prevent their spread have left hospitals overcrowded and crematoriums working overtime to dispose of bodies. On Saturday, 1 May, India recorded the world's highest single-day total of reported cases and COVID-19-related deaths of any country since the beginning of the pandemic.
Migrants are among the worst off in India's catastrophic new COVID wave
Help ICMC and its partners provide them with emergency relief
© UPI/Alamy Live News
"Migrant workers are an unorganized sector. Their subsistence depends on their day-to-day wages," explains Fr. Jaison Vadassery Joseph, National Secretary of the Catholic Bishops Conference of India (CBCI)'s Commission for Labor, which works with unorganized workers. Fr. Vadassery Joseph is also the Executive Secretary to the Commission for Migrants of the Conference of Catholic Bishops of India (CCBI) and a member of ICMC's Governing Committee.
For the most part, India's 39 million internal migrant workers are members of the country's lowest caste, poor, and illiterate. The first national COVID-19 lockdown, from 24 March to 31 Mai 2020, hit them particularly hard. Having migrated from impoverished and rural regions, they became jobless overnight. As most were unregistered in the State to which they had come to work, they had no access to social security or government assistance. Many returned to their villages, sometimes walking hundreds of kilometers as the government had shut down public transportation.
Since then, Fr. Vadassery Joseph explains, many of them have returned to New Delhi so that their children could go back to school, but their employment opportunities are extremely limited.
"The lockdown has ravaged our country," he says. "The economy is in great difficulty. Businesses are not running properly, and employers cannot pay their employees. Workers cannot pay their rent and are leaving their homes."
As hospitals are overcrowded, doctors have started providing home visits with minimal care. Sick migrants whose families have remained in their state of origin have no one to care for them. Patients who receive home visits are also expected to pay for their own medication and oxygen cylinders, something few migrant workers can afford. Both necessities are scarce and often only available on the black market for many times their regular price, says Fr. Vadassery Joseph.
The country is currently experiencing a critical shortage of oxygen reserves that has left people dying in the streets. "Right now, the need for India is oxygen. We are begging for oxygen," says Sr. Kochurani.
The representatives of both bishops' conferences also fear that vaccination campaigns will exclude migrants. Although the government has recently declared that anyone over the age of 18 is eligible to receive the vaccine, people under 45 must pay for it themselves. This makes such access practically impossible for poor migrant and refugee workers and their family members. Moreover, India's vaccination campaign is progressing at a much slower pace than anticipated, partly due to a vaccine shortage. Several states have announced that they would not yet be vaccinating people 45 and under because of these shortages.
Even if they can access the vaccine free of charge, migrant workers remain at a disadvantage, says Fr. Vadassery Joseph. "You need to register on a COVID mobile phone app. Illiterate people can't do that. This explains why the COVID vaccine is not reaching poor people, including migrants," he says.
Responding to Migrants' Needs During the Crisis
Since the first national lockdown, both India's bishops' conferences have been striving to respond to migrant workers' needs for food and shelter, in collaboration with an extensive network of other like-minded organizations.
As strict lockdowns affect many parts of the country, the bishops' actions have increasingly centered on information-sharing. Every day, their networks share information on which facilities have medical supplies and where unemployed daily wagers can access food. Much of their work takes place through WhatsApp groups. "It is an emergency. We are trying to explore what we can do together. The thing is that we have to keep ourselves a little safe," explains Fr. Vadassery Joseph, who has seen several collaborators pass away from the virus in recent days.
Migrants are among the worst off in India's catastrophic new COVID wave
Help ICMC and its partners provide them with emergency relief
© UPI/Alamy Live News
In the face of what they see as a prolonged crisis, the bishops' conferences are planning larger food donation campaigns that will run throughout the next three months. They plan to buy dry rations and distribute them to migrants as they did during the first lockdown, when nearly 10,000 people benefitted from their food assistance campaigns.
They are also working to provide additional ambulances and are researching the possibility of opening quarantine centers to welcome patients turned away by hospitals. "At this time, the doctors cannot go to each and every house," Fr. Vadassery Joseph explains, adding that quarantine centers would allow for a higher quality of treatment.
The bishops' conferences provide information about COVID-19 and the vaccine to fight misinformation among India's internal migrant population. In a country with 22 official languages and thousands of dialects, illiterate migrant workers are often excluded from official regional communications and may become the target of conspiracy theorists. Catholic organizations have created short videos in multiple languages to provide migrant workers with information on how to stay safe from the virus and care for themselves if they fall ill. Other videos provide accurate information on the vaccine.
The country's Catholic hospitals are also participating in the government's vaccination program.
For Fr. Vadassery Joseph and Sr. Kochurani, the only way to alleviate migrants' vulnerability in the long term is by allowing them to access their rights. "We would like our country to promote social security for migrant laborers so that in their time of need, their basic needs would be met. There are laws that say these people have social security, but that is only on paper," says Sr. Kochurani. "They lack any insurance, so they are languishing on the roads, under the footpaths, and under the [bridges and overpasses]. They cannot have their own home, work, or pay."