India: Bishops' Conference Helps Feed Over 50,000 Migrant Workers During Lockdown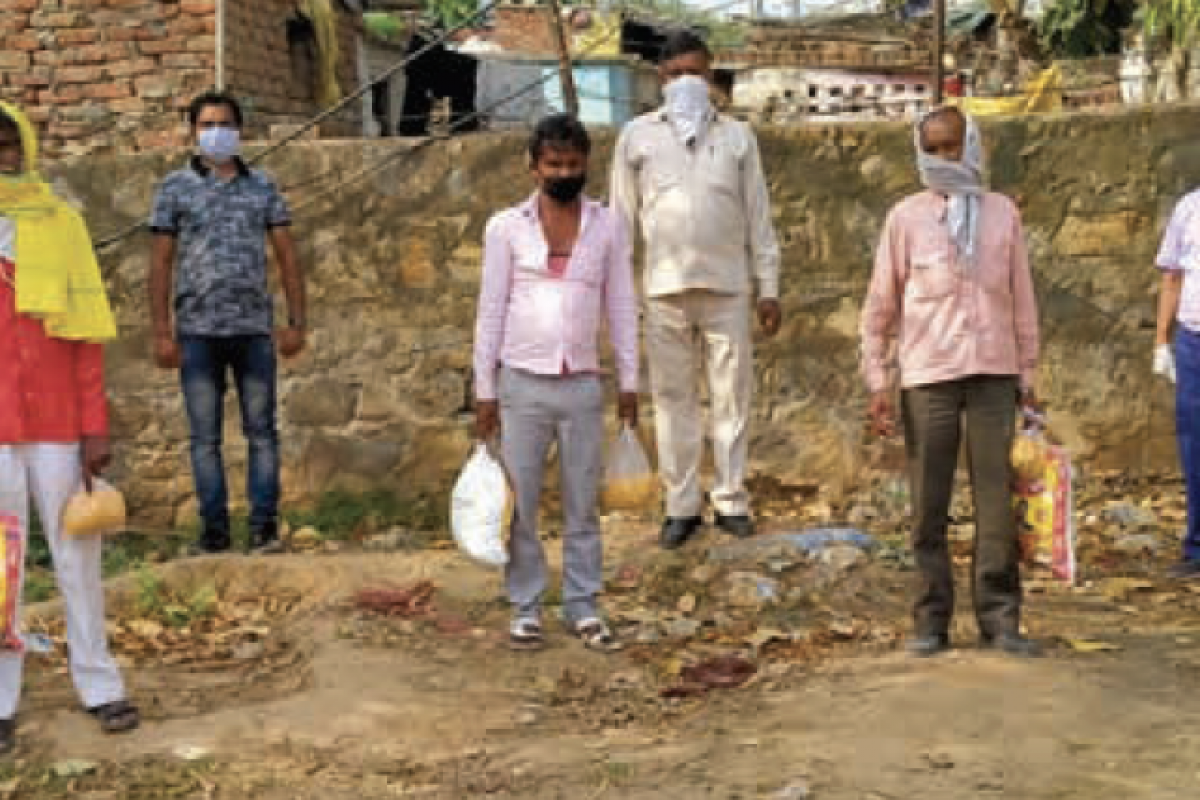 When India's coronavirus lockdown left millions of migrant workers unemployed and hungry, the Conference of Catholic Bishops of India's Commission for Migrants stepped in to help provide food and advocate on their behalf.
"On the night government instituted the lockdown, migrant workers started leaving Delhi. They knew they could not afford to stay in the city if they had no income. In their village, they could stay with their families, wouldn't have to pay rent and were more likely to get something to eat. All buses, trains and taxis had been stopped, so they had no transportation."
This is how Fr. Jaison Vadassery, Executive Secretary of the Conference of Catholic Bishops of India (CCBI)'s Commission for Migrants and a member of the International Catholic Migration Commission (ICMC) Governing Committee, describes the beginning of the COVID-19 lockdown, on 25 March.
For many of India's 40 million inter-state migrant workers, the lockdown, which was extended until 31 May, has led to unemployment, homelessness and food insecurity. These migrants, who often worked in the informal sector in large cities, as day laborers, drivers, construction workers or domestic help, were left helpless.
The government provided food rations and financial support to its population early on in the coronavirus crisis. However, migrant workers, who were registered in their state of origin rather than in the state to which they had moved, could not access this help. Some tried to walk to their villages, sometimes thousands of kilometers away, and many died along the way.
From the moment the lockdown was decreed, the Commission for Migrants of the CCBI, an ICMC member organization, and the Archdiocese of Delhi, intervened to assist and protect stranded migrant workers. CCBI distributed food kits to hungry migrant workers and their families living in temporary, informal settlements in Delhi and at the border of the neighboring state of Faridabad.
"Since Delhi has the second-largest migrant population in India, networking with like-minded organizations is important to reach out to the migrants," explained Fr. Vadassery.
"Accurate data is hard to come by, due to the group's high mobility and exclusion from official surveys, but our network has some lists which include people who don't have a ration card," explained Sr. Kochurani Joseph, Secretary to the Catholic Bishops' Conference of India's (CBCI) Commission for Migrants North Region, which includes the country's capital, New Delhi.
The CCBI's Commission for Migrants is cooperating with many religious and local civil society organizations, including the Sisters of the Holy Cross, the National Campaign Committee for the Eradication of Bonded Labor, the Human Rights Law Network, Distress Management Collective (DMC), BREAD Noida and Working Peoples' Charter. As of 12 May, the Commission for Migrants had provided food kits to over 780 vulnerable families. In cooperation with its partners, the Commission has helped to feed over 50,000 people.
The Commission for Migrants and its partners are also advocating for migrant workers' rights, rallying politicians, lawmakers and eminent citizens to stand up for migrants. On 21 April, vulnerable migrant workers gained access to government-issued food rations.