Children Displaced by Violence in Burkina Faso Find a Safe Place at ICMC-Supported Center
In September 2020, ICMC and the Episcopal Commission for the Pastoral Care of Migrants and Refugees of Burkina Faso launched a project to assist forcibly displaced children and their families. For the past eight months, 115 children and their parents have been receiving educational support and psychosocial assistance.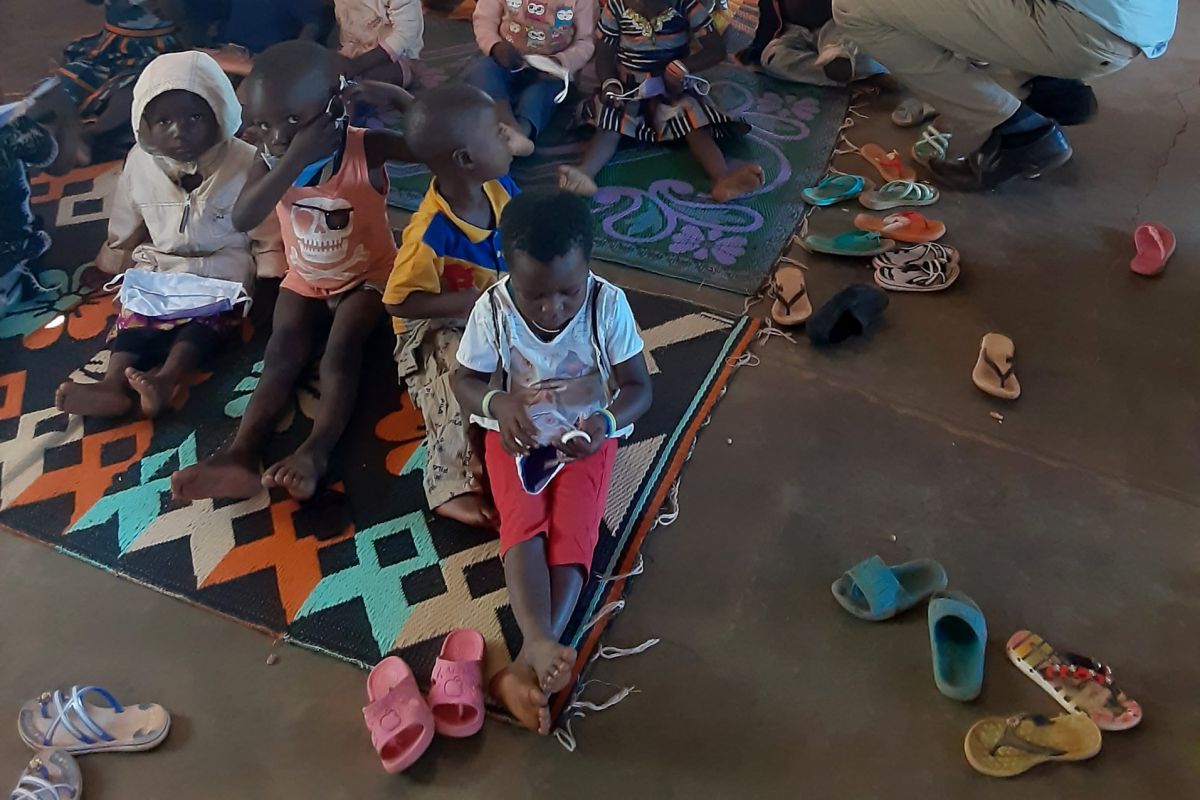 Since 2018, the West African country of Burkina Faso has been experiencing the world's fastest-growing displacement and protection crisis. Over 1.6 million people have been forced to flee because of attacks on their towns and villages. They have sought refuge in other parts of the country, one of the poorest in the world.
To respond to the growing crisis, the International Catholic Migration Commission (ICMC) and its national member, the Episcopal Commission for the Pastoral Care of Migrants and Refugees of Burkina Faso, launched a new project to assist internally displaced children and their families. In September 2020, they inaugurated a Child Friendly Space to welcome displaced children in the town of Bourzanga in the North of the country, where violence is most prevalent. The project also includes grants for school-aged children and psychosocial assistance for survivors of trauma.
For the past eight months, 80 children of preschool age have been attending activities at the new Child Friendly Center, which operates every weekday from 8 am to 2 pm. The program has awarded grants to an additional 23 girls and 12 boys aged six to 15 so that they could continue their studies. The grants have been given to displaced children whose families could no longer afford to send them to school. They cover tuition and school supplies. Thirty-six of the children selected for the project are orphans because of the violence.
The Child Friendly Center employs two monitors to lead educational and recreational activities. These include introducing the children to literacy and mathematics as well as to activities that help them develop their language and locomotor skills, music, drawing, and other games. The curriculum also includes activities that promote health and hygiene as well civic education, and provides psychosocial assistance for the children and their parents. The center offers informal education while also freeing parents from childcare duties, allowing them to work and provide for their families.
Between 19 and 23 October, six psychologists traveled from the city of Bobo-Dioulasso, 500 km away, to assess the children and some parents. Observing the children at play, they noticed that several were affected with fear of crowded or closed spaces, generalized anxiety, and an inability to hear or speak following traumatic experiences. They provided the project staff with guidance on how to respond to the needs of such children. On 16 May, the team returned to the village for a second stay and held follow-up sessions and assessments.
When the project began, several children were afraid of entering the center building. "They had witnessed some terrible things that they associated with large rooms," says Fr. Rodrigue Fidèle Sanon, project coordinator and Secretary-General of the Episcopal Commission for the Pastoral Care of Migrants and Refugees of Burkina Faso. "Some have seen their parents­­­­­­­ separated and shot in such rooms. They were afraid that they would be harmed and were afraid to express these deep fears."
Over time, however, the children have come to consider the Child Friendly Space as a safe place. "When they go home, they are happy to show their parents what they have learned that day. The parents tell us that their children are more stimulated and cheerful when they attend sessions at the center," says Fr. Sanon.
Learn More About the Joint Project in Burkina Faso
A cook, also hired for the project, prepares snacks and lunch for the children, many of whom suffer from food insecurity because of their families' lack of resources. Most of their parents were farmers, herders, and potters and lost their livelihood as they fled.
The town of Bourzanga is about 50 km south of Djibo, one of the areas hardest hit by violent attacks. As a result, approximately 45,000 people fled the town to other parts of the department of Bourzanga, effectively doubling its population. About 70% of these internally displaced people are under 18 years old. They live in makeshift shelters or vacant buildings in this semi-arid region that borders the Sahel desert.
Political instability was a major challenge for setting up this project. "Bourzanga is in a red zone for terrorism and we were worried that the center would be targeted. The immediate area has stabilized somewhat since we launched the project, and there have been no attacks here since September. However, many other challenges remain," says Fr. Sanon.
One big challenge is the lack of resources needed to assist all the children in need. "At least 10 children from highly vulnerable backgrounds, who we could not officially include in the project, show up every day, and we do not turn them away," explains Fr. Sanon. He notes that dozens more applied but were not selected because of a lack of resources.
He adds that he would also like to see the project extended to assist displaced adults in the area. One of the most pressing needs is creating income-generating opportunities for families, especially for women. "Right now, many of them loiter around the Child Friendly Center, which disturbs the children's learning. They have lost their livelihoods and live off the meager support of non-governmental organizations," he says. Livelihoods projects would allow them to become self-reliant and support their families again.
Fr. Sanon also notes that the project has attracted the attention of other parishes to which displaced people have fled, including in the capital, Ouagadougou, and in Bobo-Dioulasso, the country's second-largest city.