Protecting Internally Displaced Children and Vulnerable Families in Burkina Faso
ICMC and the Episcopal Commission for the Pastoral Care of Migrants and Refugees of Burkina Faso are working together to offer protection and humanitarian assistance to internally displaced people. The program, launched in September 2020, focuses on children displaced by increasing violence in the country, as well as on the added vulnerability caused by the COVID-19 crisis. It offers Child-Friendly Spaces, access to essential services, as well as education and psychosocial support.
In 2020, ICMC and the Episcopal Commission for the Pastoral Care of Migrants and Refugees in Burkina Faso have launched a program to respond to two crises ravaging the country. Burkina Faso has been experiencing violence and political instability, which have led to the displacement of one million people in less than two years, the majority of which are women and children. Additionally, the COVID-19 global health crisis is expected to take a significant toll on the country.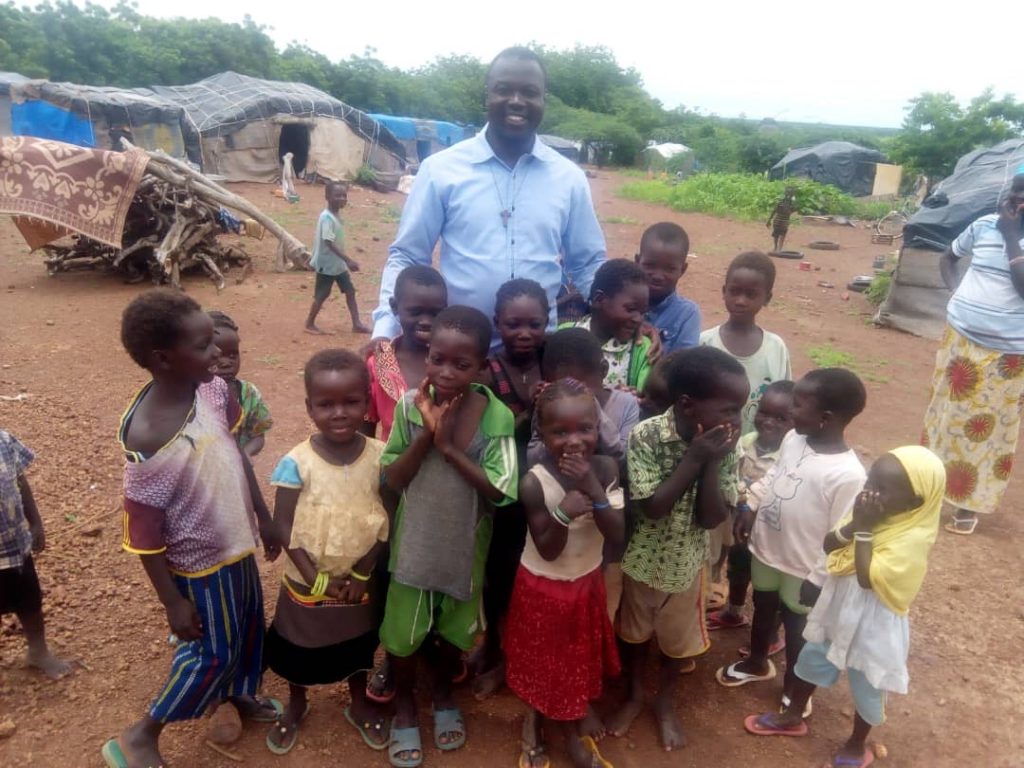 Since the beginning of a security crisis in Mali in 2012, the border between Niger, Mali, and Burkina Faso has seen the presence of armed groups and the rise of crime and tensions between communities. The security situation deteriorated sharply in 2019. The mounting violence by armed groups has increased the number of people in need of humanitarian assistance.
In 2020, the situation worsened further. By August, there were 3.2 million people in need of emergency food aid in the country. The crisis has resulted in a reduction in services such as health and education, and increased vulnerability to existing challenges such as food security and water shortages.
In addition, the global COVID-19 public health emergency has highlighted community protection risks that can emerge or be exacerbated, particularly affecting children.
Childcare and school closures and lack of appropriate supervision can lead to physical, emotional, or sexual abuse in homes or alternative care settings. Illness, death, or extended absences of caregivers or other close family members can bring about psychosocial distress and an increase of unaccompanied and separated children. Loss of household income can lead to child labor. And the highly infectious nature of the new coronavirus can also lead to social exclusion for those infected or assumed to be so.
In short, Burkina Faso does not currently have the structural capacity to respond to a massive outbreak of COVID-19.
With Hands and Eyes on the Ground
The Episcopal Commission for the Pastoral Care of Migrants and Refugees in Burkina Faso (CEPMR) supports migrants, asylum-seekers, and internally displaced persons (IDP). With its robust community network and presence on the ground, it can easily access populations in need. As a first-line responder, CEPMR has been actively addressing the needs of communities affected by COVID-19 and the humanitarian crisis in Burkina Faso's central and northern regions.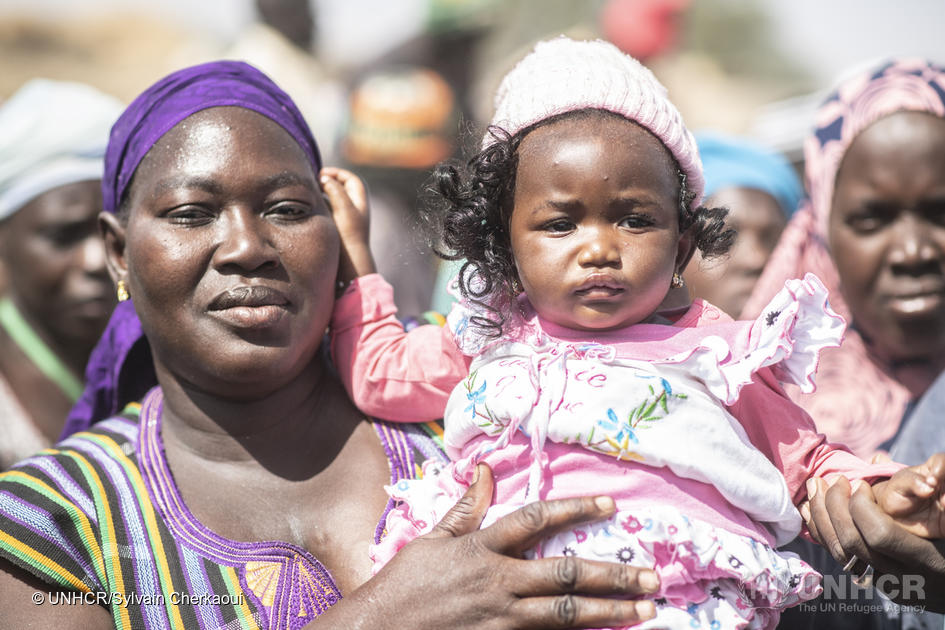 In times of crisis, faith-based organizations are particularly well placed to identify and respond to community-level risks and are critical partners in strengthening and maintaining protective environments for children and families. Faith leaders are trusted, have unique access to communities, and can initiate and influence behavior change. Faith leaders and institutions are often the first points of contact for communities in need and for those that are socially isolated.
Thanks to its outreach and assessment among families and individuals affected by the ongoing crises, CEPMR, in cooperation with ICMC, has been able to devise a project to actively address the needs of communities affected by COVID-19 and the humanitarian crisis in Burkina Faso.
The project supports community and faith-based organizations to effectively respond to COVID-19 and the underlying security crisis, to mitigate its adverse long-term effects on communities.
Protecting Children and Providing a Sense of Normalcy
The new one-year project, which was launched in September 2020 by ICMC and CEPMR, focuses on assisting and protecting children affected by the double crisis.
As families and children's lives have been disrupted, with schools and health clinics forced to close, the program is establishing Child-Friendly Spaces and providing informal education and psychosocial support for 80 children forced out of school by displacement and now living in the Bourzanga area of northern Burkina Faso. The Child-Friendly Spaces are areas where children can gather and feel protected and find learning materials and recreational supplies.
Community engagement is crucial to preventing, mitigating, and responding to abuse, neglect, exploitation, and violence in households, especially that which affects children.
Engaging the IDP and host community, ICMC and CEPMR is training animators and facilitators to coordinate children's activities. These include indoor and outdoor recreational activities, hygiene promotion, rights-based awareness-raising sessions, and psychosocial group activities. These activities are essential to help children re-establish a sense of normalcy to their daily lives, disrupted by the ongoing conflict.
Parents are involved, when possible, through participation in discussion groups on positive parenting skills, hygiene promotion, and children's rights. Once schools resume in Burkina Faso, non‐formal education courses focused on basic literacy and numeracy will be incorporated and provided for children unable to attend school due to their economic situation or other vulnerabilities.
Social workers are identifying highly traumatized children and children with acute protection needs, and are referring them to the adequate health and psychosocial services.
ICMC and CEPRM are identifying potential partners among other faith-based groups and local civil society actors of the area, especially groups led by women, youth, people with disabilities, and other marginalized or minority groups. The goal is to develop strategies to effectively advocate and coordinate with national and international stakeholders responding to social protection issues in the community to ensure that the affected people's voices and priorities are heard.
Special attention is given to women and girls throughout the project. The repercussions of COVID-19 could worsen existing gender-based inequalities in the country. In particular, it can bring about increased risks of violence against women and girls due to isolation, lower availability of resources, an increased occurrence of child marriage, and harmful coping mechanisms which can lead to violence. Women are also more likely to be at the forefront of responses to illness, increasing their risk of becoming sick, and spreading the virus to their families.
Community-based prevention and response efforts must be supported and significantly scaled up to prevent the spread of COVID-19, mitigate harm, and effectively respond to negative social impacts.
CEPRM has developed radio messages tailored to the community to promote healthy hygiene habits and counter disinformation about the origins and spread of COVID-19. The messages also address gender-based violence prevention, positive coping skills in response to economic and social pressures, and tips for positive parenting and caregiving of children.
CEPRM will also engage parish-based youth groups to conduct education and outreach sessions with community members to reinforce and further spread the messages that have been developed.
You can help refugees and migrants rebuild their lives with dignity and hope.