On International Women's Day, ICMC Jordan Honored Women's Contributions During COVID-19
On 8 March, International Women's Day, ICMC Jordan honored women's contributions during the COVID-19 pandemic. Female graduates of ICMC's Livelihoods program spoke about their struggles during the lockdown and the strategies they adopted to remain financially self-reliant.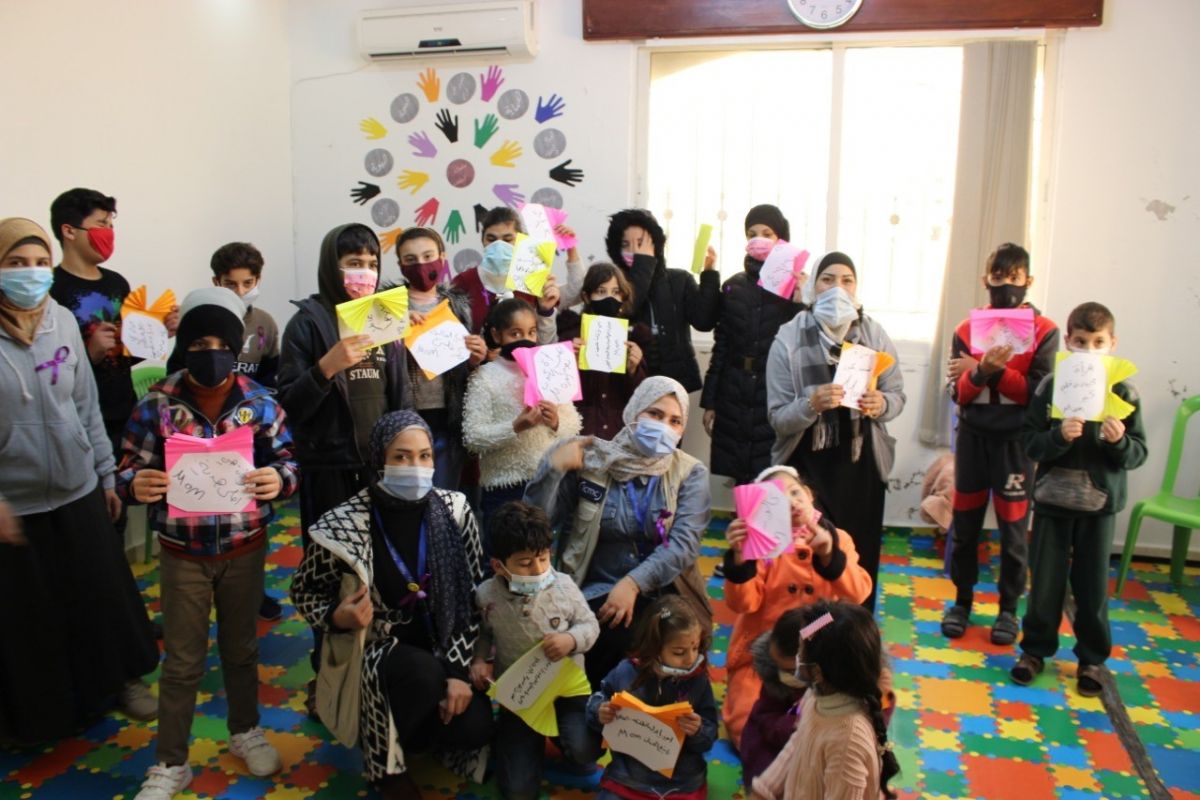 The International Catholic Migration Commission (ICMC) in Jordan marked International Women's Day at its Protection Centers in Mafraq and Irbid. The organization invited refugee and Jordanian participants in the centers' activities to take part in the celebration of women's achievements.
The theme of this year's International Women's Day was "Women in Leadership: Achieving an Equal Future in a COVID-19 World." ICMC Jordan's activities celebrated the accomplishments of female participants during the pandemic and shared their experiences as role models for their peers.
The Protection Center in Mafraq invited participants of its Youth Empowerment program to a session featuring two female graduates of ICMC's Livelihoods program: Fida, a Jordanian national who graduated from sewing courses and Fatimah, a Syrian refugee who completed beauty courses.
These vocational courses, along with financial literacy and job matching activities, are components of ICMC's Livelihoods program. The program aims to empower its participants to achieve financial stability and generate a sustainable source of income by developing their skills and teaching them a useful trade.
Both Fida and Fatimah spoke about the hardships that motivated them to take charge of their livelihoods and create opportunities for themselves.
Following her graduation from ICMC's beauty courses, Fatimah got a job as a hairstylist at a local hair salon. Previously, the Syrian mother of three had struggled to care for her children and keep their finances afloat after her husband abandoned her.
As for Fida, she struggled with unemployment after completing a college degree in accounting. She decided to follow her creative passions and joined her sister's up-and-coming hijab design business. To effectively contribute to the business' development, Fida chose to partake in ICMC's sewing courses.
Both women highlighted the importance of standing one's ground in the face of hardships and the importance of adapting to their current situation. Their presentations focused on the impact of the two-month COVID-19 lockdown from March to May 2020.
"With the lockdown, all businesses were closed. Even after the government reduced restrictions, we had few customers at the hair salon," said Fatimah. This contributed to the deterioration of her financial situation. "I had to do something for my children's sake while not owing anyone any favors. Therefore, I decided to do house calls and sell home-cooked meals to earn enough money to support my family."
"The lockdown impacted our supply lines as well as our sales volume. My sister and I decided to look for local suppliers in Mafraq. Every day, we searched for suppliers who could provide us cost-effective, high-quality materials without increasing the cost for our customers," said Fida. "Our deliveries were also impacted. To continue meeting our promises to our customers, we sometimes carried our deliveries ourselves."
In Irbid, ICMC's Protection Center and the Jordan River Foundation (JRF) hosted a joint event for children and parents participating in ICMC's Positive Parenting program.
During the event, women spoke about the impact of the lockdown on their families and the financial difficulties following their husbands' unexpected unemployment. They resorted to the knowledge obtained from the positive parenting activities and awareness-raising sessions, which helped them handle their stress and deal with their children's demands and inquiries.
The children and their parents took a tour aboard JRF's interactive buses, where they watched videos about International Women's Day and on positive parenting.
The children at ICMC's Child Friendly Spaces in Mafraq and Irbid also made their own International Women's Day greeting cards, which they gave their mothers as a token of their appreciation.
ICMC's livelihoods and protection activities are financed by the U.S. Department of State's Bureau of Population, Refugees and Migration. They aim to strengthen the resilience of crisis-affected communities in Jordan, reduce their reliance on negative coping mechanisms, and enhance their protection.