Working Across Communities To Safeguard the Environment and Support Refugees
A new video by the Vatican's Migrant and Refugee Section, released ahead of the World Day of Migrants and Refugees, highlights the work of ICMC's national member Caritas Bangladesh in Rohingya refugee camps.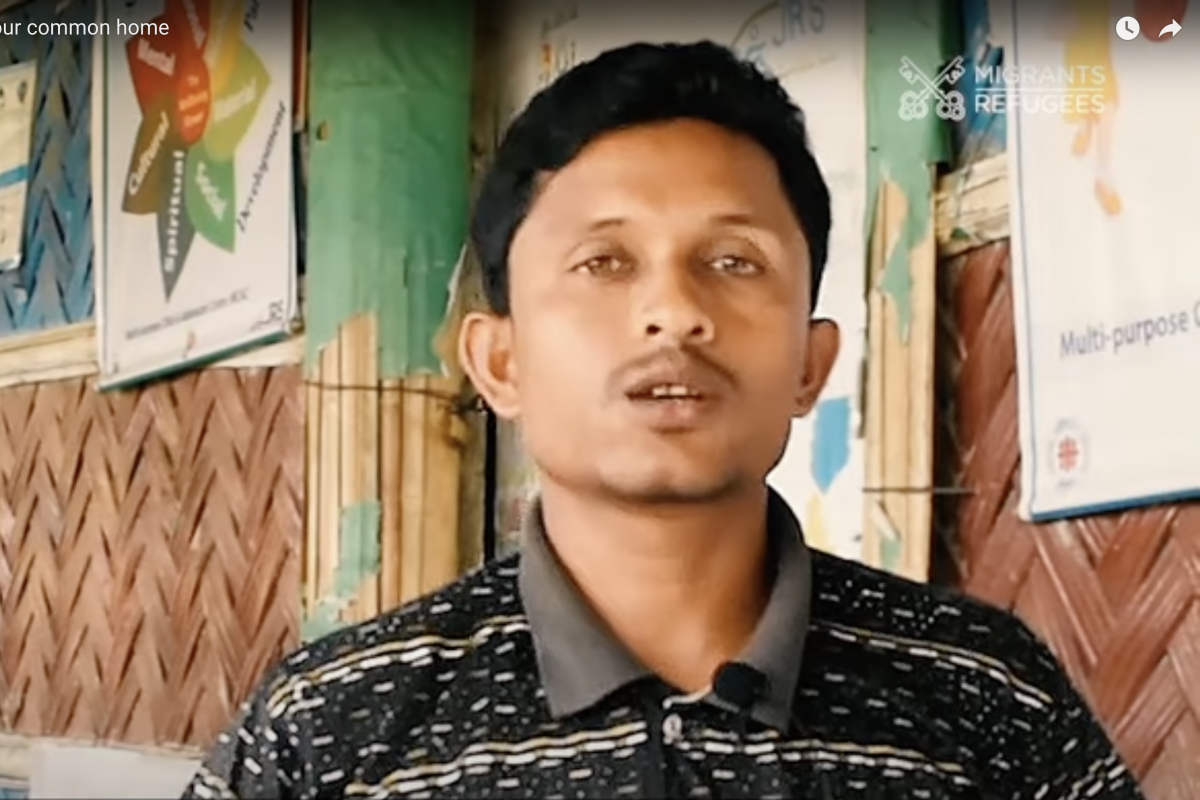 "In order to properly care for our common home, we must come together as an ever wider 'we'," says Pope Francis in a new video released by the Vatican's Migrant and Refugee Section ahead of 26 September, World Day of Migrants and Refugees. "We must take our responsibilities seriously, in the profound conviction that every good deed we do in the world is for the benefit of present and future generations."
Echoing Pope Francis' words, Rohingya refugee Ali Mia explains that "we should take care of the environment as it takes care of us, or it will not be able to help us in the future." Ali lives in a refugee camp in Bangladesh, where ICMC's national member Caritas Bangladesh has been working alongside the refugee population to improve the environment in the camp. "It was very hot here when there were no trees," he explains. "Then Caritas gave us two saplings per family, and since they grew we can sit in the shade and feel at peace." The program is being implemented across cultural and religious groups.
The program's success rests on partnership and cooperation across religious and cultural groups. "Those of us who are here, even though our religions are different, are all under the same umbrella as brothers and sisters," explains mother and Rohingya refugee Minara. "We do well by cooperating with everyone, in the same way as Caritas cooperates with us." Reflecting on how Caritas Bangladesh approaches their work with refugees, camp resident and imam Enayet Rahman says, "Our religions are different from theirs, but they serve and care for us as human beings."
Caritas Bangladesh has been working with Rohingya refugees living in camps since 2017. Supported by funding from Catholic agencies around the world, Caritas has reached just under 150,000 refugees and almost 9,000 host community members with aid including food, non-food items, water, and sanitation.
The Rohingya people are one of the most persecuted groups in the world, having faced decades of systematic discrimination, statelessness, and targeted violence in their home state of Rakhine in Myanmar. Many have been forced to leave their homes due to this persecution, and for many years they have sought safety in Bangladesh. In August 2017, a violent military crackdown triggered the largest and fastest movement of Rohingya refugees into Bangladesh, with an estimated 745,000 Rohingya, including more than 400,000 children, fleeing to Cox's Bazar. Today, more than 900,000 Rohingya live in thirty-four extremely congested camps in Bangladesh.
At the height of the Rohingya refugee crisis in 2017, the International Catholic Migration Commission (ICMC) raised funds to provide aid and support for this vulnerable population. Implemented by Caritas Bangladesh, the funds collected by ICMC enabled the distribution of emergency shelter kits and the creation of wells, bathing stations, and latrines in the Cox's Bazaar refugee camps.
ICMC also supports Rohingya refugees living in Malaysia. Since 2010, this work has focused on preventing and responding to sexual and gender-based violence. ICMC operates hotlines for survivors, provides emergency access to services including shelter, counseling, and financial assistance, and runs awareness-raising programs on gender-based violence and life skills to promote change in affected communities. In 2020, ICMC Malaysia assisted nearly 2,200 refugees, most of them Rohingya, through direct response, support services, and outreach activities adapted to pandemic realities. It accompanied 300 survivors of sexual and gender-based violence. ICMC Malaysia also contributes to refugee empowerment by offering education and vocational training to enable refugees to become financially self-sufficient.
Each year, on the World Day of Migrants and Refugees, Catholics around the world are invited to remember those displaced by conflict and persecution. For 2021, Pope Francis has chosen "Towards an ever wider 'we'" as the theme for the World Day of Migrants and Refugees, which will take place on Sunday, 26 September.