A New Series of Animated Videos Depicts the Work of ICMC
A new series of seven animated videos showcases the major areas on which ICMC's work focuses and provides concrete examples of how ICMC and its partners' work supports forced migrants and refugees.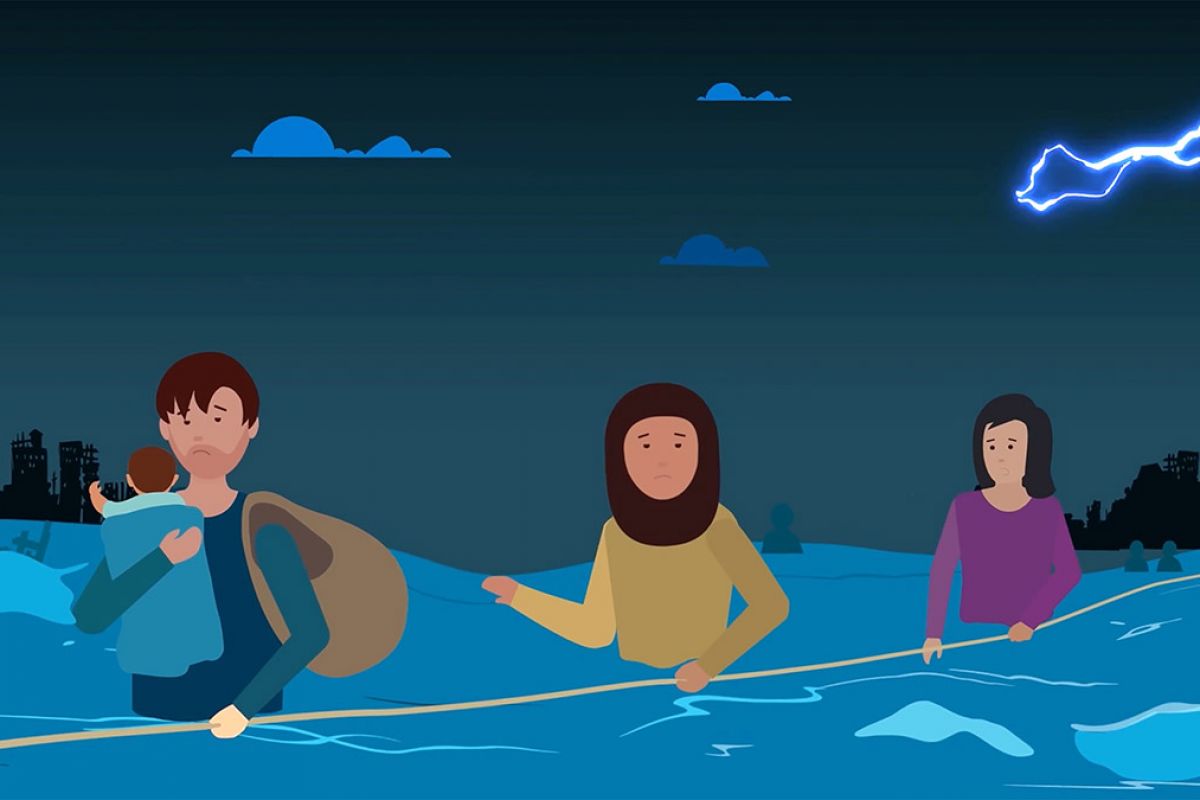 It can sometimes be challenging to grasp what humanitarian organizations' work looks like in practice. This is why ICMC has released seven short animated videos that describe different areas of its work in about 100 seconds each.
From providing emergency assistance to people forced to flee their homes to coordinating civil society and Church groups for effective action, to raising awareness of migrant rights abuses on the international scene, these videos give an overview of ICMC's work.
The videos describe seven major aspects of ICMC's work with displaced people.
The animation on humanitarian assistance and development reveals why people who flee their homes are often in dire need of help, having been cut off from the basic necessities of life. It depicts the various ways in which ICMC supports vulnerable migrants through humanitarian assistance. The video also shows how ICMC helps displaced people regain their financial autonomy through programs that help them to re-enter the job market.
The animation on protection and prevention explains how displaced people often become vulnerable to exploitation and various forms of abuse. It shows ICMC's work with the most vulnerable people on the move, including women, children, and the elderly. ICMC provides them with counseling, safe spaces for children, shelter, and medical care. It also works to end child marriage and child labor and supports refugee survivors of sexual and gender-based violence.
It is crucial to have laws and policies that protect the rights of people displaced by poverty, war, and persecution in order to reduce their suffering. The video on advocacy shows how ICMC encourages governments, European institutions, International Organizations, and UN agencies to establish policies that safeguard people's dignity.
A fourth video explains how people forced to flee their homes often end up in countries where their needs, such as specialized health care or education, cannot be met. This is why resettlement to a third country is sometimes the only long-term way to keep refugees safe and allow them to thrive. The video shows how ICMC assists governments in their efforts to resettle vulnerable refugees. Because resettlement needs largely exceed the opportunities offered by governments, ICMC advocates for other complementary solutions such as family reunification, humanitarian visas, and private sponsorship of refugees.
A fifth video tells the stories of Lia and Imamu, two people from different parts of the world who join local action groups to fight the harm that climate change is causing their communities. The video goes on to show how, by helping coordinate local groups like Lia's and Imamu's into a greater movement, ICMC can amplify their messages and expand local initiatives to promote change on the global level.
A video on ICMC's deployment scheme shows the work of Aisha, an expert in child protection, and Peter, an expert in refugee status determination. Both are sent to different parts of the world on short notice to support ICMC's partners such as the UN Refugee Agency (UNHCR) and the UN Children's Fund (UNICEF) in their work to protect displaced people.
A seventh video focuses on ICMC's history and its Church networking efforts. After the Second World War, ICMC was established to coordinate the work of Catholic organizations responding to the needs of displaced people. Since then, ICMC has continued to unite and organize the work of Catholic-inspired organizations. It promotes and coordinates the migration-related work of its members, the national conferences of Catholic Bishops.