We Need To Look at How Families, Not Just Individuals, Are Affected by Displacement
Families and individuals experience forced displacement differently. And most individuals have a family from whom they have been separated and whom they long to see. The specific needs of families were at the center of a webinar organized by the International Catholic Migration Commission to mark this year's World Day of Migrants and Refugees.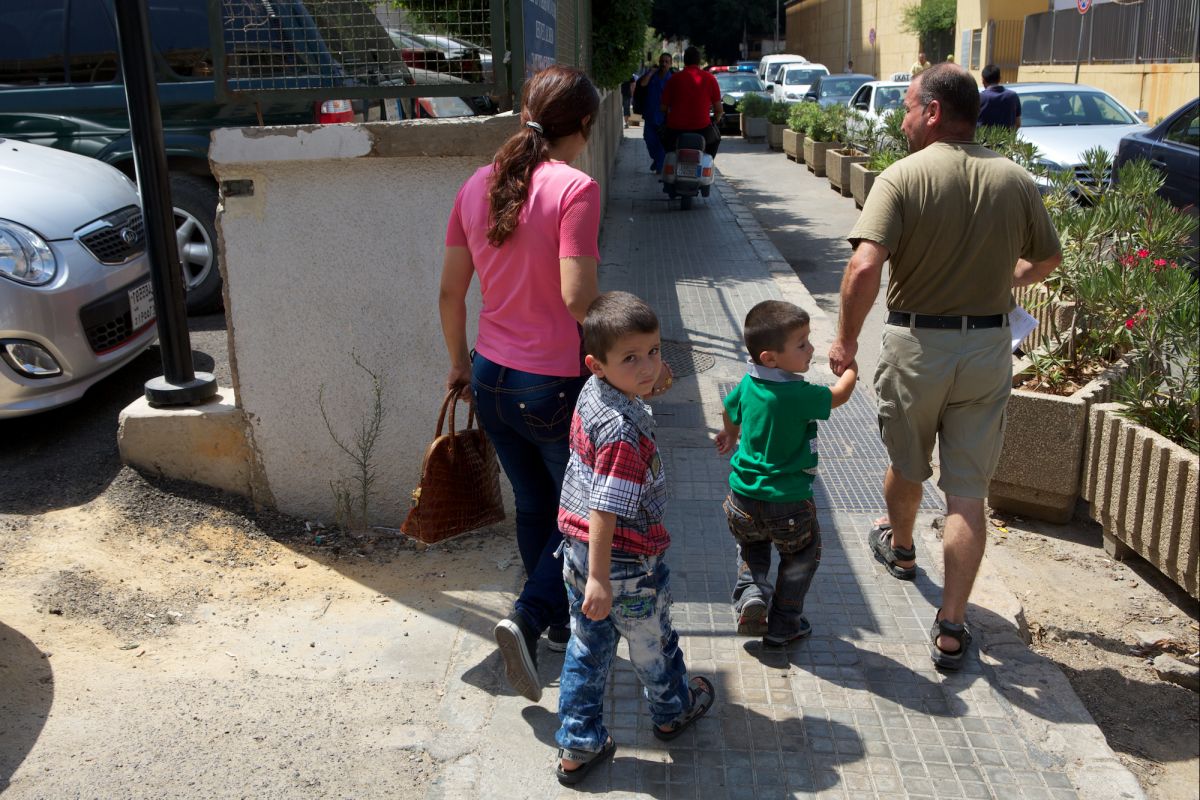 The decision for the Catholic Church to mark an annual World Day of Migrants and Refugees was taken by Pope Saint Pius X 106 years ago, in 1914. For this year's observance, on 27 September, the theme chosen by Pope Francis was "Forced Like Jesus Christ to Flee." Its focus was on the plight of the often-forgotten internally displaced people, who, in today's world, number 45.7 million.
ICMC marked the day with a webinar that took up the theme and called special attention to the plight and experiences of displaced families. "In the humanitarian world, we keep report statistics on individuals forced to leave their homes. Yet, all the migrants and refugees whom I ever met constantly talk about their families, whether or not these family's members have joined them in their flight. It is so important for us to understand the love and intimate bonds within such families," said ICMC Secretary General Msgr. Robert J. Vitillo in his opening remarks.
The panelists reported different experiences of families in situations of forced displacement. Sister Kochurani Joseph, Secretary of the Catholic Bishops Conference of India's Commission on Migrants (North Region), discussed displacement due to such development projects as mega-dams and described the many needs forcibly displaced families face.
"For displaced people," Sr. Joseph said, "the COVID-19 pandemic added fuel to the fire." Many farmers have lost their livelihoods because of development projects and have had to look for other jobs while lacking the necessary skills. "Their immediate needs are for food, shelter and medication. COVID-19 intensified the sufferings of all displaced people," she said.
She also spoke about the dilemmas faced by internal migrants who were summarily furloughed from their jobs due to the COVID-19 lockdown in India and who were not given travel or other subsistence money with which to return home. They were expected to walk hundreds, even thousands of kilometers, and some became seriously ill and died along the way. Sr. Joseph played a crucial role in coordinating Catholic dioceses and parishes that offered these workers food and shelter.
Protecting Children in Burkina Faso
Fr. Rodrigue Fidèle Sanon, Secretary-General of the Episcopal Commission for the Pastoral Care of Migrants and Refugees (CEPMR) of Burkina Faso, spoke about the situation of nearly one million internally displaced people who have fled the rapidly escalating violence in the Sahel region. The COVID-19 pandemic has made things worse, leaving hundreds of thousands of people in significantly vulnerable conditions.
"Those who flee come from impoverished areas. Most of them are subsistence farmers and herders. Their houses have been burnt to the ground; their cattle have been stolen. They fled empty-handed, traveling as they could on donkeys' backs or by wagon," said Fr. Sanon.
In response to this situation, ICMC and CEPMR have initiated a joint program to protect displaced children. Launched in September 2020, the project is based in the northern Diocese of Ouahigouya and seeks to provide a safe environment for children forced to flee violence in the region.
Adapting to COVID-19 in Jordan
Ms. Yadviga Kirdzik, ICMC Program Manager in Jordan, gave an overview of the country's situation, noting that it is hosting the second-highest number of refugees per capita globally. There are more than 746,000 people whom the UN Refugee Agency (UNHCR) recognizes as "persons of concern" in Jordan. These include Syrians, Yemenis, Iraqis, Sudanese and Somalis, among others. While the numbers have been more or less stable, financial resources are shrinking, and international support is decreasing.
Ms. Kirdzik explained how ICMC's field office in Jordan is adapting its programs to the further challenges confronting these forced migrants and refugees as a result of the COVID-19 pandemic. ICMC provides vocational training courses that link individuals to job opportunities and protection programs, including various activities and services such as individual psychosocial counseling. ICMC organizes "safe spaces" and programs for women and children and sponsors Arabic and English literacy classes for both women and men. All programs are built on the principle of community engagement. They are now being conducted either remotely – by phone, for example – or, when possible, in person, provided that all safety measures are observed.
The most important principle, Kirdzik said, is to be aware of the needs and perceptions of the people ICMC seeks to serve. "You have to know in order to understand, as Pope Francis calls upon us to respond to the pastoral challenge. When talking about migrants, refugees and displaced persons, we all too often stop at statistics. But it's about real people!" If we get to know people, if we listen to their stories, "we'll be able to understand them," she explained.
The Personal Dimension
Ms. Maha Ganni, the first expert to be deployed by ICMC through the ICMC-UNHCR Deployment Scheme, under which ICMC sends experts to assist offices of the UN Refugee Agency, to provide protection and other key services during large-scale refugee emergencies, shared her personal story. Hers is a story of resilience, hope and overcoming difficulties. Ganni comes from a Christian minority in northern Iraq and was born and raised in Kuwait. When Iraq invaded Kuwait, she was separated from her family. After many trials, she managed to be accepted as a refugee in Spain and, from there, was resettled to Canada.
She shared with the webinar audience her experience with depression due to separation from her family noting that depression affects many who face traumatic experiences and the loss of loved ones.
Ganni defined her role as an ICMC deployee as "the gift of giving back." "I wanted to help others avoid what happened to us as a family when we were separated; I wanted to ensure that they are heard. I believe I can be the voice of the refugees. This is one of the reasons I wanted to go back to the field to be with them," she said.
Msgr. Vitillo also emphasized the need for sensitivity to the human dimension. Amid sometimes frustrating bureaucratic work, we need to remind ourselves that "we do this for people; we need to hear them and be able to respond to them in a personal way, and to respect their capacities and decision-making in seeking a new future for themselves and their families" he said.
The ICMC Secretary General also highlighted the responsibility to advocate for people's rights and for just and dignified policies. "We base our advocacy on our experience in the field," he said. If we're going to succeed, we need to "make sure that refugees themselves have a role and place in making this a better world," Msgr. Vitillo said.
Watch the webinar