From Lebanon to Boston — On Building Community
By Khadiyjah Jordan (*)
Packed with joy and passion, the movie Soufra is a story of hope against all odds. Filmed in Lebanon, its sense of community comes through powerfully even in faraway places like Boston, Massachusetts.
For over 100 years, the Catholic Church's Observance of the World Day of Migrants and Refugees has marked a special time to learn about, reflect upon, and raise awareness of the challenges and opportunities faced by people on the move.
This year, on Sunday, 29 September, Pope Francis once again called us to an inclusive community embodied by the theme, "It is not just about migrants." To mark the occasion, the USA-based office of the International Catholic Migration Commission (ICMC, Inc.) partnered with the Paulist Center's Immigration Advocacy Group for a special film event.
On Saturday, 28 September, over 40 members, friends, and newcomers to the ICMC and Paulist Center communities gathered to witness the story of Mariam Shaar as told in Thomas Morgan's film Soufra — an Arabic word meaning a long table filled with good food. Mariam is a member of the third generation of her family to live in the Bourj El Barajneh refugee camp south of Beirut, Lebanon. In fact, she was born in the camp. But Mariam has an idea with the potential to transform her life and the lives of other refugee women of the camp—a catering company and food truck.
A woman with a vision
Soufra reveals the truth of life—with its many ups and downs—in this urban refugee camp. The film sets the tone from the outset when Mariam says : "About 50,000 refugees are living in this camp. The camp is one square kilometer with no walls around it, but the borders are known."
Mariam goes on to talk about the lack of employment opportunities and the barriers refugees face in competing for the few open positions, as well as the lack of interaction with the community outside the camp.
Her vision is to revitalize her community, provide employment opportunities and give hope to women much like herself. And she is on the way to realizing her vision. Manal Hassan, a cook employed by Mariam says: "Our lives have drastically changed… you realize your worth… Work gives me hope."
On Community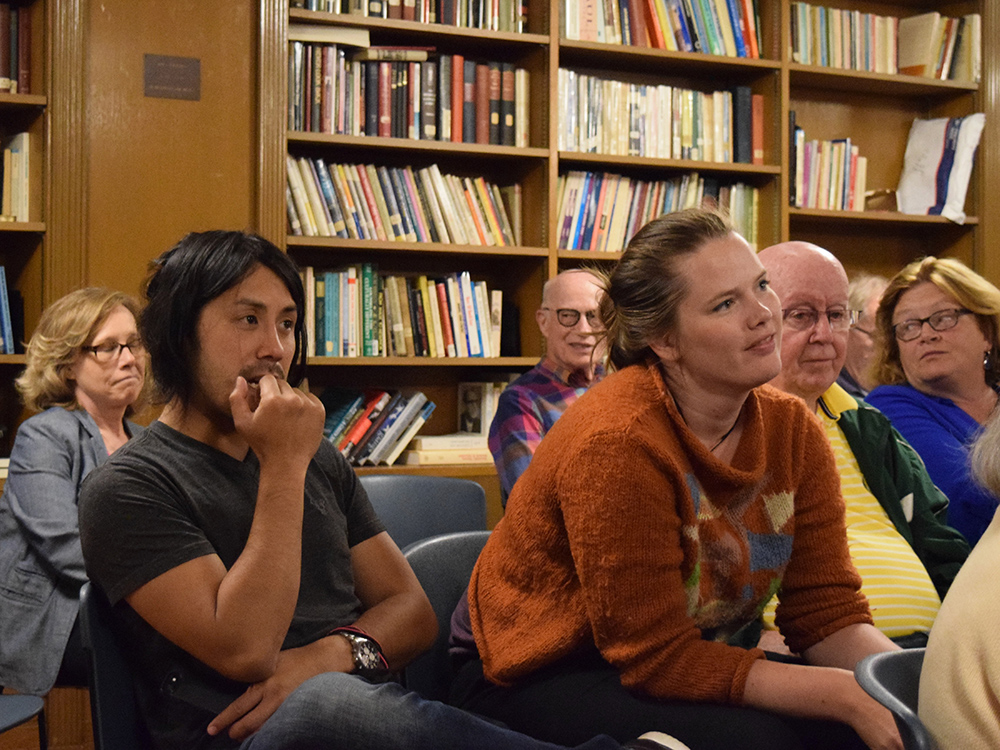 More than awakening hope, Mariam's venture builds community. It creates opportunities for women of different backgrounds to learn about each other's cultures. "I know about her way of life and she knows about mine," says Palestinian refugee Abeer Hassan Almassry in reflecting on her relationships with the women of the kitchen. It is there that Palestinian, Syrian, Lebanese and other refugee women learn about one another and become family. With so much joy and passion, it's impossible not to feel this same sense of community among those viewing the film.
The film attendees were simultaneously shocked by the conditions of the Bourg El Barajneh camp and delighted by the contagious feeling of hope and inspiration. Many around the room echoed the sentiment, I had no idea what refugees actually faced in camps.
With just a glimpse into one story, audience members left with a renewed desire to learn the stories of people on the move and to understand the contextual challenges they may face. They also felt encouraged to work towards creating communities of welcome.
The Message
This message of community and welcome was best summed up in a prayer by Susan Rutkowski, Pastoral Minister of Family Religious Education and Social Justice at the Paulist Center:
"Reflecting God's image is the core symbol of human dignity, the infinite worth of every human being and the divine attributes that are part of every human life…
Grant us, Creator God, a new imagination, one that reflects at its core what it means to be human before God and to live together in community. In seeking to overcome all that divides us in order to reconcile us in all our relationships, remind us and those in charge, God, that the more difficult walls to cross are the ones that exist in the hearts of each of us…"
For more information on the Paulist Center and its social justice initiatives, visit: www.paulistcenter.org.
ICMC helps alleviate the suffering of displaced persons and gives them hope and new opportunities by providing a broad range of services including education, health, shelter, water and sanitation and community empowerment. ICMC works to promote policies and practices that respect human dignity, human rights and the well-being of all uprooted people. To learn more about ICMC, visit: www.icmc.net and check out our 2018 Annual Report at www.ICMC.net/2018.
* Khadiyjah Jordan is the Development Associate at ICMC, Inc.'s office in Boston, Massachusetts.