Child refugees and migrants are among the most vulnerable people in the world. ICMC works to provide them with compassionate care and to create conditions so they have a chance for a new life in safety and dignity.
Worldwide nearly 31 million children have been forcibly displaced from their homes. They are among the most unprotected of uprooted people.
Uprooted children often are not able to go to school, to play, learn and develop like other children. They are much more likely to face violence, exploitation and abuse. War and violence, fleeing home and all that is familiar, losing or leaving behind loved ones – these experiences are particularly traumatic for children.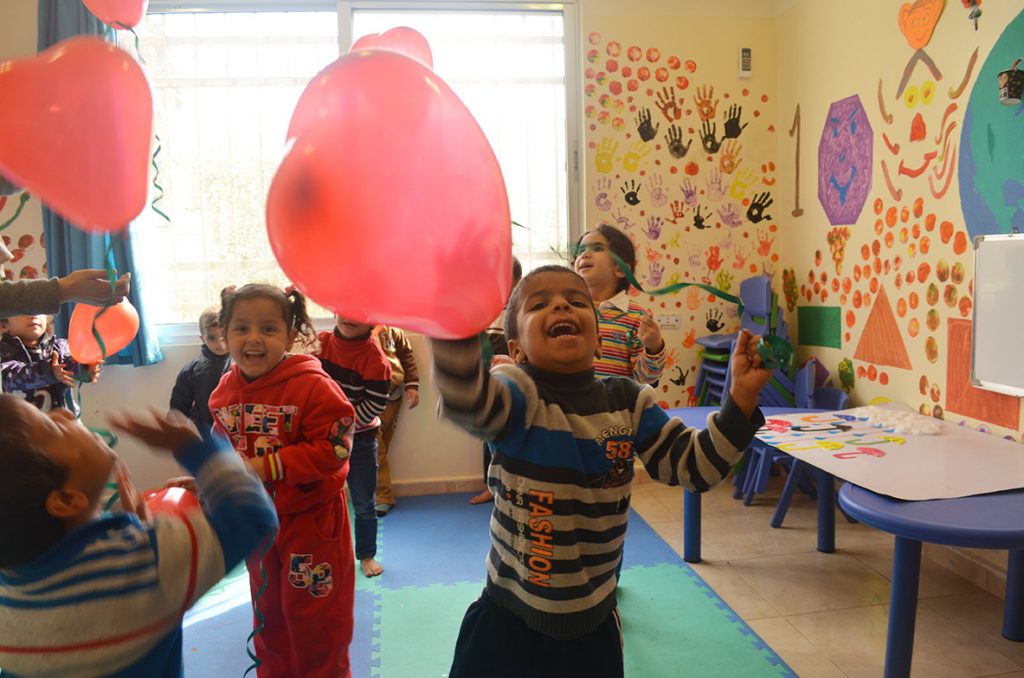 An increasing number of children are on the move without parents or caregivers. Some become separated from their family along the way. Girls especially are at risk of abuse, as are children who live with a disability or a medical condition.
ICMC works to prevent the exploitation and abuse of young refugees and migrants. We give extra attention to those who are on their own and we offer welcome and protection to uprooted children who have experienced violence.
We believe that children on the move are first and foremost children. They deserve the chance to grow up in dignity, safety and loving care.
Putting Children First
ICMC gives top priority to protecting children in the communities we serve. Our experts assess risks and identify gaps in protection on an ongoing basis. We are committed to developing responses that focus on the best interests of children on the move. This means looking at an uprooted child's situation and proposing a long-term solution that meets their physical, emotional and intellectual needs.
Our first step is to listen to children themselves – their needs, desires, plans for the future. We gather information from parents and people who are particularly close to the child. Orphans, children on their own or with disabilities or medical issues – the most vulnerable children receive special attention.
ICMC also works to improve overall case management, monitoring and evaluation systems. Our experts tap into insights from different disciplines such as social work. We help develop international guidelines to assess and determine children's best interest and offer training for national and international partners. We draw on our experience to advocate in international forums for improved systems.
Learn More About the Joint Project in Burkina Faso
Offering Safety and Care
ICMC works on the ground with respect, expertise and innovation to protect children at risk.
Our child-friendly spaces give children aged 12 and younger a safe place to play and interact. Tolerance, compassion and creativity are the order of the day. Structured activities help both girls and boys express themselves, develop social skills and build self-esteem in a supportive environment. Knowing their children are being cared for with dignity and compassion also gives parents peace of mind.
In Jordan in 2019, 6,500 children were able to play and learn together in safety thanks to ICMC's Child Friendly Spaces. ICMC offered a program tailored to the children's needs, teaching basic Arabic literacy and numeracy and developing social skills, healthy personal hygiene and self-esteem.
Such spaces are an oasis for uprooted children with disabilities, who are at very high risk of social exploitation, discrimination and abuse. In our protection centers, we offer play and learning adapted to all children. And we support caregivers.
Being uprooted can leave children with lasting scars. Through play therapy children can express difficult feelings and find healing from trauma. Children who have experienced domestic and others forms of violence receive specialized counseling from trained ICMC workers.
Preventing Abuse
Child marriage is a danger to uprooted children's emotional and physical health with girls being most at risk. ICMC works to address underage marriage, whose rates are rising alarmingly in humanitarian settings.
The causes of child marriage vary. Some communities may condone marrying off a child for different reasons. Where a girl's sexuality is associated with questions of honor, an early marriage may be seen as a way to safeguard a family's reputation. When parents find it impossible to earn a livelihood where they have sought refuge, marrying their child to someone who can provide food and shelter may seem the only way to ensure the child's basic needs are met.
ICMC works to reverse this trend. We teach positive ways of coping with the challenges of displacement. Our life skills groups inform about adolescent health and rights, and the negative effects of child marriage. Participants learn to deal with their emotions and take care of themselves better, to handle finances, and to work with computers. At the same time, they build up a social support network.
To protect children and prevent exploitation and abuse, ICMC aims to strengthen communities. We hold awareness-raising sessions on positive parenting in our protection centers.
We also use channels such as photography or theater to tackle child marriage and other tough issues that affect the well-being of uprooted children. This allows women and girls to speak with their communities about their experiences and invite them to work together to find alternatives.
ICMC works to end child labor, another threat to the protection of children on the move. Facilitating that children remain in the education system makes it less likely that they will have to work to ensure their or their family's survival. We encourage school attendance by informing parents and caregivers about local schooling options.
Costs are often a barrier to education for the families of uprooted children. ICMC helps with school and transportation fees and contributes to teacher salaries. Our educational and recreational kits equip children for learning and safe play.
Empowering Children
ICMC helps uprooted children become agents of change in their communities. We have implemented innovative "photovoice" programs which have proven to be psychosocial support, vocational training and community development in one. Children and youth learned storytelling through digital photography and were able to give voice to their experiences of displacement. Our workshops empowered them to raise issues of concern with their communities and take a more active role in shaping decisions.
"I was 9 years old when a bomb fell and I lost my eye […] I stopped caring about anything, about whether I lived or died. Everything was numb. When I started to take photos, I became creative. I forgot my pain. […] The best thing I gained from the project learning photography, and also drawing inspiration from ourselves, using photos to make memories."

Mahmoud, a 16-year-old Syrian refugee who took part in ICMC's photovoice project