"Let's Stay in Touch, If We Are Still Alive" 
In a continued show of support for the people of Ukraine following the Russian invasion in February 2022, ICMC Secretary General Msgr. Robert J. Vitillo embarked on a new solidarity pilgrimage to the country from 15 to 27 October 2023, marking ICMC's third visit since the beginning of the conflict.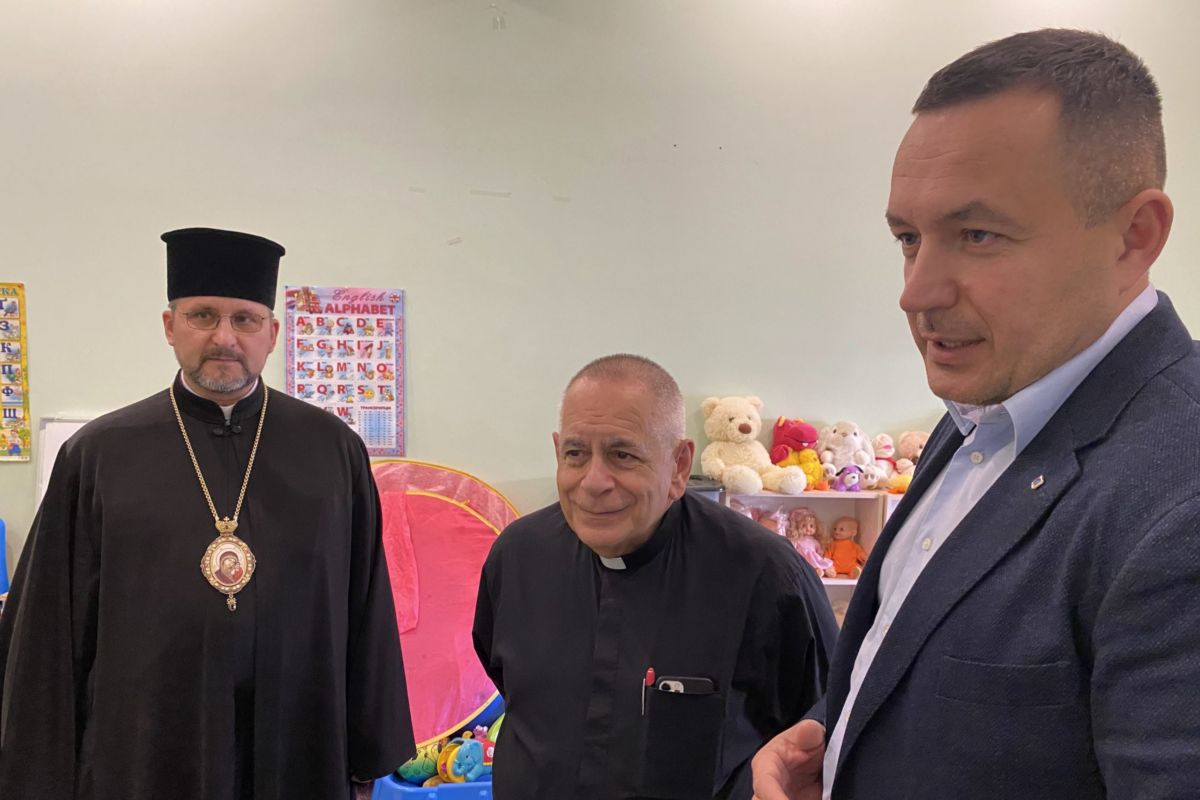 Accompanied by Christian Kostko, ICMC Projects Manager in Ukraine, and Yuriy Maletskiy, National Delegate of the Knights of Columbus in Ukraine, Msgr. Vitillo spent two weeks visiting projects supported by ICMC and the Catholic Response for Ukraine (CR4U) partners in Lviv, Kyiv, Odesa, Ternopil, Chortkiv, and Ivano-Frankivsk, meeting with clergy, staff members, and medical professionals, and exploring additional needs and collaboration.
Mental Health and Psychosocial Support
During Msgr. Vitillo's previous visits to Ukraine, Mental Health and Psychosocial Support (MHPSS) had been identified as one key area of needed humanitarian response. Accordingly, ICMC began partnering with both Greek Catholic and Latin Catholic dioceses in Ukraine to engage professional psychologists and related caregiving staff to bring psychological, emotional, and spiritual assistance to those affected by the conflict, including Internally Displaced People (IDPs), the elderly, people with disabilities, and children.
In Lviv, the delegation attended such an ICMC-funded training session at the Greek Catholic seminary, during which young men preparing for priesthood learned about mental health and psychosocial assistance. With many Ukrainians coming to their priests for spiritual and emotional support, giving them the necessary tools to assist their compatriots is vital. Thanks to ICMC's donors, similar training courses are taking place in every Greek and Latin Catholic seminary in the country, thus helping future priests across the country as they develop skills to detect deeper emotional problems such as depression, substance abuse, or suicidal tendencies, and to make timely referrals to mental health professionals.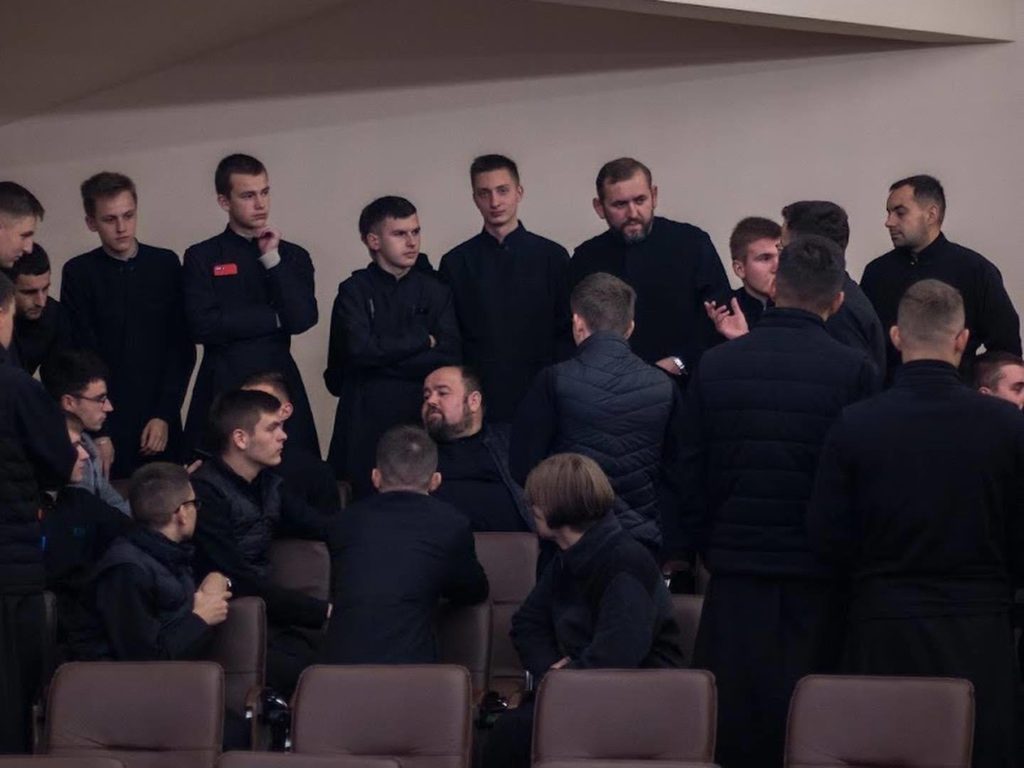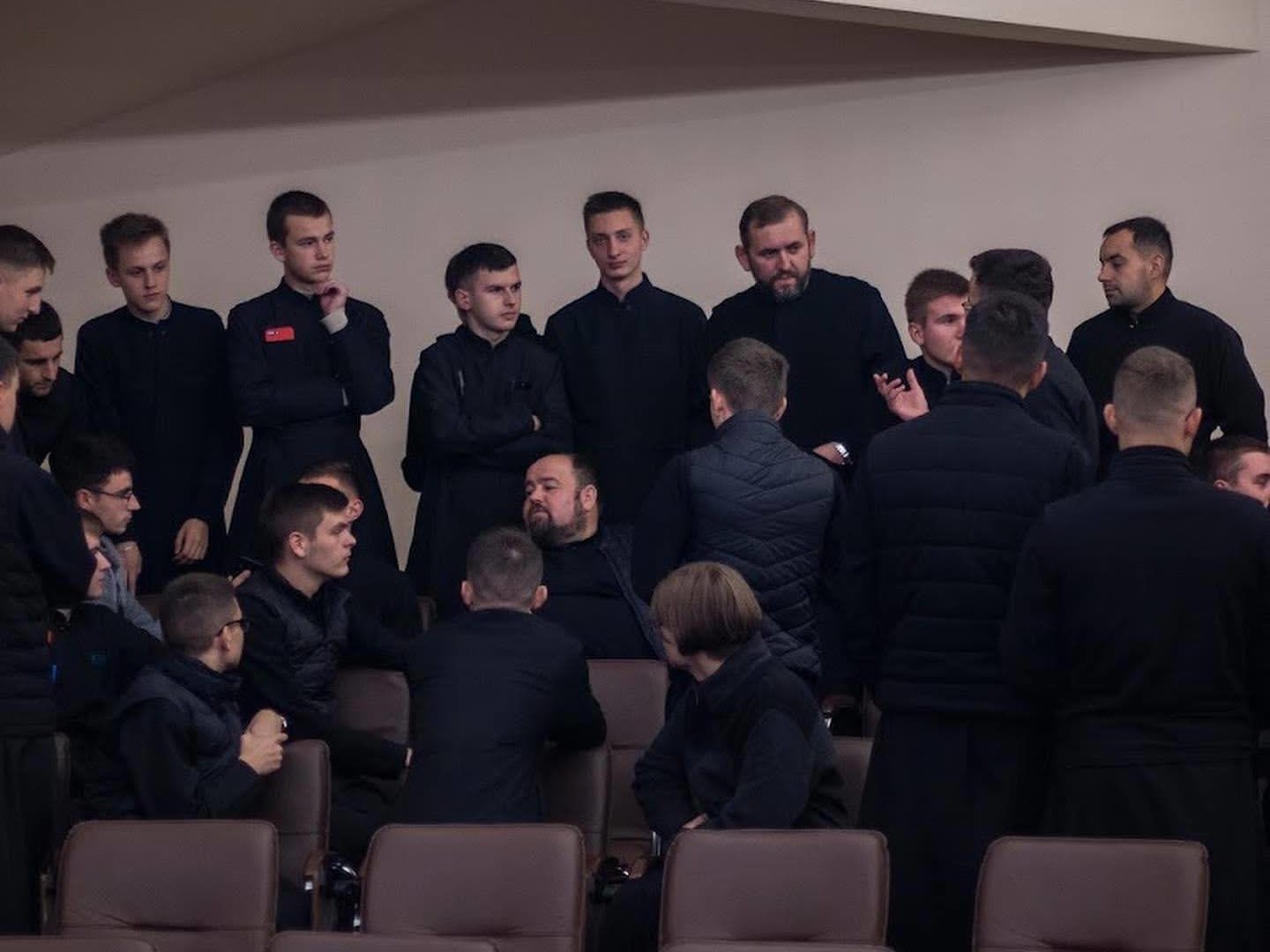 The following day, the ICMC delegation met with Fr. Oleg Salomon, his team of psychologists, and some of his students in Lviv. Fr. Oleg, a Scripture scholar, teacher of Biblical studies, and a trained psychotherapist, is the coordinator of two psychology centers funded by ICMC. These centers provide essential counseling and treatment services to IDPs and the local population. Earlier this year, they were visited by German and British experts who offered guidance in dealing with trauma and suicide prevention. These sessions were funded by ICMC, for which Fr. Oleg expressed deep gratitude as these skills have become increasingly essential since the Russian invasion.
Care for the Most Vulnerable
The delegation traveled to the capital of Kyiv, where they met with Fr. Vyacheslav Grynevych, National Director of Caritas Spes, the national Latin Catholic Church Organization. Msgr. Vitillo offered his sympathy to the staff of Caritas Spes, who lost millions of dollars' worth of relief equipment in the 19 September bombing of its warehouse by the Russian army. "Yet," observed Msgr. Vitillo, upon returning from his trip, "the organization remains unwavering in its commitment to assist IDPs, and particularly children, who have suffered immensely since the beginning of the invasion."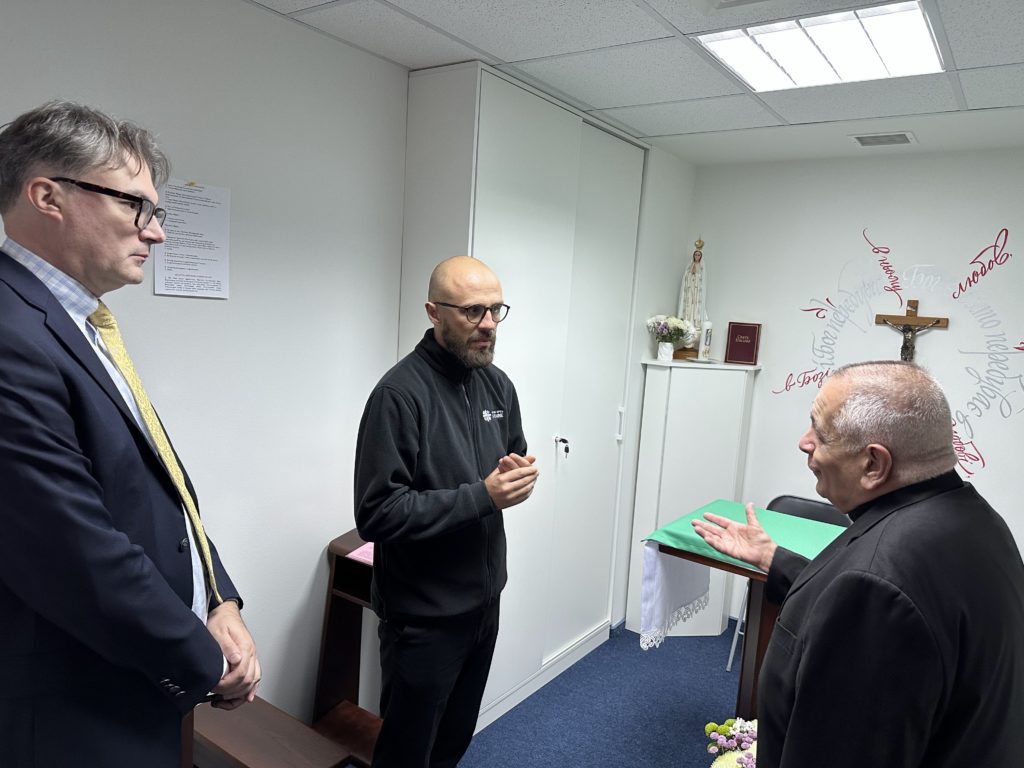 Nearly 28,000 Ukrainians, including almost a thousand children, have lost their lives as a result of the present invasion and conflict, while many other children have lost one parent or both parents. Many more children have been traumatized or injured by the relentless and indiscriminate bombings of residential areas by the Russian army. In partnership with ICMC, Caritas Spes has been running summer camps for children with physical and mental disabilities, offering them the psychological treatment and care they need, as well as a brief but much-needed reprieve from the war.
The delegation visited the local branch of Caritas Spes when they traveled to Odesa and met with Fr. Piotr Rosochacki. Fr. Piotr explained that the center has been working in priority with children facing emotional and intellectual disabilities; he spoke passionately of their activities, particularly pottery class, which he described as an "art with conscience," giving children a chance to mold and re-mold, to cover any mistake, as they work out their physical and mental challenges.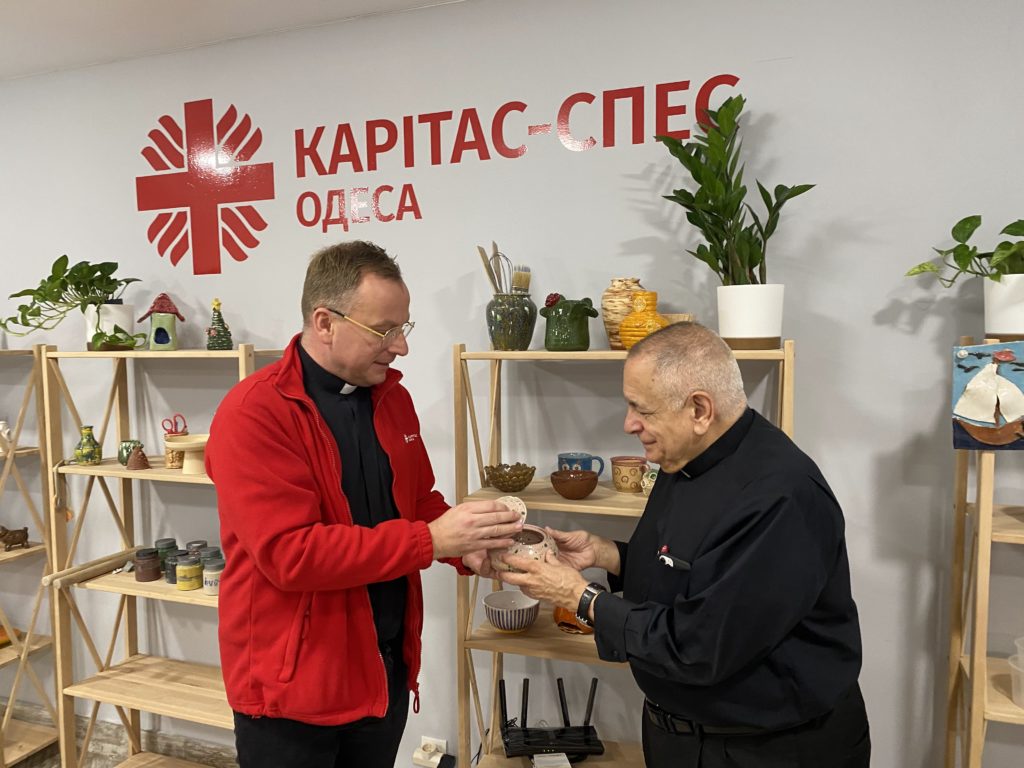 The delegation then proceeded to the Greek Cathedral of Odesa, where the Exarch Mykhaylo Bubniy greeted them. His diocese has been at the frontline of the conflict, with Odesa being heavily bombed by the Russian army and many of the most violent battles, such as Mykolaiv or Kherson, taking place within the region. His parishes have stood alongside the Ukrainian people, with priests, religious brothers and sisters, and laypeople reaching out to receive the many internally displaced persons and offering a new family to religious and non-religious alike.
Bishop Bubnyi accompanied the delegation to the Greek Catholic Caritas Odesa, where they witnessed the enthusiasm and commitment of the staff despite the difficult conditions. The organization helps Internally Displaced Persons with their registration and material assistance, runs outreach campaigns and long-term care facilities for the elderly, and offers workshops where children can learn, play, and socialize in safety.
Distribution of Medical Equipment
During the trip, the ICMC delegation also visited several hospitals, such as Saint Luke's clinic in Ivano-Frankivsk and the rural hospitals of Vradiivka and Liubashivka. Both establishments are the beneficiaries of ICMC partnership with the Knights of Columbus and Mission Outreach. Father Olexandr Bilsky, who serves as the Coordinator of Catholic Hospital Chaplaincy Services in the Eastern Region of Ukraine, welcomed the delegation and expressed deep thanks for the excellent equipment that would help the medical staff save many lives and do better rehabilitation with both military and civilians who have lost limbs as a result of bombardments and landmines. Msgr. Vitillo recalled that, while the delegation was on its way to Ukraine, they had a phone conversation with Fr. Bilsky to plan the visits to the rural hospitals. When signing off this planning conversation, Father Bilsky humoursly replied: "Let's stay in touch, if we are still alive."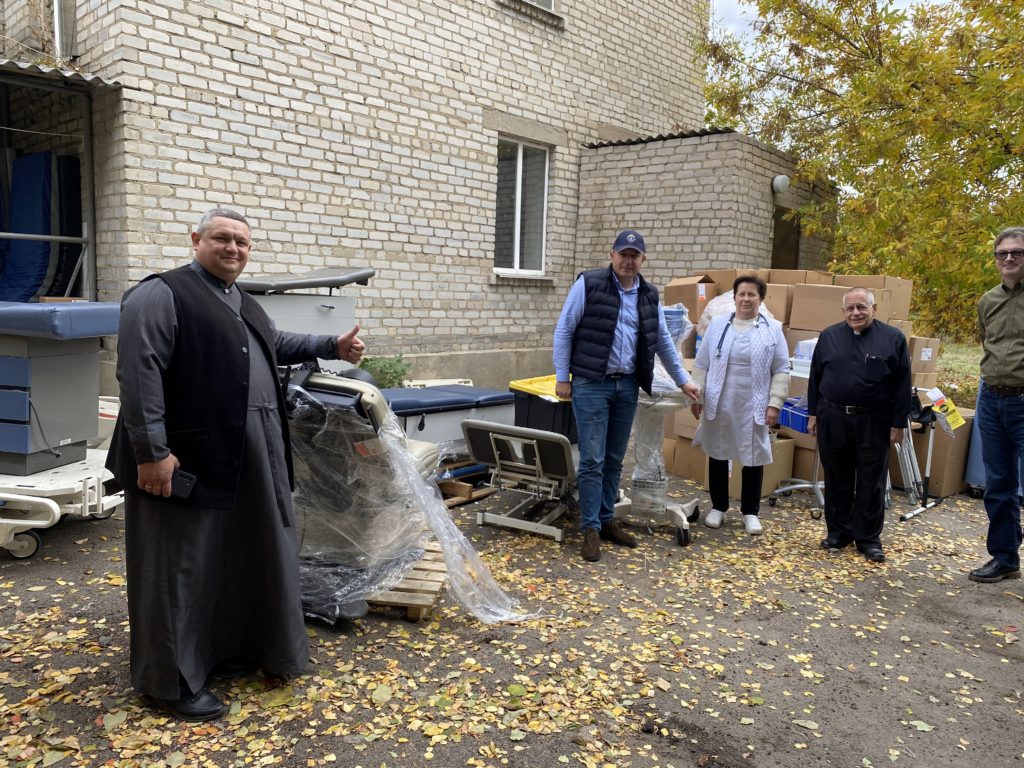 Mission Outreach is an affiliate of the U.S.-based Hospital Sisters Health System. It collects surplus but usable medical supplies and equipment from hospitals and clinics in and around the country and makes them available for distribution in other parts of the world. All the equipment sent to Ukraine was pre-identified as needed by the Ukrainian beneficiaries,
"About a year ago, thanks to the Catholic Health Association of the USA, we were connected with the Knights of Columbus in Ukraine and ICMC. We worked with them to ship a 40-foot (12-meter) container of requested medical supplies and equipment to ICMC and Knights of Columbus partners in Ukraine," explained Erica Smith, Executive Director of Mission Outreach.
These facilities play a crucial role in providing essential medical services to the residents of these rural areas, which have been under heavy attacks, but also for the increasing number of Internally Displaced Persons who had to flee their homes. Fr. Bilsky and the medical staff in Ivano-Frankivsk, Vradiivka, and Liubashivka were immensely grateful to ICMC, the Knights of Columbus, and Mission Outreach, for providing this much-needed equipment, as expressed by Dr. Ivan Budzan, a cardiovascular surgeon who currently serves as a military doctor in Lviv. "Thank you for your support from the beginning of the war, and for continuing to support us," he said. "Your help is really important and necessary for me, my colleagues, our hospitals, our patients and our country. It makes us stronger."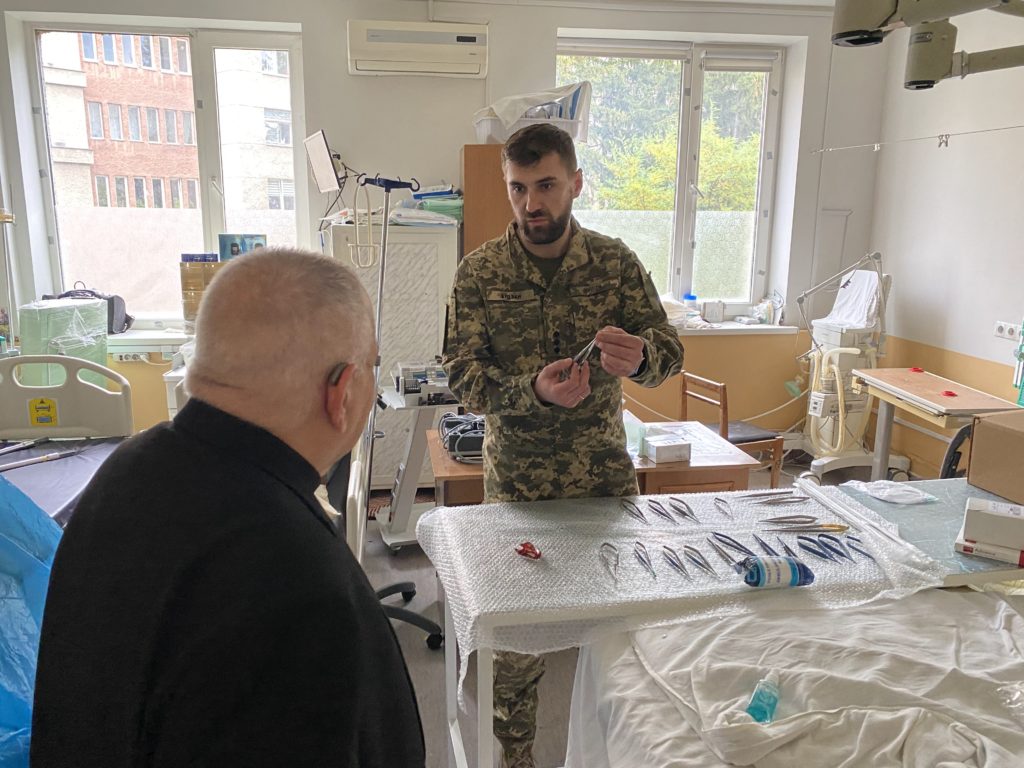 Preparing for the Long-Term Impact of the War
Throughout their journey, Msgr. Vitillo, Mr. Kostko, and Mr. Maletskiy met with members of the clergy, organizations, and individuals who offered their gratitude and advice. They discussed with them potential future partnerships.
In Kyiv, the delegation was received by the Papal Nuncio in Ukraine, his Excellency Archbishop Visvaldas Kulbokas, whose guidance has informed ICMC partnership programming. He was joined by the First Secretary of the Embassy of the Holy See to Ukraine, Msgr. Joseph Maramreddy. Both diplomats were eager to listen to Msgr. Vitillo's report on what he had observed so far, and to learn about the projects ICMC supported and the collaboration between the CR4U* members.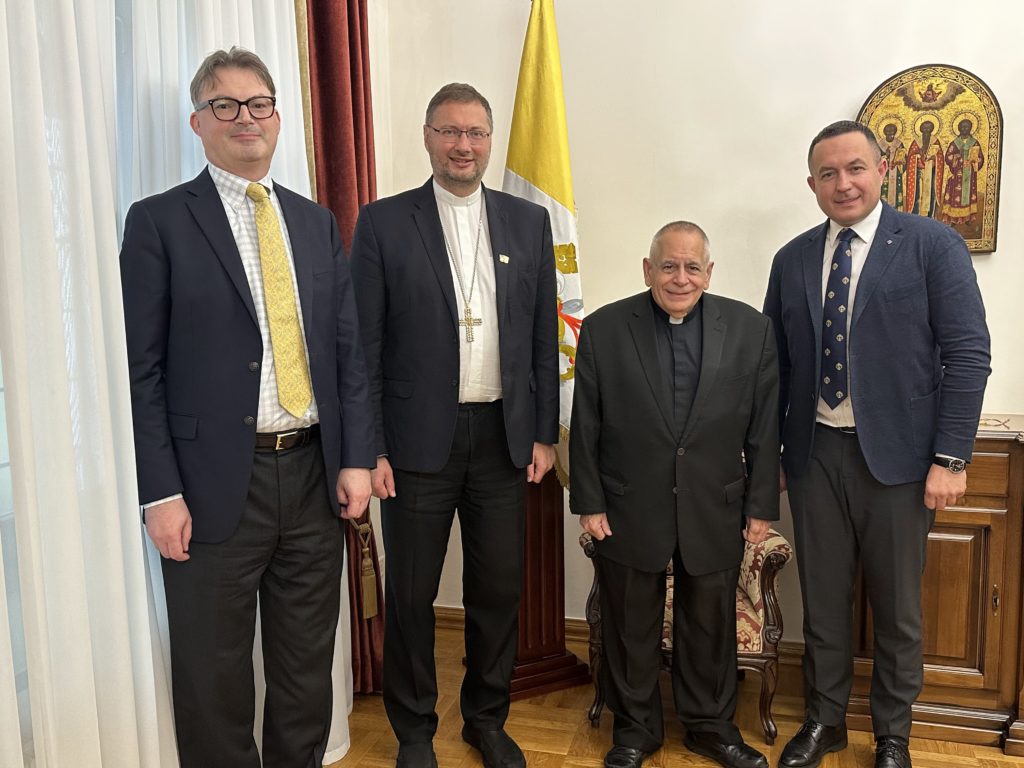 Future partnerships were also discussed when the delegation visited the Ukrainian Catholic University (UCU) in Lviv. Msgr. Vitillo and Mr. Kostko were greeted by the President of the University, the Assistant Director of the Mental Health and Psychosocial Support (MHPSS) section of the psychology department, and the Coordinator of the Development Department. The University discussed some of its research on the impact of MHPSS programs and the emotional and social impact of physical disabilities caused by the loss of limbs due to bombings and landmines. Together, they considered how the UCU and ICMC could partner in the future, especially to prepare for the long-term emotional and psychological effects of the war.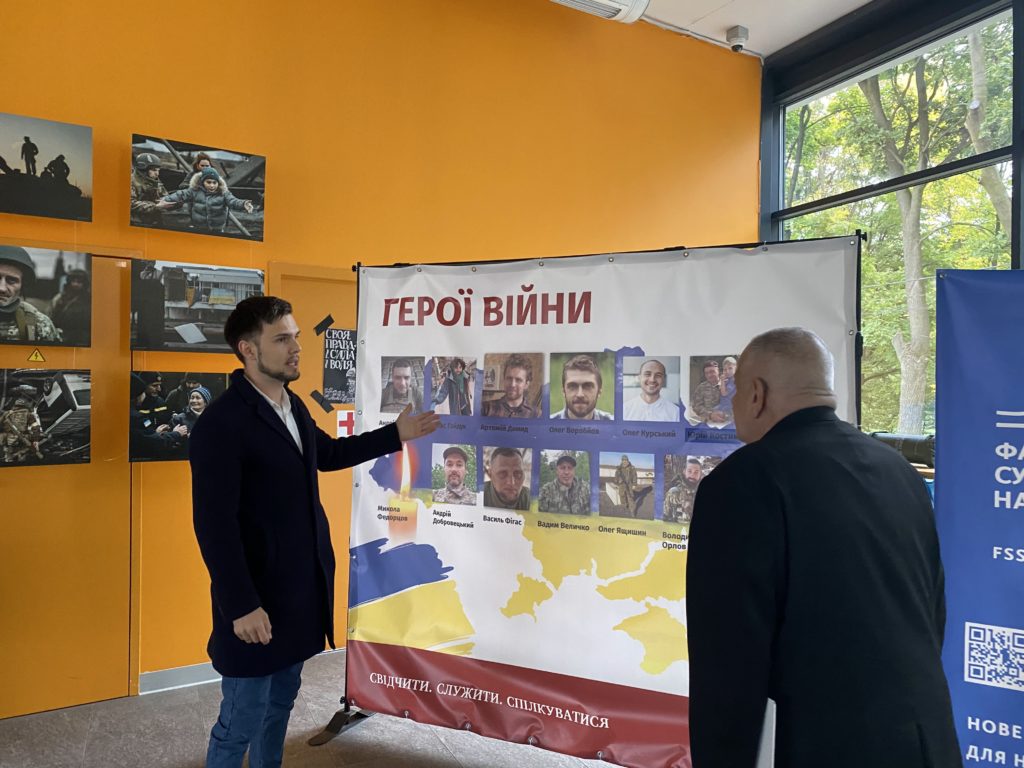 Similarly, the ICMC delegation met with Ms. Tetiana Stawnychy, President of Caritas Ukraine, at the national headquarters of the Greek Catholic diocesan agency. Together, they "brainstormed" over potential collaboration between ICMC and Caritas Ukraine, focusing on researching and strategizing on the long-term impact of the war, even after peace has been achieved.
Msgr. Vitillo also discussed the continuation of ICMC support for the Archeparchy of Ternopil-Zboriv with Archbishop Vasyl Semenyuk.
Toward the end of his visit, Msgr. Vitillo participated in a webinar organized by the Catholic Health Association of the United States of America (CHA), "Catholic Partnerships in Ukraine: Reflections and Future Challenges in Healthcare and Mental Health Support." He was accompanied remotely by Erica Smith of Mission Outreach, with whom he discussed what he had witnessed during his pilgrimage and the good practices that made it possible for Mission Outreach's shipment to be distributed efficiently. The event, moderated by Christian Kostko and Bruce Compton, Senior Director of Global Health for CHA, also featured the participation of Dr. Ivan Budzan and Maria Trakalo, a Ukrainian psychologist and expert trainer who leads ICMC's workshops for seminarians. Both expressed gratitude for the support they received from ICMC and its CR4U partners and highlighted the need to continue the effort.
---
* Representatives of several global Catholic Church-based humanitarian organizations established the Catholic Response for Ukraine Working Group (CR4U) shortly after the new invasion and conflict in Ukraine. The group aims to share information and experiences in their respective assistance to displaced people in Ukraine and Ukrainian refugees in neighboring countries. With weekly reports and regular meetings, group members promote a collaborative response that meets needs, prevents duplication of efforts, and leaves no one behind. The plan focuses on humanitarian aid, advocacy, data collection, communication, and religious assistance.