ICMC Co-Organizes Workshop on the Long-Term Expansion of Community Sponsorship for Refugees
On 26-27 September, ICMC and the Canadian Embassy to the Holy See co-organized a hybrid workshop on the community sponsorship of refugees. Participants called for improved dialogue, sustainable funding, and support for volunteers.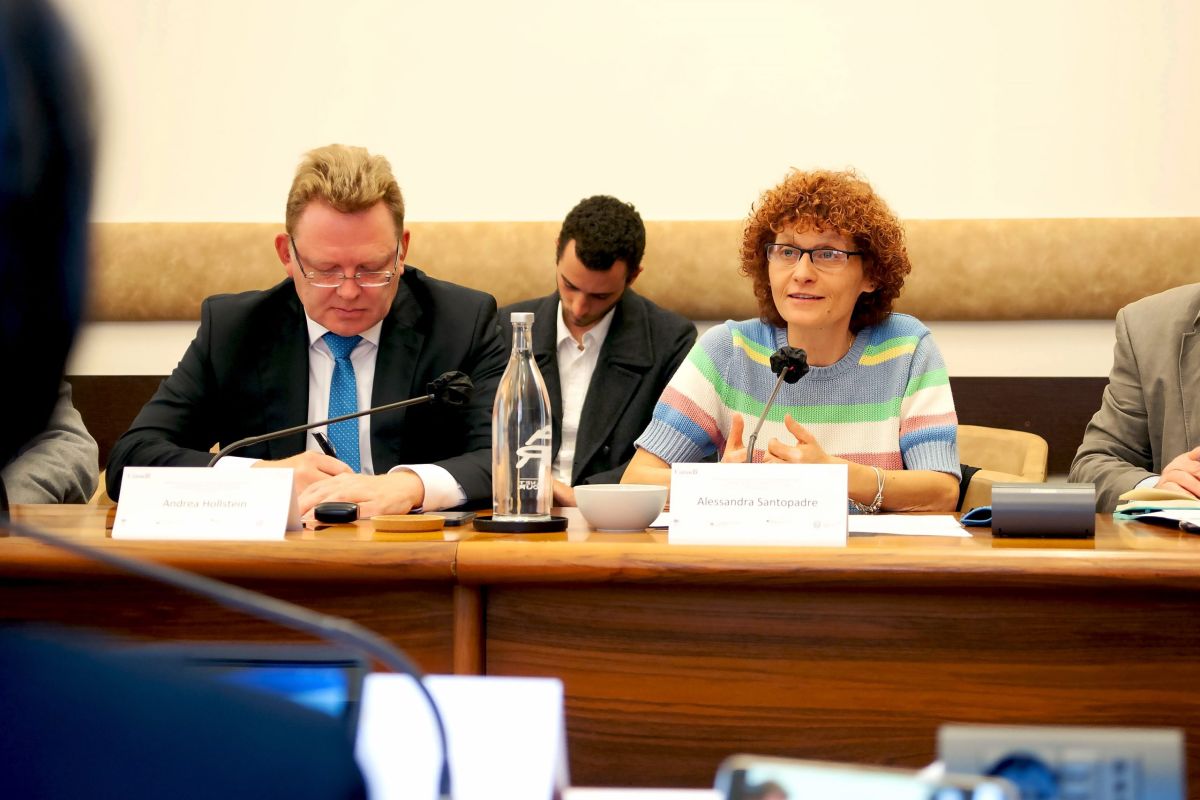 Scroll down for video recordings and links to speaker presentations
"In many ways, Pope Francis provided the foundation for today's workshop when he urged us to build a future together with migrants and refugees as his chosen theme for the 2022 World Day of Migrants and Refugees."
On the day after the observance of the 108th Vatican's World Day of Migrants and Refugees, these words from ICMC Secretary General Msgr. Robert J. Vitillo opened 'Building the Future through Community Sponsorship of Refugees: comparing experiences and learning from each other.' This hybrid in-person/online workshop was co-organized by ICMC and the Canadian Embassies to the Holy See and to Italy, in collaboration with the Embassies to the Holy See of Germany, Italy, the U.S., and the UK, and took place on 26-27 September 2022.
The agenda provided an opportunity for exchange and dialogue among those working on community sponsorship around the world. It focused on promoting exchange among those working at the grassroots level, including refugees themselves, and the governments and international organizations that help enable their efforts.
What is community sponsorship?
Also referred to as "private sponsorship", community sponsorship can broadly be defined as 'a public-private partnership between governments and private or community actors'. Governments facilitate legal admission for refugees, and private or community actors provide financial, social, and emotional support to admit, settle and integrate refugees into the community. During the last 40 years, the community sponsorship approach has been pioneered in Canada. From these Canadian beginnings, this approach is now being implemented in almost 20 countries across four continents.
Community sponsorship has a central role to play in global refugee protection. The 2018 Global Compact on Refugees (GCR) calls on States to establish private or community sponsorship programs, and community sponsorship is a key tool in achieving the GCR's 2028 vision of 3 million refugees benefiting from resettlement (1 million) and complementary pathways* (2 million).
"Local integration and return are increasingly unavailable solutions for the many refugees around the world," explained UNHCR Representative Chiara Cardoletti at the workshop. "Resettlement and complementary pathways are therefore crucially important, including community sponsorship." Paul Gibbard, Chargé d'Affaires at the Embassy of Canada to the Holy See and co-host of the workshop, placed the workshop discussion in its global context by calling on participants to recall the contribution of countries in the global North to hosting the world's refugees throughout their discussions.
Building dialogue and sharing experiences: the civil society perspective
Community sponsorship is a partnership activity based on strong coordination and cooperation across a wide range of individuals, organizations, and communities, in countries of asylum and reception and at international, national, and local levels. Civil society, including faith-based organizations, plays a key role in supporting newly arrived refugees in countries around the world and engaging communities in sponsorship activities.
On the first day of the workshop, Anna Khrystych, a Ukrainian refugee woman who arrived in Italy, spoke of her separation from loved ones in her home country and her uncertainty about the future, but she also spoke with gratitude for the welcome and assistance she received from Caritas in Rome and at national level in Italy. Also heard was civil society testimony from organizations based in Canada, Germany, Italy, the U.S., and the UK, most of them faith-based. All are countries where community sponsorship is active but at different levels of development and implementation. The civil society representatives focused on the successes and challenges of their sponsorship work, and the support required to help improve and expand their efforts.
Benefits of community sponsorship
All identified the positive impacts of sponsorship, both for refugees and the communities that welcome them. "Sponsoring refugees builds awareness at the individual, volunteer level, and at the community level in places where volunteers live and work," explained Mark Wiggin of Caritas in the UK Diocese of Salford. "Our humanitarian corridors program has allowed the Italian people to see successful integration in action," said Cecilia Pani of the Community of Sant'Egidio. "Now they better understand that refugees are potential resources for societies that receive them, rather than just people in need."
For Mohtas Anwar Modier, a refugee academic now studying in Italy as part of the University Corridors program, sponsorship builds new connections between refugees and communities in receiving countries. "My scholarship was funded by donations from lots of different people and organizations, so it was a real community effort," he explained. "It has also offered me an opportunity to be a model for other aspiring refugee students, and a platform to advocate for the importance of ensuring access to education for all refugees."
Within the sponsorship approach, grassroots volunteers ensure that refugees are not only welcomed, but also accompanied and empowered. "Arriving in a new country is highly complex," said UNHCR Italy Representative Chiara Cardoletti. "Our experience shows that when someone has an Italian next to them to go through the bureaucracy and the adjustment phase, it fast-tracks their integration."
Civil society participants also gave several examples of how engaging in community sponsorship initiatives had created opportunities to build new and stronger multistakeholder and institutional relationships, including new civil society cooperation with EU institutions.
Community sponsorship: the challenges
Notwithstanding the widely evidenced benefits of community sponsorship, the challenges for improving and expanding sponsorship pathways for refugees are very real. For civil society workshop participants, these included a lack of sustainable funding for sponsorship, bureaucracy causing delays to the travel process, the type of legal status granted to sponsored refugees on arrival, and the rising cost of housing in receiving countries.
"In many instances, civil society is completely funding sponsorship programs," said Fiona Kendall of the Federation of Protestant Churches in Italy, "To make programs reliable and sustainable, we need investment."
Civil society organizations supporting local volunteer sponsors also pointed to the need to resource their work in equipping volunteers with the skills and knowledge to engage in sponsorship, and to manage potential challenges after refugees arrive. "Within sponsorship, civil society organizations act as 'clearing houses' enhancing communication between refugees, sponsoring groups and authorities at all levels," noted ICMC President Christine Nathan. "To build on our successes, this work must be acknowledged and resourced."
Enabling community sponsorship: the role of governments and international actors
The second day of the workshop hosted dialogue and exchange between civil society actors and refugees, and the governments and international organizations that provide the framework and conditions for their work.
In a keynote address, U.S. State Department Assistant Secretary Julieta Valls Noyes detailed the U.S. government's drive to pilot new sponsorship approaches, and the role of sponsorship in providing safety and protection to thousands of Afghan and Ukrainian refugees in recent years. "Our Sponsors Circle program helped 140 sponsoring groups in 33 U.S. states to welcome Afghan refugees, and our Uniting 4 Ukraine program has received tens of thousands of applications from initiating sponsors," she stated. "Sponsorship is a new capacity for the U.S., and these experiences show the contribution it can make to harnessing goodwill in support of refugee protection."
Echoing the U.S. example, Dr. Janine Romero Valenzuela of the German Federal Ministry of the Interior and Community set out the actions of the German government in support of expanded and regular sponsorship activities. "We first piloted sponsorship in 2019, and have recently decided to make sponsorship a regular annual program," she explained. "We have taken several steps to make sponsorship as accessible as possible for those at the grassroots, including by reducing the financial requirements to engage in the program and establishing longer term cooperation with national civil society partners."
Panel discussions identified several key aspects of governments' roles in sponsorship programs. These included designing sponsorship programs that build on the skills already present within civil society, diversifying the range and type of sponsors, monitoring and evaluating programs (and flexibly adjusting implementation as needed), and communicating the successes of the program to a wider national and international audience.
International NGOs together identified their role in supporting research, training, and capacity-building for national governments, civil society, and grassroots stakeholders. "We work with civil society to design and pilot sponsorship programs, providing expertise, training, tools and resources as needed," explained Hannah Gregory of the Global Refugee Sponsorship Initiative, based at the University of Ottawa in Canada.
A new sponsorship community
The workshop concluded by acknowledging its own role in building a new community of sponsorship actors and stakeholders at the international level, and the vast potential of sponsorship to harness the capacities and goodwill of communities in receiving refugees.
"The Catholic Church organized to host more than thirteen thousand Ukrainians in just six months," said Daniele Albanese of Caritas Italy. "Communities are ready where programs are well-structured and partnerships are strong, and grassroots actors are able to share practice and experiences."
Considering the next steps for global sponsorship stakeholders and actors, Managing Director of the Refugee Hub Jennifer Bond identified five key clusters of work to take forward:
Engage in ongoing policy design, exchanging experiences and outcomes of new and innovative sponsorship models, within a framework of strong and trusting partnerships between stakeholders at all levels.
Build sustainable operational infrastructures and frameworks for community sponsorship, and ensure reliable long-term funding.
Further explore the potential of sponsorship as a crisis response tool, learning from sponsorship experiences in relation to the Afghan and Ukrainian refugee crises.
Develop collaborative approaches and collective learning opportunities, including resourcing the exchange of successful practice and expertise amongst sponsorship stakeholders at all levels.
To leverage sponsorship's full potential for change, tell the positive stories of community sponsorship to a much wider audience. Ensure refugees and sponsors are empowered and supported to participate in this work.
"In the last five years, the number of States, civil society organizations and grassroots stakeholders involved in sponsorship has grown so much," she concluded. "We are a community built around sponsorship, and we must keep working together to make the most of this wonderful tool."
Missed the live event? You can view it here!
Recording of Day 1:
Recording of Day 2:
View and download speaker presentations
* Complementary pathways are safe admission pathways for refugees to access a third country through other means than the traditional, government-led resettlement process. They include a range of solutions such as family reunification, humanitarian visas, student scholarships, special work visas, and private sponsorship of refugees. These admission pathways have the potential to increase the number of refugees a country can welcome.
Rachel Westerby
Rachel Westerby is an independent writer and researcher on migration, refugees and integration.