Supporting Unaccompanied Migrant Children Living on the Streets of Djibouti City
For the past 20 years, Caritas Djibouti, ICMC's member in the country, has been working with street children, most of them unaccompanied minors from neighboring Ethiopia. The organization's day center provides them with meals, showers, healthcare, and educational activities. Since 2019, children wishing to return to their home country to reunite with their families can also find a bed at Caritas' new night shelter.
By Rachel Westerby (*)
"This is a place in Djibouti where unaccompanied migrant street children feel at home and free," says a Caritas Djibouti manager of the organization's day shelter. "We aim to provide a space where they feel comfortable coming to us with their problems."
The manager, who prefers to remain unnamed, has been overseeing Caritas Djibouti's services to street children for over seven years. Many of the children have taken to calling her 'mother.' Every day, the shelter welcomes some 120 children from 7:30 am to 12:30 pm, providing them with breakfast and lunch, shower facilities and medical care, and a range of activities including sports, drama, music, and dancing. The center also offers literacy classes in French – an official language of Djibouti – and English – the most commonly spoken foreign language in neighboring Ethiopia.
Around 85% of Djibouti's street children are boys aged seven to 18 who have left Ethiopia's Oromo region and traveled over 500 kilometers to reach Djibouti City, the country's capital. "They come here to escape severe poverty in Ethiopia, often sent by their families to find work," the manager says. "Some also come here when one of their parents has remarried and there is no longer a place for them in the new family household."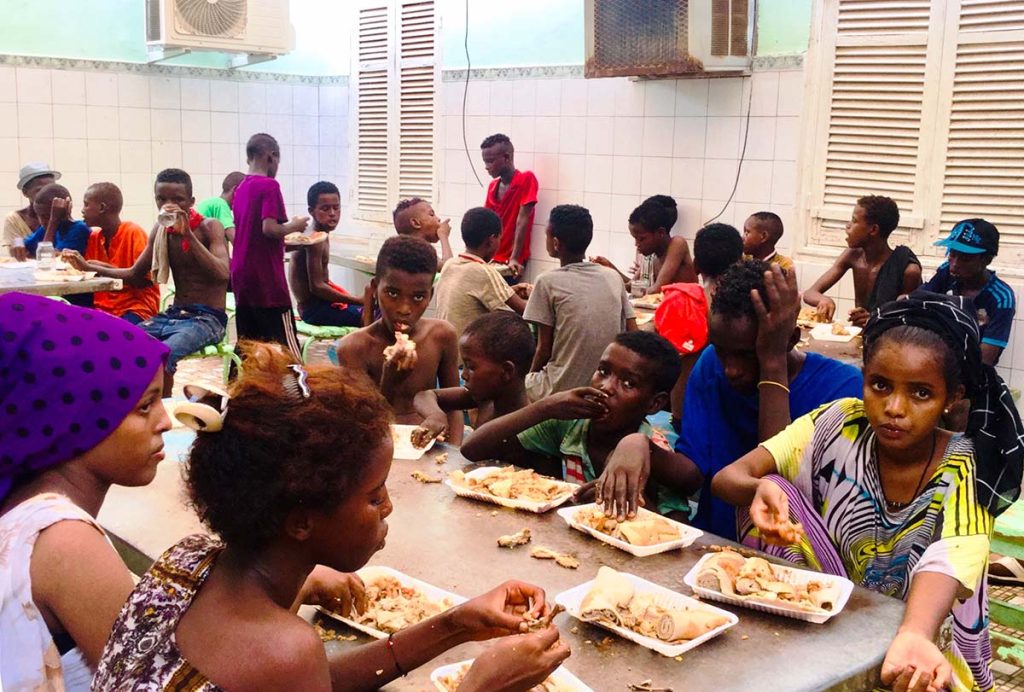 A small nation of the Horn of Africa, Djibouti is relatively wealthy and peaceful when compared to its neighbors Somalia, Ethiopia, and Eritrea. Its proximity to Yemen, located just across the Bab al-Mandab Strait, makes it an important transit country for many East Africans seeking to be smuggled across the Red Sea in the hope of finding work opportunities in the wealthy countries of the Arabian Peninsula. These factors make the country attractive to poor unaccompanied minors and adults from neighboring countries who are seeking to improve their lives.
Unaccompanied migrant children find work shining shoes, cleaning or keeping watch over cars, and assisting in the preparation of traditional food during holidays. Their earnings are sent back to their families in Ethiopia through an informal banking system, a network called 'Oromia bank.'
Many have substance abuse issues, and a significant number sniff glue in order to forget their situation. "Rape and sexual assault are ongoing risks for street children in Djibouti," the Caritas manager says. "Unfortunately, young girls in particular become involved in child prostitution as a means of earning money."
While all street children are vulnerable, those from a migrant background are often mistreated solely because of their migrant status. Without legal status in Djibouti, they have limited resources to which they can turn for protection. Against this backdrop of extreme vulnerability, Caritas opened its day center for street children in Djibouti city in 2004. The organization systematically registers children attending the center.
As the children are registered, a social worker uses an individualized and child-centered approach to develop a long-term project for each child. The majority of children want to access education, and Caritas works with a network of Catholic schools with which it has secured reserved places for approximately twenty street children per year.
In the longer term, Caritas Djibouti's mission is to find ways to reintegrate each child attending the center by placing them with a Djiboutian family or helping them reconnect with their families in Ethiopia and undertake voluntary return.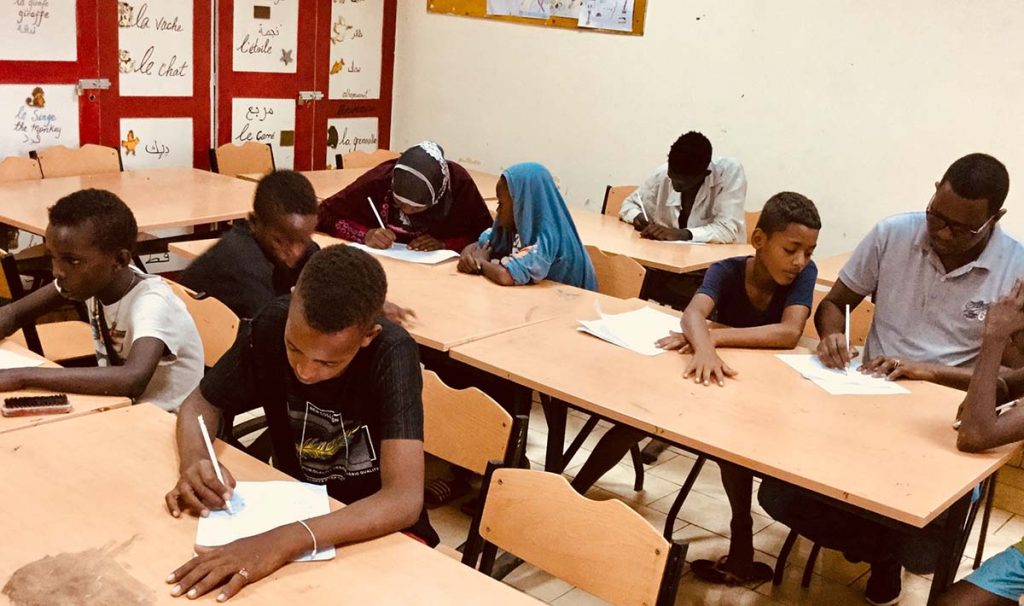 To facilitate returns to Ethiopia, the organization provides a family tracing service and collaborates with the International Organization for Migration (IOM) to organize returns. Since mid-2019, this collaboration has included a night shelter to accommodate children planning to return voluntarily. Returns generally take place within one to three months of the initial Caritas referral to IOM, and children will almost always travel back by plane. In 2020, Caritas Djibouti helped 117 children to return to their families.
"One major issue is that we don't have the capacity to follow what happens after children return, or to provide dedicated reintegration support in Ethiopia," explains the manager. The problems that pushed the children to leave their families will almost always recur upon their return. "We are discussing with IOM and others how best to address this issue, and the types of interventions that might be useful for children and their families to make sure voluntary return is sustainable."
For the Caritas manager, proper integration after return should include a plan tailored to each situation. In some cases, it could involve financial assistance to families on the condition that they send the child to school. In other cases, ensuring that the children can attend vocational training provided by partner organizations in Ethiopia may be the best choice.
The Caritas night shelter also provides temporary accommodation for street children who are sick or unwell, particularly those suffering from malaria during the October-March peak season, and for migrant children in transit who are returning to Ethiopia from their migration journey to Yemen.
The night shelter has a single permanent resident, a young Ethiopian migrant who attends a nearby Catholic school thanks to Caritas' support. Although he only enrolled in September 2020, he is at the top of his class. His teacher has made him the class supervisor when she is away. "He came here when he was eight: he is now 16 and is doing really important work that we want to support," says the manager. "He is an Oromo class supervisor in the school That is absolutely invaluable."
Caritas Djibouti has been working with children living on the streets for approximately 20 years. The organization is an International Catholic Migration Commission (ICMC) member, and its head, H.E. Bishop Giorgio Bertin, has been the president of ICMC since July 2021.
*Rachel Westerby is an independent writer and researcher on migration, refugees and integration