Coordination Is Key to Protecting Vulnerable Children in Libya
An ICMC expert deployed to UNICEF Libya under a new partnership agreement with support from USAID is playing a crucial role in bringing people together to protect children caught in humanitarian crisis.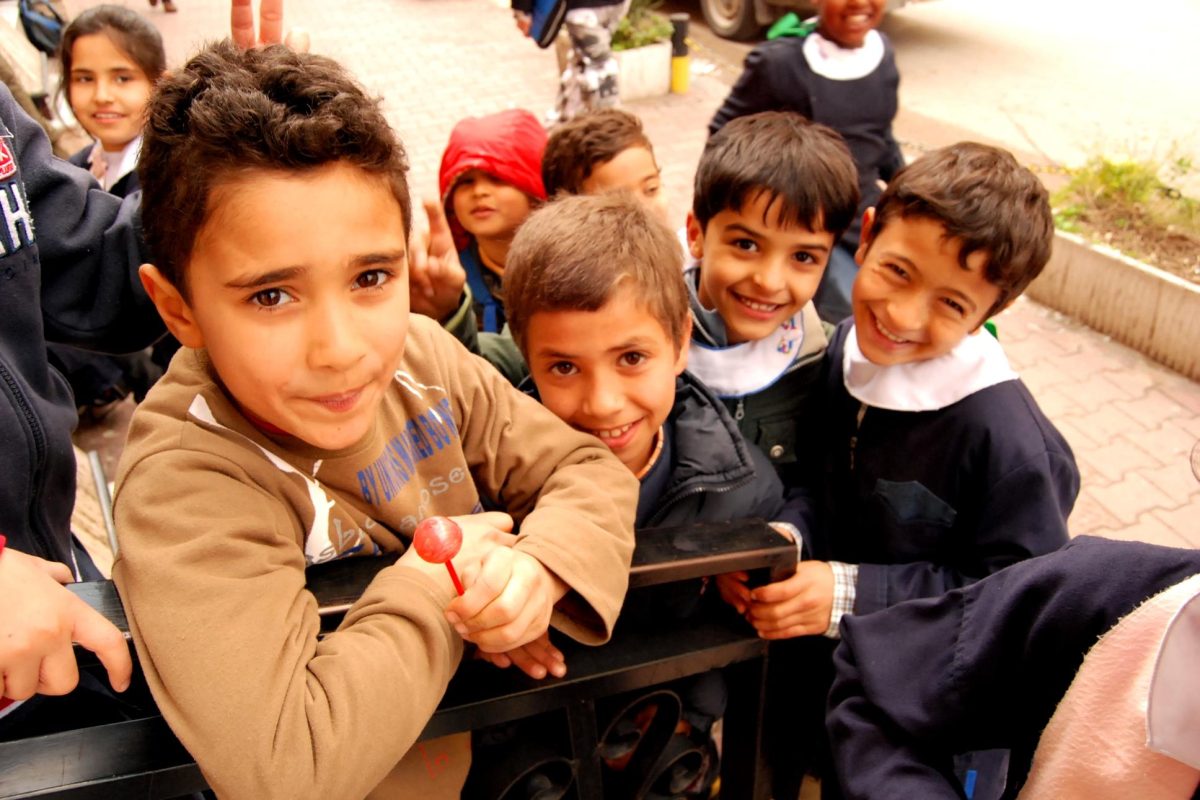 By Terri R. Miller
"A particularly complex but also unique context," is how Joshua Orawo describes the humanitarian environment in Libya.
The child protection expert has been deployed by the International Catholic Migration Commission (ICMC) to the United Nations Children's Fund's (UNICEF) Libya program since February 2021 under a partnership agreement launched the previous December with funding provided by the Bureau for Humanitarian Assistance of the U.S. Agency for International Development (USAID).
Orawo is responsible for coordinating the child protection response in Libya, an area of humanitarian assistance for which UNICEF is the lead agency. He is based at the UNICEF office in Tunis, Tunisia, which covers operations in Libya.
More than ten years of political instability and armed conflict in Libya have created a dire humanitarian situation. Healthcare, education and other infrastructure is weak or non-existent, and 1.3 million people need humanitarian assistance — more than a third of them children. Difficult access and limited resources mean that life-saving support cannot reach some children and families in need.
There is an unusually complex mix among the 271,000 children in need of protection in Libya, according to Orawo. They include internally displaced children — the core group in need — and other children on the move like returnees and refugee and migrant children. Another group is Libyan children who are exposed to various forms of violence in schools, homes and communities.
Children's profiles differ from group to group, adds the ICMC expert, who joined the ICMC Deployment Scheme in November of last year. While refugee and migrant children are mostly older and unaccompanied, there are children of all ages among those internally displaced or returning home. These children tend to be part of a family grouping, though some have been separated from parents or caregivers.
Risks to Children's Well-Being
All of these groups of children in Libya are vulnerable to violence, exploitation and abuse, and their protection needs are growing, says UNICEF. Though these needs are varied, Orawo points to emotional distress, physical, sexual and gender-based violence in schools, homes and communities, separation from family, risks related to mines and other explosive remnants of war and recruitment by armed groups as posing the greatest risks to the well-being of children on the move.
In addition, the COVID-19 pandemic has exacerbated psychosocial distress among children and increased child labor; children have been forced into work to help support their families after parents or caregivers have lost their jobs or sources of income.
Orawo says that the growing trend of evictions, especially among displaced families such as those returning to the town of Tawergha in northwestern Libya, is of particular concern. These evictions further disrupt children's sense of security and increase their vulnerability to family separation.
Migrant and refugee children, particularly those without family or caregivers, face unique human rights concerns such as arbitrary detention and discrimination, he adds.
Coordination Is Key
In this context, every day is a "discovery," with opportunities to enhance the humanitarian space, says Orawo. Coordination is critical so that as many children in need as possible can be reached by life-saving services. "You have to continue bringing people together."
Orawo does just that. Working under the umbrella of UNICEF as the Child Protection Sub-Cluster Coordinator for Libya, the ICMC expert from Kenya is coordinating the services of 17 organizations — local and international NGOs and UN agencies — that are providing critical support for vulnerable children at risk and survivors of violence in western, eastern and southern Libya.
"It's particularly important to have a dedicated, full-time coordinator for child protection [in Libya] due to the huge scope of the work," says Orawo, who is the first expert to be deployed under the ICMC-UNICEF Standby Agreement supported by USAID. His deployment supplies crucial expertise to ensure that humanitarian responses reach children in need and do so in a child-friendly manner that takes into account children's particular needs and vulnerabilities.
Good Outcomes for Children
The ICMC expert has worked with the UN humanitarian coordination office (OCHA) to advocate with authorities for a stop to planned evictions. Where this is not possible, he coordinates a plan of action to ensure humanitarian organizations are on the ground to protect children and provide shelter, food and other essentials and psychosocial support.
An important part of Orawo's coordination role is to strengthen the ability of humanitarian organizations in Libya to protect children caught in the crisis. He liaises to provide training for both child protection specialists and humanitarian staff assisting in other areas like healthcare or education.
The ICMC expert's coordination work has led to the involvement of local host communities in addressing discrimination against refugee and migrant children and their families. Through the coordination of child protection actors in Zuwara, a coastal city in northwestern Libya, local civil society organizations came together with international NGOs to reduce intolerance and decrease the threat of eviction.
Orawo notes that his coordination work relies on the various humanitarian NGOs and agencies involved. It is bigger than one organization's efforts, though each makes a vital contribution. "For us, success is realized when a coordination effort bears fruit, when bringing together different actors has given birth to a good outcome for children in Libya."
---
A founding partner of the Resettlement Deployment Scheme together with the UN Refugee Agency (UNHCR), ICMC supports UN humanitarian agencies and governments to provide vital protection and resettlement services for uprooted people around the globe.
UNICEF works in over 190 countries and territories to save children's lives, defend their rights and help them fulfill their potential from early childhood through adolescence.
USAID administers the U.S. foreign assistance program providing economic and humanitarian assistance in more than 80 countries worldwide.
This article is made possible by the generous support of the American people through the United States Agency for International Development (USAID). The contents are the responsibility of ICMC and do not necessarily reflect the views of USAID or the United States Government.
* Terri R. Miller is a freelance writer and communications consultant.