Refugee Sponsorship Promotes Acceptance, Integration in Host Communities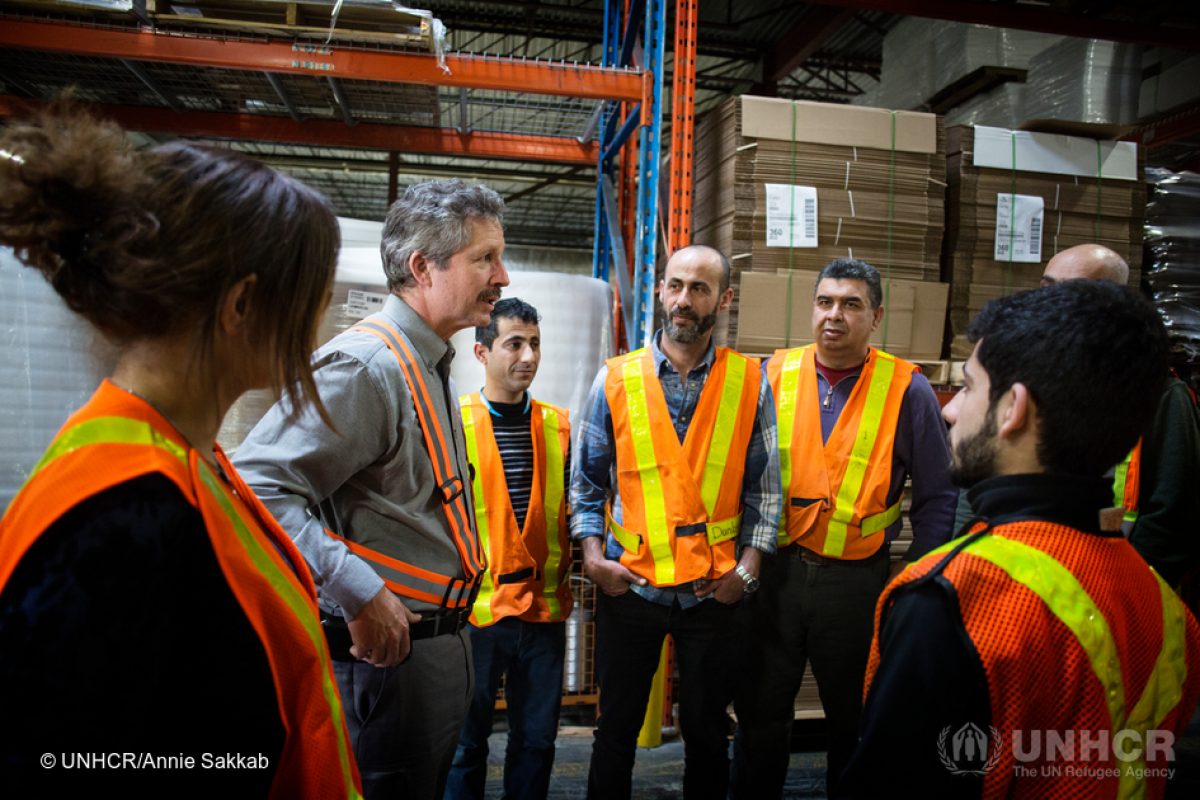 At a time in which the world has the largest number of refugees since World War II, community-based programs are providing people forced from their homes with resettlement and integration opportunities.
Responding to the needs of uprooted people may seem an overwhelming task when a record 65.6 million people had been forcibly displaced worldwide by the end of 2016. Among them, nearly 22.1 million are refugees.
In this context, the goal of the UN Refugee Agency and other international organizations is to resettle some 1.2 million refugees in third countries. However, government-run resettlement programs do not currently offer enough places to achieve this goal.
Therefore, establishing safe and legal pathways of admission that complement resettlement programs is essential if the current unprecedented global displacement situation is to be resolved.
The International Catholic Migration Commission (ICMC) together with the UN Migration and Refugee agencies (UNHCR/IOM) is working towards this goal in the framework of the European Resettlement Network (or ERN+).
The ERN+ develops innovative models to expand complementary pathways of refugee admission, with ICMC focusing on community-based sponsorships.
Discerning a role for churches and faith-based groups
In Canada, community-based programs to welcome refugees have been in place for more than 40 years. In a manner praised by other countries, these programs involve local communities in accompanying refugees who otherwise might not have found new stable homes and a chance for a better life. Almost 300,000 refugees have been welcomed to date under these programs.
Scott McLeod, an associate priest of the Anglican Diocese of Niagara, Ontario, works with parishes that sponsor refugees. He says the primary goal of these programs is to restore self-sufficiency and self-determination.
McLeod notes: "Each year our diocese warmly welcomes refugees into our communities. After fleeing persecution, refugees can thrive and enrich Canada because they are protected, welcomed and offered care."
"The work can look overwhelming," acknowledges McLeod, "but it is accompanying the refugees that is the key." He recalls the reflection of a parishioner involved in the program: "That baby in a manger about whom I'd been singing every Christmas since my childhood had in fact been passing through my living room in plastic flip-flops for days on end."
Brian Dyck chairs the group of organizations which have signed sponsorship agreements with the government and coordinates the resettlement work of the Mennonite Central Committee in Edmonton, Alberta. He emphasizes that sponsoring refugees has become a Canadian tradition in which faith-based and non-religious groups work together.
Alessandra Santopadre coordinates the refugee sponsorship program of the Catholic Diocese of Montreal, Québec. She explains that bishops play a crucial role in engaging parishes. If a parish does not have sufficient resources to become a sponsor, it can still help by providing food or housing. Communities engage for 12-month periods, but relationships usually last longer, Santopadre says.
Mcleod, Dyck, Santopadre and other representatives of churches, faith-based organizations and other groups from Europe and Canada put their heads together recently at a conference in Brussels. Their goal was to determine how to expand the "private sponsorship" model of welcoming refugees in European countries.
The 18-19 September gathering was organized by ICMC Europe in cooperation with Caritas International in Belgium and the Churches' Commission for Migrants in Europe. The conference focused on "The role of churches and christian organizations in community-based sponsorship programs for refugees in Europe."
Churches and religious organizations have long called for safe passage for uprooted people. They are used to lobbying decision-makers for larger resettlement quotas. But when these quotas fall short of the growing needs, new safe pathways to host countries are needed.
The Brussels conference explored best practices to promote and model community engagement, fundraising, housing and working with volunteers — for instance, offering interpretation and language courses.
Community programs take the lead
Community sponsorship programs are taking the lead to provide those additional entry pathways to welcome uprooted people seeking new homes.
Consider Nova Scotia, an Eastern Canadian province that has only 945,000 inhabitants and is depopulating due to the movement to urban centers. Evelyn Jones, Refugee Sponsorship Coordinator for the Immigration Services Association of Nova Scotia, outlines how such a relatively remote region has effectively mobilized communities to welcome refugees.
"In 2015, interest in refugee sponsorship surged and today there are some 150 sponsorship groups of which more than 60 percent are based in small communities," explains Jones. So, in 2016, a total of 550 privately-sponsored refugees arrived in the province.
"Groups need to be well-organized and extremely collaborative. They need to be able to create community awareness and build partnerships," says Jones. "The most successful communities are those that envision sponsorship as a long-term project."
The key to these programs, say the people behind them, is that community sponsorship engages local communities, churches and faith-based actors at a grassroots level that expedites long-term integration.
"A distinctive characteristic of community sponsorship is that ordinary people take responsibility for refugees in their community and ensure that they are welcomed and supported into their lives amongst us," says Mark Wiggin, Chief Executive of Caritas in Salford, England.
"To do this, ordinary people supported by a charitable agency work in partnership with the UK Home Office and local authorities to resettle refugees, help them find a suitable home, learn English, find employment and schools for their children as well as access to health care," Wiggin adds.
Wiggin says part of their motivation stemmed from "the frustration that the UK was doing too little too late." He explains: "We wanted more than the 20,000 Syrian refugee quota and saw our contribution as potentially adding to that number set by the government."
"Our motivation was also based on a fundamental understanding that all refugees are our brothers and sisters," Wiggin adds. "Community sponsorship allowed us not only to offer safety and protection, but also to express Caritas as justice, love and hope."
Thanks to community sponsorship programs, says ICMC Secretary General, Msgr. Robert J. Vitillo, "people who have been forced to risk their lives by seeking peace and security find a welcome, solidarity and the possibility of a future in accord with their God-given human dignity."
• To learn more about alternative legal channels for refugee admission, download ICMC Europe's research on how to expand complementary pathways for refugee resettlement in Europe.
• Download the conference report.