Living in a Tent: The Daily Struggles of a Syrian Refugee Family
Amira* and her family fled Dara'a, southern Syria, at the outbreak of violence in 2011 to seek refuge in Irbid, northern Jordan. During the first four years in the city, both Amira and her husband, Ahmed*, found an opportunity to work and could thus afford to pay the rent for their lodging. Later on, the family faced a dire financial situation. Sadly, Ahmed developed a physical disability and was no longer able to work or support his family.
Having exhausted their savings, the family was increasingly unable to meet their basic needs. Due to the growing demand for less expensive housing in Jordan and being unable to pay the rent for the following months, Amira and Ahmed made the difficult choice to move to a tent, hoping it would only be a temporary solution.
"It was hard to believe we had ended up in this situation," Amira commented, glancing at the tent. "We had such a nice house in Syria; we just have to pray it will get better. We live in the hope that we will eventually find a better place to live for our children."
Amira's family has lived in the tent for nearly two years. The tent does not supply any bathroom facility or kitchen equipment. Amira occasionally finds work as a domestic cleaner, but the remote location of the tent makes it hard to travel.
A few months ago, she became aware of the services provided by ICMC and approached the organization for support. ICMC staff thoroughly assessed the family's needs; Amira and her husband were immediately recommended for emergency cash assistance. Given the urgency of the situation, the family received assistance within five days.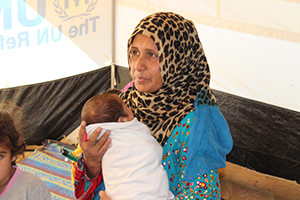 Amira still finds it hard to think the worst is over and is unsure whether she will be able to find the means to cover the expenses of the next months now that they also have to care for their youngest baby. "Everything is more expensive in Jordan, but we have no plans to return to Syria," she remarked.
Currently 80% of Syrian refugees in Jordan live in urban areas, often in extremely harsh conditions. ICMC strives to ensure that even the most isolated households receive protection and that Syrian refugees can afford to purchase basic commodities through emergency cash assistance.
*Names in this story have been changed to protect the identity of the beneficiaries.