ICMC works on the ground to provide medical assistance to the most vulnerable among the refugee and local populations. Working with medical doctors and mental health professionals, ICMC ensures that refugees can access quality health care, in good time and free of cost. 
People who had to flee their homes face serious challenges to stay in good health. Their access to social and health care services varies significantly from one country to another. While some governments open their health care systems to refugees and migrants, many others restrict access, especially for specific categories of migrants.
Keeping in good health also requires access to nutritious foods, adequate water and sanitation systems, and safe, effective, and affordable medicines and vaccines, all of which can be a faraway reality for many migrants and refugees.
Additionally, many people forced to flee faced traumatic events before their flight, during their journey, and even upon arrival in a new country. Especially those fleeing from an armed conflict may face significant challenges to their health and well-being for an extended time. They may suffer from chronic illnesses and have lacked access to proper medical care for a sustained amount of time. Living under constant uncertainty and strain, their mental health may have deteriorated.
Refugees and migrants usually endure risky and dangerous journeys to reach a safe place, often suffering injuries during this time. And when they finally reach a safer destination, they may have to live in precarious conditions, or only have access to a healthcare system under strain.
War, persecution, perils during transit, vulnerability to abuse, lack of information, and uncertainty about their migration status are just a few factors that people on the move may face. All of them contribute to an increased need for physical and psychosocial care.
ICMC works in different countries to allow vulnerable uprooted people to receive the health treatment they need. ICMC believes that all migrants, regardless of their status, should have access to high-quality health care. ICMC provides medical assistance to refugees and works with communities and governments to improve the quality of care.
Responding to the Physical and Psychological Needs of the Most Vulnerable
In Jordan, psychological trauma affects the most vulnerable among both the Syrian refugee population and the local communities that host them. According to some estimates, up to 70% of refugees have psychological disorders, as a result of their experience of war and persecution.
ICMC provides inclusive psychosocial services at its Protection Centers in the northern cities of Al-Mafraq and Irbid. Highly trained and experienced mental health professionals offer group and individual counseling sessions for both refugees and the vulnerable local population.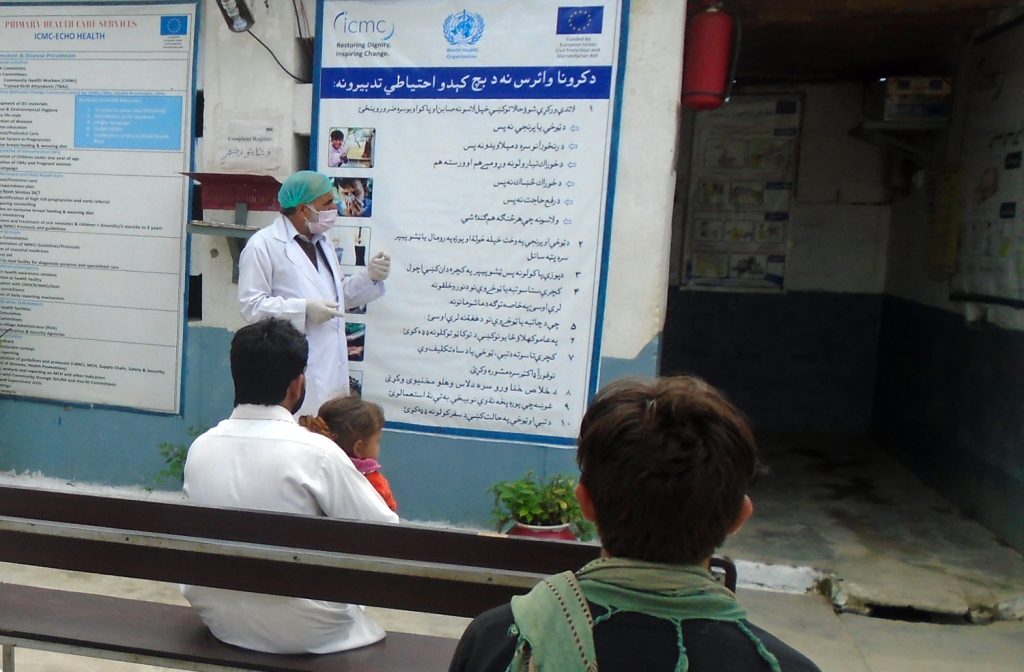 Adapting to New Circumstances, Maintaining the Focus on the Most Vulnerable
In March 2020, the World Health Organization declared the spread of the novel COVID-19 coronavirus a pandemic. Many countries implemented varying degrees of lockdown before and after the declaration. Such measures had severe effects on all human activity, including ICMC's work on health.
ICMC responded to these developments keeping at heart the safety and well-being of refugees and migrants as well as staff running its operations. ICMC kept open its Basic Health Units in refugee camps along the Pakistan-Afghanistan border. These units also served the local Pakistani population, many of whom lost access to government-run services during the lockdown. 
ICMC partnered with community leaders, mosque associations, and student/teacher programs to conduct education activities on the virus, ensuring that factual information on the disease reaches everyone in the community.
The lockdown imposed in Jordan restricted at first the activities of ICMC in the country. However, the commitment to serve refugees and vulnerable local people remained strong. ICMC has continued to provide psychosocial support and counseling sessions to vulnerable communities, via phone interviews and digital platforms. As the lockdown measures were relaxed, ICMC staff started to reach out to refugee communities with essential services again.
ICMC's services have played a vital role in reducing adverse emotional reactions, including post-traumatic stress, confusion, anger, and stress, which can be triggered by prolonged quarantine, fear of infection, frustration, boredom, inadequate supplies and financial loss related to the coronavirus outbreak.