ICMC assists refugees and displaced people when they are unable to meet their basic needs. With cash assistance, families can respond to what they know to be their most pressing needs. Assistance with rent payments may be necessary at times to maintain decent living conditions. ICMC also helps refugee children realize their right to education, providing them with materials to attend school.
Forcibly displaced people often had to leave almost everything behind. Their lives disrupted, they may not be able to afford basic necessities, even if before they were living a comfortable life. This is the moment when humanitarian assistance is indispensable. Humanitarian aid seeks to save lives, alleviate suffering, and maintain dignity.
ICMC provides refugees in several countries with material and financial aid to meet their basic needs, enabling them to live in dignity. Its programs are designed to quickly and effectively respond to emergencies and are tailored to refugees' needs, both immediate and longer-term.
ICMC distributes essential household items such as mattresses, blankets, plastic sheets, containers for water, cooking utensils, and hygiene kits, including essential goods for infants, toddlers, and adults. These essential relief commodities help people maintain personal and domestic hygienic living standards in often overcrowded accommodations.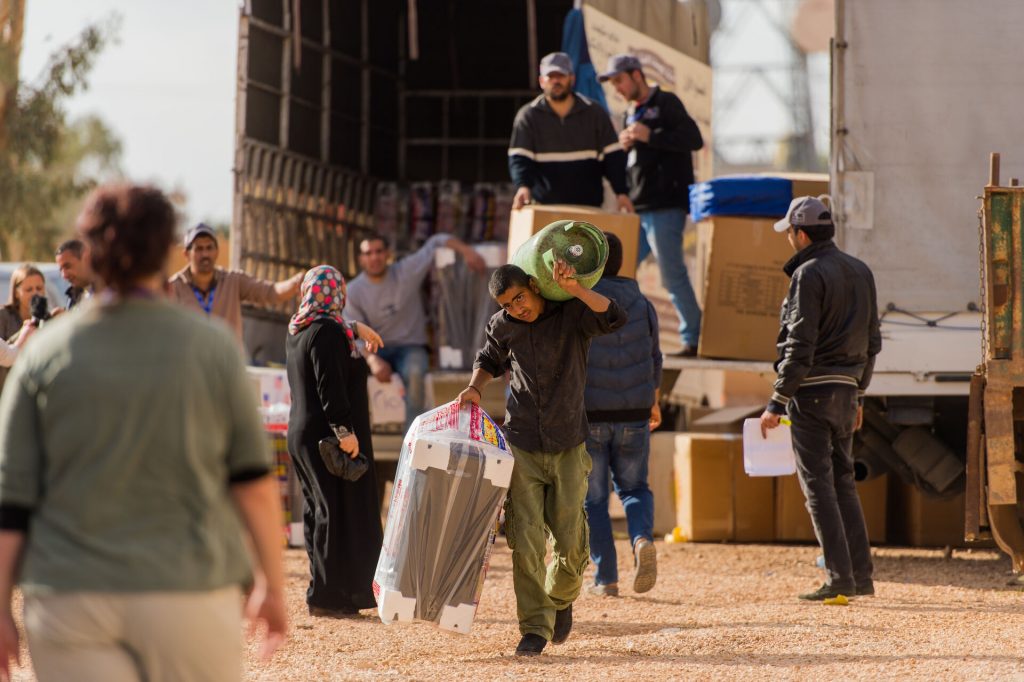 Throughout this work, ICMC makes sure that the local communities are involved in the projects and that interventions are adapted to refugees' needs, especially women and girls. Outreach programs led by the local community, awareness-raising campaigns, referral systems, and an accessible network of service providers guarantee the effectiveness and sustainability of ICMC's ICMC's programs on the ground.
Cash Assistance Brings the Decision-Making Power Back to Beneficiaries
For many refugee families, affording adequate living conditions is challenging. It is often difficult for refugees to find work in host countries: there may be regulations against it, or high unemployment levels may make finding a job very unlikely. The cost of everyday household items can be entirely out of their reach. As it happens, many refugee families live below the poverty line. This means that poorer households often lack the financial means to buy basic items or afford the monthly rent.
In Jordan, ICMC's cash assistance enabled more than 1,100 households to make their accommodation safe and comfortable during the colder winter months. A one-time distribution of cash was made to over 530 vulnerable households facing urgent needs, and 500 families received funds to rent housing, which ensured that they were able to afford a safe living space.
ICMC provides families with rental cash assistance, allowing them to pay for their housing and ensure safe accommodation without falling into debt. ICMC's Cash for Rent assistance program helps alleviate their vulnerability by keeping a roof over their heads when times are at their worst. Cash assistance also ensures that families do not have to resort to negative coping strategies, such as borrowing money.
Additionally, in places such as Jordan, winters can get very cold. This exacerbates further the vulnerabilities of families living in already precarious conditions. Harsh temperatures and snowstorms make it even harder to cope. In response to this, ICMC provides families with cash assistance to buy indispensable household items for the winter.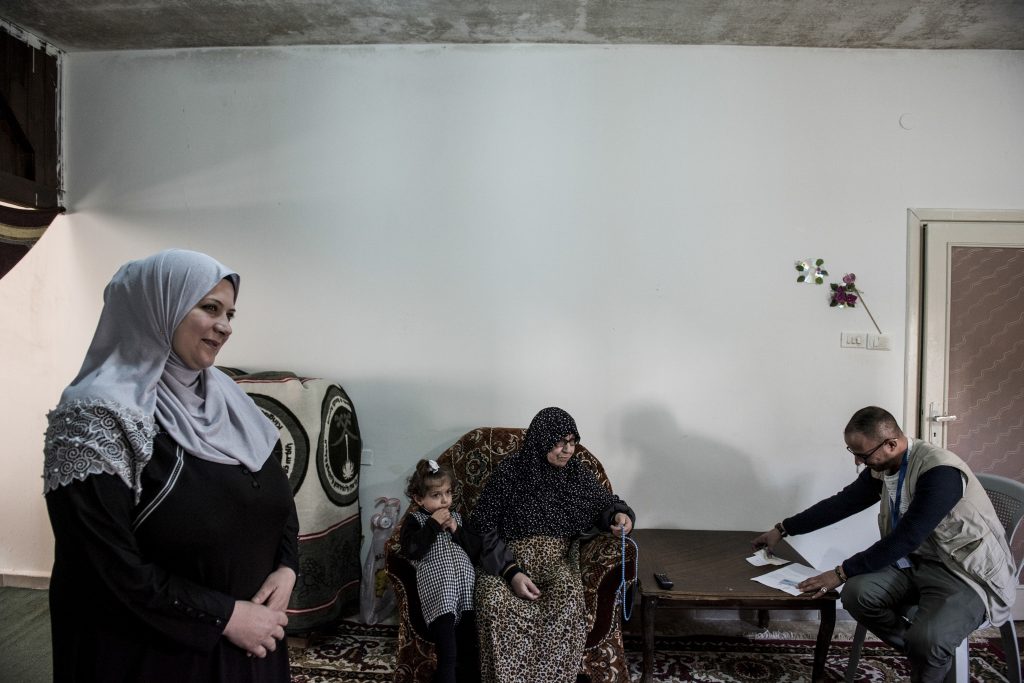 Following a thorough assessment of their living conditions and needs, beneficiaries receive cash allowances through personal ATM cards, thanks to which they can afford to pay rent of adequate housing, purchase warm clothes, food, or other everyday items as appropriate. This type of assistance allows individuals and families to freely spend the allowance on those items they find most necessary, ensuring that the aid delivered corresponds to the beneficiaries' actual needs.
Cash assistance allows families themselves to decide what are their priority needs. As shown by research into humanitarian aid, and as conveyed by refugees themselves, it is the most dignified mode of assistance for highly vulnerable households.
Educational Support for Brighter Futures
Education is a human right, and especially for children. All children should have the opportunity to go to school. Yet, education is often one of the first victims of forced displacement. Many children have difficulty enrolling in school in the host country, may not know the language, or have the financial resources to afford to continue their education. Additionally, many may need to work instead of studying, to help their families cope with the difficult situation.
Access to education for refugee children is limited. Globally, 3.7 million refugee children of school age are out of school. According to data from the UN Refugee Agency, UNHCR, refugee enrollment in primary school stands at 63%, while secondary level enrollment is at 24%. ICMC works to ensure that refugee children can go to school, provides educational and recreational kits and supplies, supporting school registration and facilitating access to scholarships.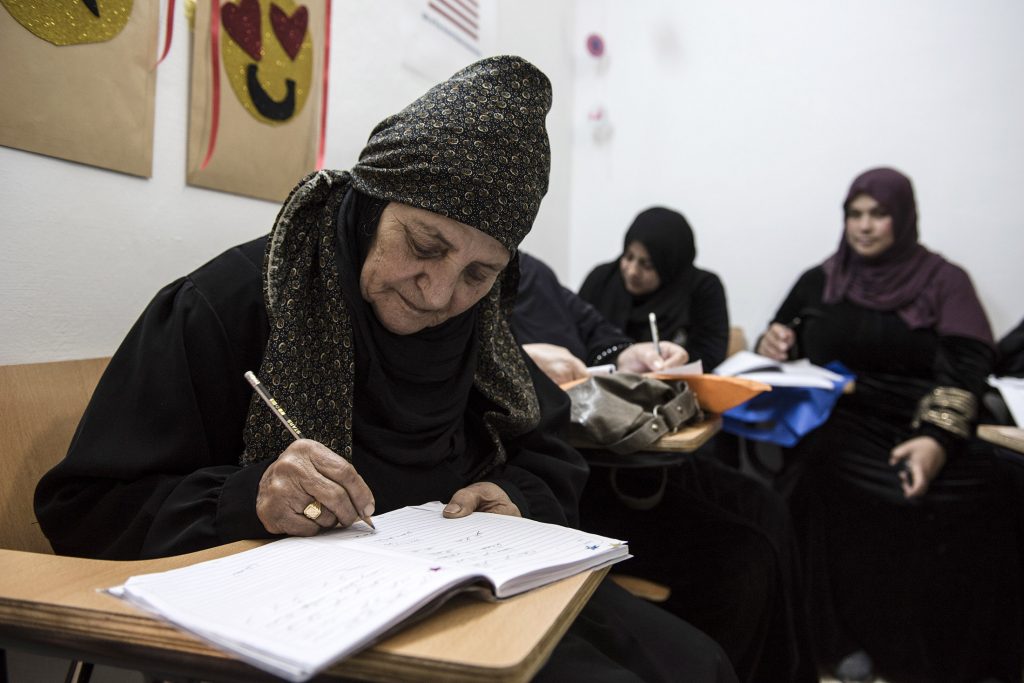 In Jordan ICMC is engaged in adult education, providing Arabic and English literacy courses to women. ICMC believes that education will improve adult women's experience and bring about a host of positive benefits. Among the women students in Jordan, ICMC can report reduced social isolation, the creation of community initiatives, and increased independence. 
In Pakistan, ICMC has secured scholarships for several refugee children in primary and secondary education.