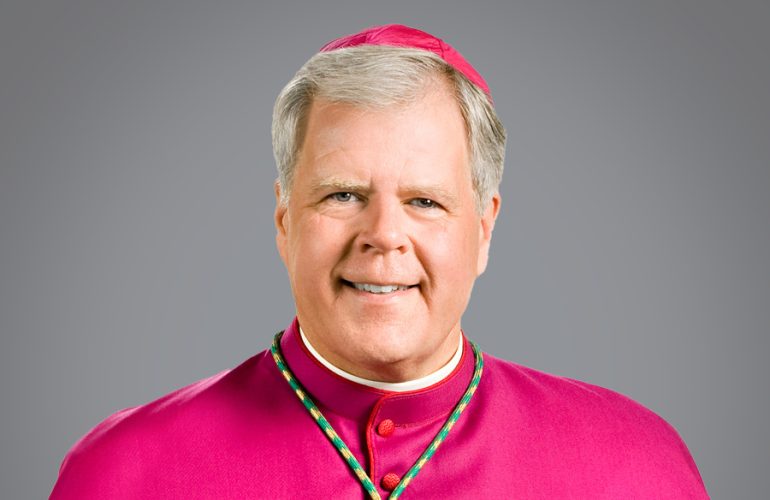 H.E. Bishop Gerard Bergie
Bishop Bergie was ordained to the priesthood in May 1984 in the Diocese of Hamilton. He was named Auxiliary Bishop of Hamilton in July 2005 and ordained as a bishop in August 2005. He was named Bishop of the Diocese of St. Catharines in September 2010 and installed in November of the same year.
Bishop Bergie studied at St. Jerome's College, the University of Waterloo, and St. Peter's Seminary, London, Ontario. He received a master's degree in Divinity from the University of Western Ontario in 1983 and a licentiate in Canon Law from the University of Saint Thomas Aquinas (the Angelicum) in Rome in 1991.
Bishop Bergie is currently a delegate for the Canadian Conference of Catholic Bishops (CCCB) on the Governing Board of the Canadian Council of Churches, member of the Canadian Conference of Catholic Bishops' Episcopal Commission for Liturgy and the Sacraments, Co-Treasurer of the CCCB Executive Committee and a member of the CCCB Permanent Council. He is Chair of the Education Commission and Vice-President of the Executive Committee of the Assembly of Catholic Bishops of Ontario, and a member of the Lutheran Church-Canada Roman Catholic Theological Dialogue. Bishop Bergie has played a key role in securing funds and coordinating partnerships for dioceses to sponsor refugees to resettle to Canada.