Promoting Healing and Resilience: ICMC Partners With Catholic Church Structures in Ukraine To Provide Psychosocial and Spiritual Support to Those Affected by War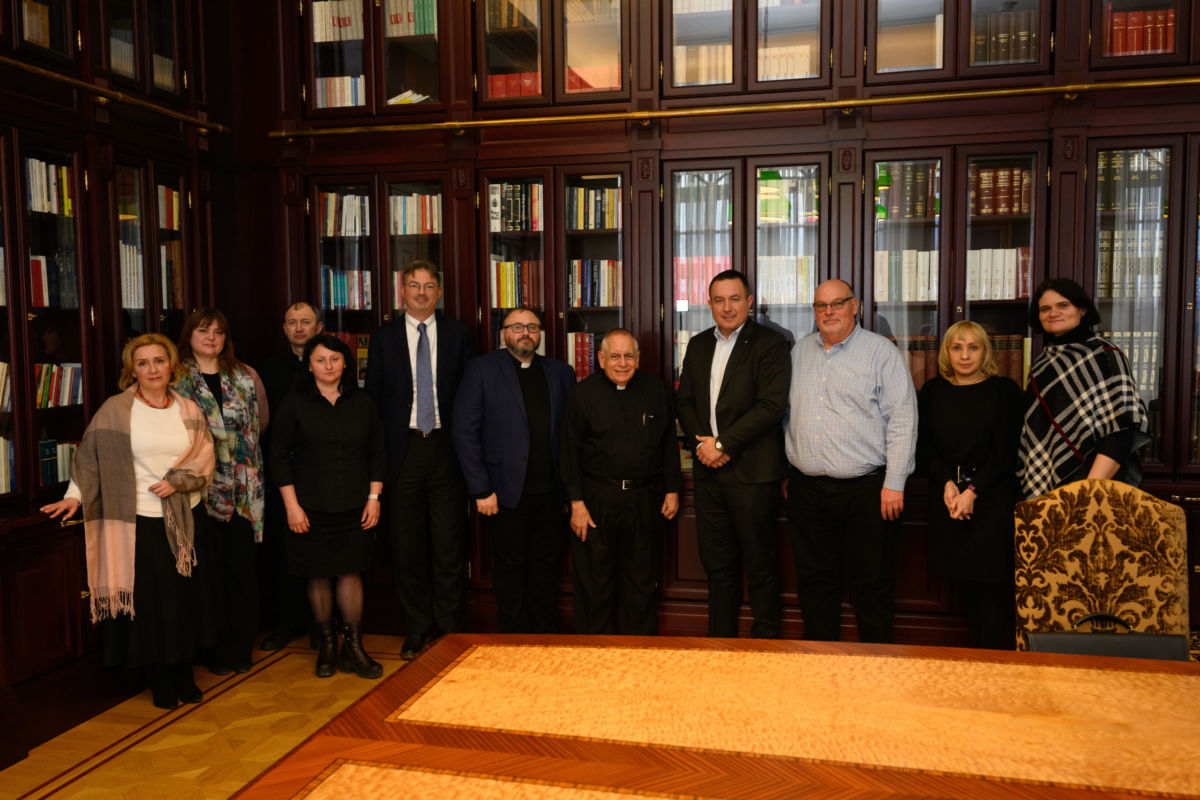 In the wake of the full-scale Russian invasion of Ukraine, commencing in February 2022, the Roman Catholic Church (RCC) in Ukraine has taken compassionate and proactive steps to provide essential psychosocial and spiritual support to both civilians and military personnel who have been profoundly impacted by the conflict. As the conflict persists, the International Catholic Migration Commission (ICMC) has stepped in to support the RCC in addressing the growing demand for specialized psychological and spiritual assistance.
Along with death and destruction, the war in Ukraine has inflicted profound trauma upon its people, leaving millions with emotional wounds that may endure long after the conflict ends. Members of the RCC in Ukraine were quick to act to help their countrymen. To ensure that psychotherapists and clergy were equipped with the necessary training and resources to offer their support effectively, His Excellency Radozlav Zmitrovich, Auxiliary Bishop of Kamianets-Podilskyi Diocese and head of the Family Pastoral Commission at the Episcopate Conference, established the National Center for Spiritual and Psychosocial Support. The Center serves as a central hub to coordinate funding, program development, and the recruitment and training of professionals dedicated to assisting veterans, civilians, and children.
Recognizing that spiritual and psychological aid is a crucial means to mend the deep emotional wounds inflicted by the conflict, Bishop Zmitrovich emphasized the importance of this holistic approach: "some people suffer because they cannot forgive themselves; some people because they cannot forgive their offenders; not everyone can accept their story and cope with the things that happened to them," he explained, "therefore, in cooperation with psychologists, we want to bring spiritual healing to people as well. We are convinced that it is extremely important."
Currently, the center operates five rehabilitation facilities in Ukraine, with three located in the Archdiocese of Lviv and two in Kamyanets-Podilskyi. These centers are staffed by dedicated teams of psychologists and social workers who offer individual and group therapy sessions for individuals of all ages. Thanks to the financial support from ICMC, the RCC has been able to compensate the salaries of twenty psychologists working in those facilities. It is directed by Father Oleg Salomon, priest of the Lviv Archdiocese, psychologist, psychotherapist, assistant of the special education department of Ivan Franko National University of Lviv, Chairman of the Board of the Charitable Foundation, and president and board member of the NGO "Kolping Ukraine."  
In collaboration with ICMC, the National Center has organized a series of seminars across Ukraine, aimed at equipping psychologists, social workers, and clergy with the essential skills for providing psychological first aid and trauma support to individuals experiencing high levels of stress. Father Oleg Salomon highlights the significance of this endeavor: "This project involves another important aspect, namely skill improvement for psychologists and psychotherapists. Within the framework of this project, we managed to conduct two very important trauma therapy trainings with well-known trainers, military psychologists who have a lot of work experience and are ready to share it."
Specialized training is indispensable to effectively assist individuals traumatized by the war, whether it be physically, mentally, or spiritually. As Father Oleksandr Khalaim, a priest of Kamianets-Podilskyi Diocese, military chaplain, and Missionary of Mercy, underscores, "the war will go on for a long time in the minds and hearts of those who fought in it. They will need the help of both the Church and professionals in the field of psychology. That is why we are looking for people who could help veterans return from war. We ourselves shall become experts in this. We must learn how to help people properly."
With assistance from ICMC, local personnel are undergoing the necessary training, acquiring new skills, and preparing themselves to enable the RCC to provide enduring psychological and spiritual support to men, women, and children profoundly affected by the protracted conflict, offering hope and healing in the face of their harrowing experiences.