ICMC Assists Local Organizations Responding to the Needs of Displaced Ukrainians
ICMC, its members and partners step up to provide vital support and assistance for those displaced by the conflict in Ukraine.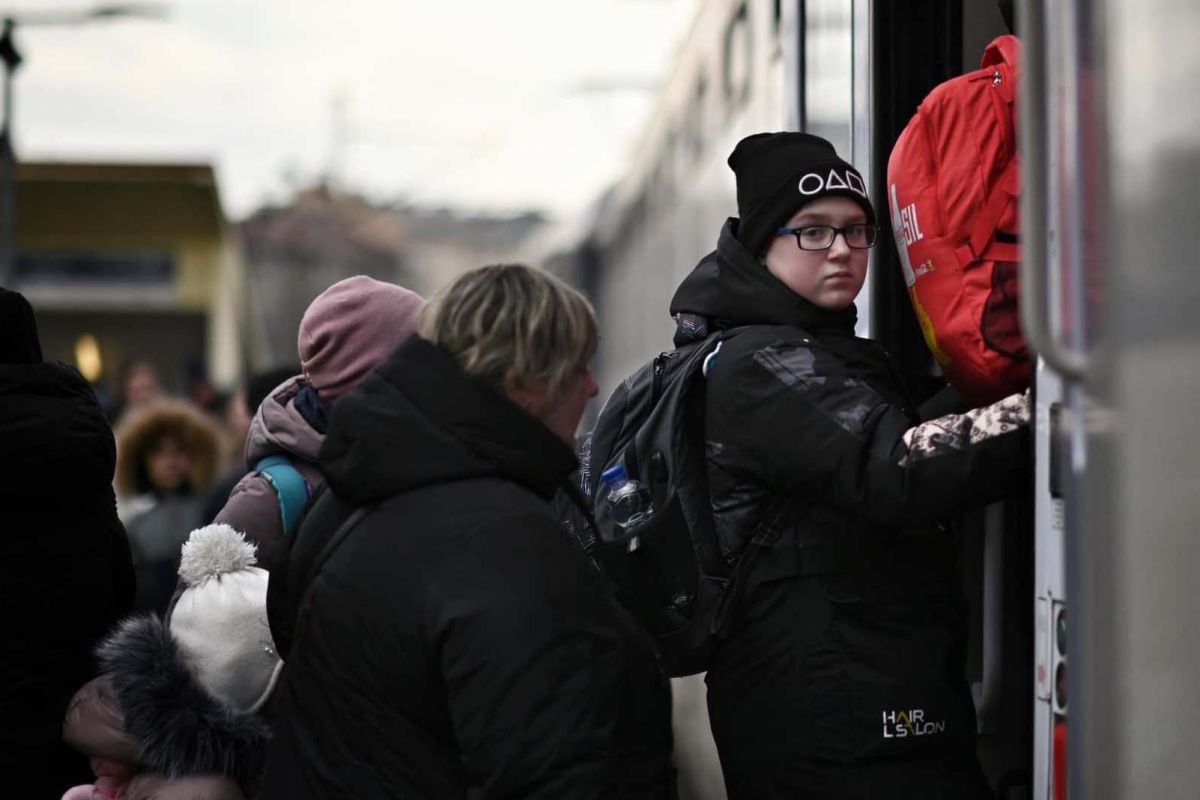 By Rachel Westerby (*)
On the night of 8 March, ICMC received an unexpected urgent request. Six adoptive parent couples from the U.S. found themselves trapped in Ukraine. They had traveled there to finalize the adoption of children in accord with Ukrainian government approval. The adoptive parents were required to remain in Ukraine for a 30-day "trial period" of bonding with their children before traveling together to the U.S. as an adoptive family.
The Russian invasion of Ukraine on 24 February changed everything. The institutions where children were staying came under siege, and those on the ground scrambled to move the children to safe locations within Ukraine to escape the bombardment.
Contact was made with ICMC, at the request of the U.S. Department of State, to find a way of helping these children and their adoptive parents. As the convenor of a Working Group on the "Catholic Response to Ukraine," ICMC made contact with a priest who directs one of the national Catholic charitable agencies in the country. The agency was already engaged in the evacuation of children's institutions. It was able to locate one of the children in question and facilitate the exit of this adoptive family from Ukraine. "The building where the child had been hiding was bombed that very evening," says ICMC Secretary General Msgr. Robert J. Vitillo. He later received a message, "God must be smiling on you tonight – you saved a life today!"
SUPPORT UKRAINIANS DISPLACED BY WAR
Some 13 million people remain uprooted from their homes. They still need your help to survive.
The lives of many others have been irretrievably changed by the conflict in Ukraine, which has caused widespread destruction of civilian infrastructure and mounting civilian casualties. The UN Refugee Agency (UNHCR) estimates that just under 3.5 million people have fled Ukraine since the Russian invasion.
Many are arriving in countries struggling to provide the infrastructure and technical know-how to house and support large numbers of vulnerable refugees, satisfy their basic humanitarian needs, and attend to their emotional trauma.
"It's the Church and small groups that are usually the first responders in an emergency like this," says Msgr. Vitillo. "The Catholic Church is very much engaged in providing immediate assistance both within Ukraine and in the countries receiving so many refugees, to ensure food, sanitation, clean water, warm winter clothes and heating." Many examples of this crucial work can be found within Ukraine and across the region.
ICMC, its members and partners have mobilized to support and welcome Ukrainian refugees in receiving countries and those displaced by the conflict within Ukraine. ICMC's Ukraine fundraising campaign aims to support this vital effort by distributing funds to ICMC national member Catholic Bishops' Conferences and other Catholic partners working in Ukraine and its neighboring countries.
The small and relatively poor country of Moldova, for example, has received over 350,000 Ukrainian refugees since the conflict began. Catholic institutions and charities, religious communities, and lay organizations responded to the invitation of Bishop Anton Cosa of the Moldovan capital of Chisinau to get involved in providing shelter and assistance to Ukrainians fleeing the war.
The Catholic Church in Chisinau is accommodating around 400 refugees, and Catholic soup kitchens are distributing hot meals to reception facilities or wherever needed. In addition, Caritas Moldova is working with local authorities and parishes to provide refugees with food, water, hygiene packs, and social and emotional assistance at government refugee centers in Chisinau, Ocnita, and Palanca.
In neighboring Romania, where just under half a million refugees from Ukraine have now arrived, Caritas has established reception centers to provide accommodation, meals, and transportation. Their work includes advising those on the move on the risks of trafficking and exploitation, given signs of organized crime on both sides of the border, and providing refugees with the means to contact their family members in other countries and plan their onward journey.
The facilities and support offered by ICMC members and partners in receiving countries provide solace, rest, and recuperation for those on the move from Ukraine. "One thing we have to remember is that this is a tremendously traumatic situation, and there's a great deal of need for mental health and psychosocial support," observes Msgr.Vitillo. "Spiritual help is also needed, and we've been communicating calls from the bishops in receiving countries to send Russian and Ukrainian-speaking priests and chaplains."
Hungary has received 280,000 refugees from Ukraine since the conflict began. It has established a National Council for Humanitarian Coordination to direct the response, and Catholic organizations play a key role in relief efforts. The community of Vietnamese Catholics in Hungary collects food, children's clothes, blankets, and other necessities, which Caritas volunteers then distribute.
Within Ukraine, Caritas Ukraine and Caritas Spes together constitute one of the largest NGO networks in the country, with offices providing support to all sectors of the population. Despite the war, the staff and volunteers of both organizations are continuing to operate and help people in need with shelter, tents, food, drinking water, warm clothes, blankets, and other relief and hygiene items.
*Rachel Westerby is an independent writer and researcher on migration, refugees and integration
---