ICMC Europe Joins Civil Society Call For EU To Restore Rights and Values at the Border With Belarus and To Protect Children
ICMC Europe joins civil society coalitions to demand immediate humanitarian assistance and access to asylum for those caught in the ongoing humanitarian crisis at the EU-Belarus border and better protection of migrant children. Church officials in EU countries that share a border with Belarus call for solidarity with migrants and refugees.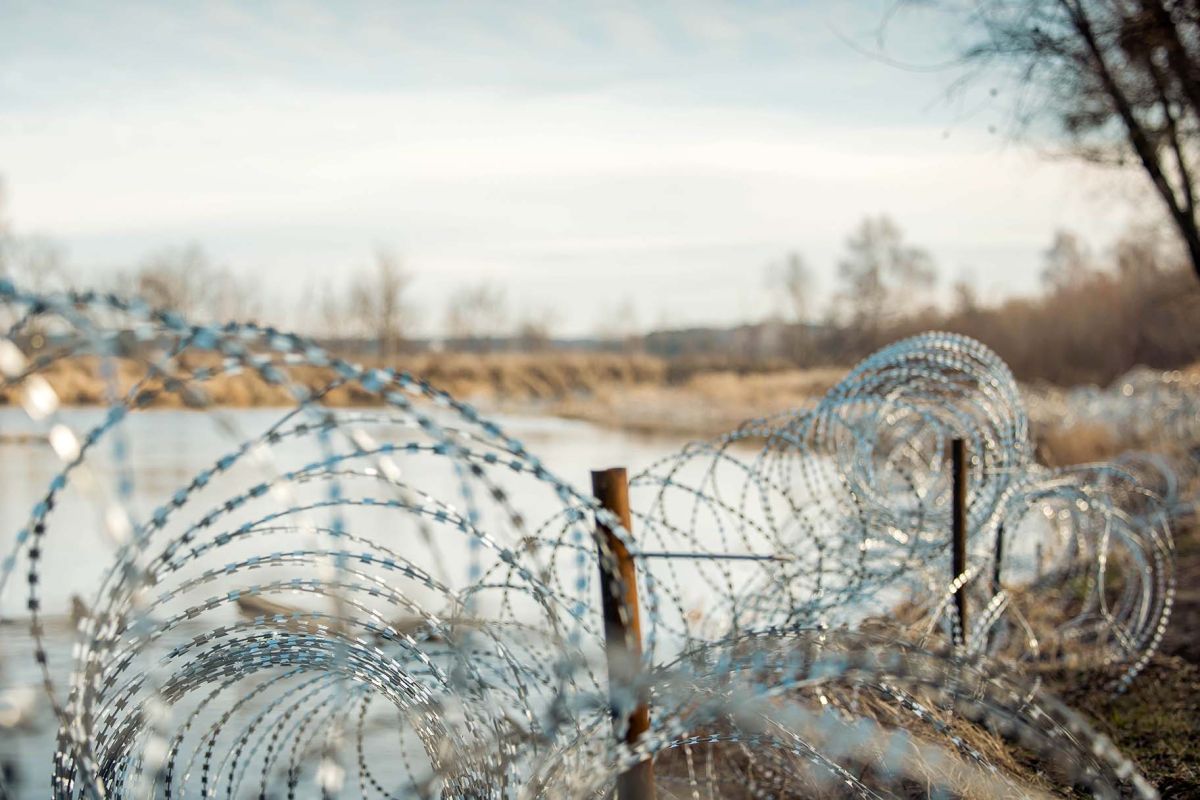 By Rachel Westerby (*)
Since the summer of 2021, thousands of migrants and asylum-seekers have arrived at the Belarusian border with the EU. An estimated 5,000 are now stuck at the Poland-Belarus border, in plummeting temperatures and without adequate access to services or assistance. To date, this humanitarian crisis has claimed the lives of at least ten people, with no immediate resolution in sight. 
In a statement released in late November, ICMC Europe and the SHARE Network joined more than 100 civil society and professional organizations working on asylum, migration, humanitarian assistance, and human rights, urging the European Union to actively address the humanitarian crisis at the EU's border with Belarus. On 9 December, ICMC Europe and the SHARE Network released a second joint statement urging the EU to protect migrant children at its borders. These statements have been echoed by the bishops of Poland and Lithuania, and by Pope Francis himself.  
Call on the EU to prioritize safe routes to protection and reject pushbacks  
In its November joint statement, ICMC Europe and its civil society coalition partners call for an EU response that is "in line with EU and international legal obligations and with standards of common decency," including:
Ensuring access to asylum at EU borders: Under EU and international law, those arriving at the EU's borders have a right to claim asylum in the EU. All actions aimed at preventing people from accessing EU territory and lodging applications for asylum must immediately cease, including pushback operations, the use of force, and legal derogations from asylum law. 
Guaranteeing humanitarian access: Actions by EU Member States to prevent the delivery of life-saving assistance to those stuck at the border are reckless, compound risks to life and undermine the EU's role as a credible global humanitarian actor. In the short term, it is essential that the States involved grant humanitarian access so that NGOs can assist migrants in need. Should the situation continue, those stuck at the border must be immediately evacuated to EU Member States. 
Withdrawing non-compliant domestic legislation: The situation at the external border has led to changes to domestic asylum legislation in Lithuania, Poland, and Latvia that are incompatible with established EU asylum and international law and violate the principle of non-refoulement. The European Commission must consider imposing infringement and disciplinary measures against Member States that fail to comply with its request to remove aspects of such legislation that violate EU law. 
Counteracting repression of civil society, media, and legal practitioners: Some Member States have sought to intimidate or repress independent civil society, media, and legal practitioners seeking to respond to the border situation. The provision of humanitarian assistance and legal aid must never be criminalized, and it is essential that independent actors monitor legal compliance at the border. 
Placing human rights standards and transparency at the heart of cooperation with third countries: The EU is seeking agreements with third countries to stop people arriving at the EU's borders and to take back their nationals who become subject to removal. Any such agreements must align with international human rights standards, and their content must be available for public and institutional scrutiny. 
Civil society calls for EU action to address protection needs of migrant children  
Ahead of the  EU's Justice & Home Affairs 9-10 December meeting, ICMC Europe and the SHARE Network also joined 22 other European civil society organizations to highlight the situation of children seeking protection in the EU and at its borders and to urge for an immediate response. 
Many unaccompanied children and children traveling with their families are amongst those trapped at the EU's borders, at great risk of human rights violations and in urgent need of humanitarian assistance and access to asylum procedures. Around half of all asylum claims from unaccompanied children in the EU are from Afghan nationals. A 9 December position paper issued by the civil society organizations states that many more Afghan children are traveling "under the radar" as they attempt to join family members already living in EU countries.
The joint statement urges an EU response that prioritizes safe routes to protection for Afghan children, including by accelerating family reunion procedures and addressing deficiencies in the Dublin Regulation. This EU law sets out Member States' responsibilities towards asylum-seekers, including family reunification cases. Current failures in the system leave unaccompanied children in legal limbo and exposed to multiple risks. The statement urges an immediate reduction in the number of unaccompanied children trapped at the EU's borders, living in overcrowded camps or on the streets, via voluntary relocations by Member States coordinated by a new EU Relocation Coordinator.
Church officials demonstrate solidarity with refugees and migrants
The civil society coalitions' calls for solidarity are echoed by the Catholic Migrant and Refugee Office of the Bishops' Conference of Poland (KEP), which organized a special collection on Sunday, 21 November. "Regardless of the circumstances of their arrival, they certainly need our spiritual and material support," said the president of the Polish Bishops Conference, Archbishop Stanislaw Gądecki. In Lithuania, His Excellency Msgr. Gintaras Grušas, Archbishop of Vilnius and President of the Council of Bishops' Conferences of Europe (CCEE), called on the international community to take action "to help end this unconventional military action and this form of illegal human trafficking for political gain."
The EU-Belarus border crisis began in early July 2021, when the Belarusian government introduced a relaxed visa regime and expanded travel routes for migrants from the Middle East in response to EU economic sanctions. As a result, thousands of migrants made their way to Belarus, hoping to enter the European Union. They have since been stuck in the border regions of Belarus and EU States.  
Placing the crisis alongside other recent events that have claimed the lives of those trying to access asylum in Europe, Pope Francis, after his 28 November Angelus prayer, expressed his great sorrow "at the news of the situation in which so many migrants find themselves." Noting the very serious dangers many migrants face when seeking protection at the EU's borders, he assured them of his prayers and called on all to "think of the migrants and of their suffering, and pray in silence." 
*Rachel Westerby is an independent writer and researcher on migration, refugees and integration