ICMC Members and Church Leaders Respond to the Needs of Afghans, Advocate for Their Protection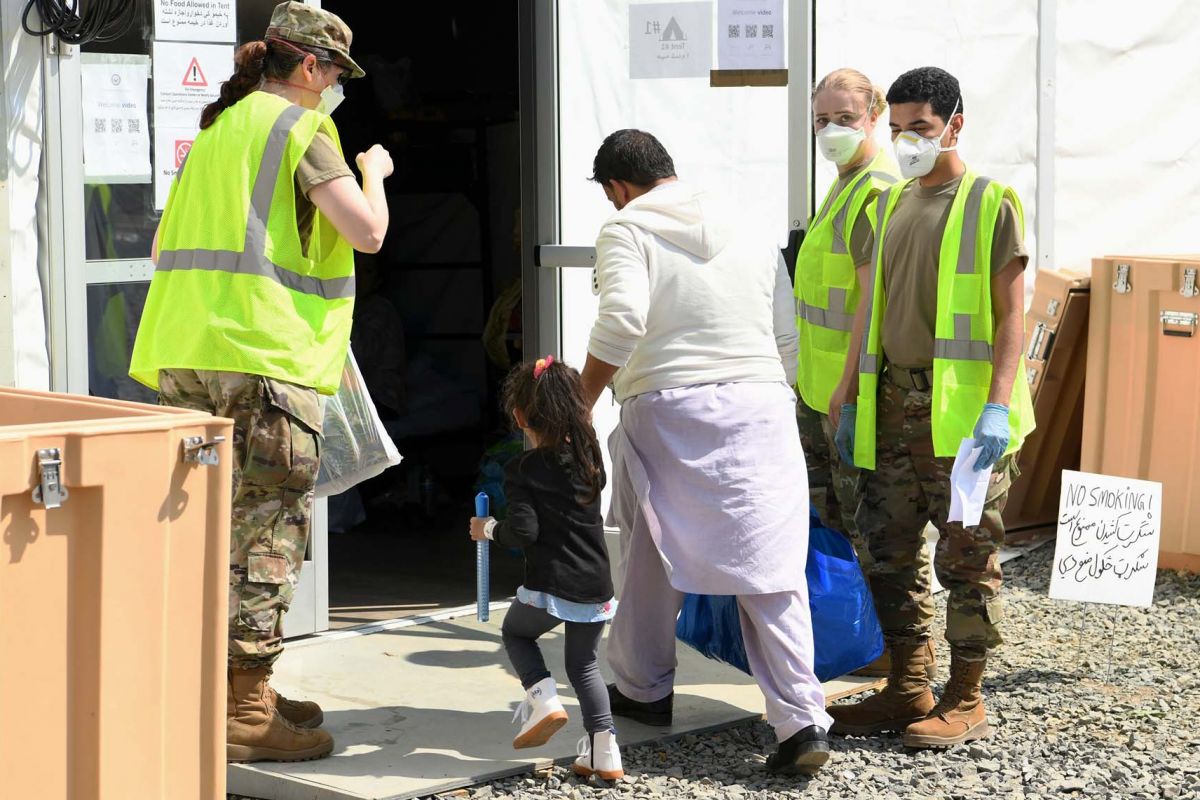 As fear and uncertainty grasp Afghanistan following the Taliban's rapid takeover, ICMC's members, the Catholic Bishops' Conferences, along with their partners, have stepped up to provide assistance to Afghans in need and to advocate for their protection.
A large-scale humanitarian crisis is underway following the Taliban's takeover of Afghanistan. As a result, many thousands of Afghans in need of protection and assistance are attempting to flee the country. ICMC's members, the national conferences of Catholic bishops worldwide, are providing care and assistance to Afghans in need and are advocating for their protection.
In the neighboring region, Caritas Pakistan is coordinating the response of diocesan units on the Afghan border.  According to Amjad Gulzar, executive director of Caritas Pakistan and ICMC mandated representative, hundreds of families had already arrived in the Pakistani province of Baluchistan in the weeks preceding the Taliban's takeover of Kabul. Caritas offices in Pakistan "have positioned themselves so that we can respond to the emerging humanitarian crisis," he told UCA News. 
In the U.S.A., the U.S. Conference of Catholic Bishops' (USCCB) Migration & Refugee Services team is working alongside community and state partners to welcome resettled Afghans who formerly assisted U.S. missions in their country. USCCB, along with other Catholic Charities and agencies, has been welcoming Afghan families at military bases, where they are housed temporarily. "I'm very concerned about children, getting them into schools," Bill Canny, executive director of the Migration and Refugee Services program and former ICMC Secretary General, told the Associated Press.
Around the world, ICMC members and affiliates are also leading calls for an urgent and coordinated international response to the needs of Afghan refugees.
At the international level, Msgr. John Putzer, Chargé d'Affaires at the Permanent Observer Mission of the Holy See to the United Nations, delivered a 24 August statement on the Afghanistan situation to the 31st Special Session of the Human Rights Council. He urged all parties to "recognize and uphold respect for the human dignity and fundamental rights of every person" and called on the international community "to move from declaration to action by welcoming refugees in a spirit of human fraternity."
In the U.S.A., a 17 August joint statement from Bishop Mario E. Dorsonville, Chairman of the USCCB Committee on Migration, and Bishop David J. Malloy, Chairman of the USCCB Committee on International Justice and Peace, expressed grave concern for "all those requiring evacuation, as well as Afghan women and girls." The statement pledged the ongoing assistance of USCCB and Catholic Charities to welcome resettled Afghans and their families for "as long as necessary, until those who are in harm's way are brought to safety."
Echoing these sentiments in Europe, President of the Commission of the Bishops' Conferences of the European Union (COMECE), Cardinal Jean-Claude Hollerich, appealed to European leaders to "act according to conscience" in responding to Afghan refugees. "Placing these people in refugee camps is tantamount to sentencing them to despair," Cardinal Hollerich explained, highlighting humanitarian corridor programs as a successful response to refugee crises and emergencies.
Subsequently, on 2 September, Cardinal Hollerich and Reverend Christian Krieger, President of the Conference of European Churches, released a joint statement urging the European Union to show humanity when addressing the human tragedy unfolding in Afghanistan. "We urge the EU to be instrumental in creating humanitarian corridors, resettlement and other secure passages, to bring refugees to safe places outside Afghanistan. We also encourage the EU Member States to give security of residence to Afghans already in the EU and stop deportation efforts to Afghanistan," reads their joint statement.
Across Europe, Church leaders are calling on national governments to do more to ensure resettlement for vulnerable Afghans.
In an 18 August interview, Bishop Alan McGuckian, Chair of the Council for Justice and Peace of the Irish Catholic Bishops' Conference, welcomed the Irish government's commitment to resettle 150 Afghans, but urged that this commitment be significantly expanded. "Ireland must do more for forcibly displaced people in terms of welcome and integration," he explained. "In the interest of justice and peace, refugees should be welcomed and integrated into our communities."
Cardinal Vincent Nichols, President of the Catholic Bishops' Conference of England and Wales, similarly urged the U.K. government to further expand on its existing commitment to resettle 20,000 Afghans over the next several years. "We have a moral obligation as Christians to try and welcome the stranger," he explained, "and if the stranger is somebody who is in fear for their life or who has worked with us, then I think that sense of duty towards them is all the stronger."
In the Asia-Pacific region, Church leaders also are calling on national governments to do more to resettle vulnerable Afghans. In a letter to Australian Prime Minister Scott Morrison, President of the Australian Catholic Bishops' Conference Archbishop Mark Benedict Coleridge of Brisbane welcomed the government's decision to take in 3,000 new Afghans as "an important commitment." Based on the needs in Afghanistan, however, he urged that this be expanded by a further 17,000 places, and confirmed that "Catholic organizations are ready to support the institutions in refugee resettlement."
In the Philippines, Vice Chairman of the Episcopal Commission on Migrants and Itinerant People (ECMI) and member of ICMC's Governing Committee, Bishop Ruperto Santos, reminded Filipinos of the welcome they provided to Southeast Asian refugees during the 1980s and 1990s. He encouraged the resettlement of Afghans as "a very humane and compassionate act."