ICMC Annual Report 2020: Serving Migrants and Refugees in an Unprecedented Year
In 2020, the International Catholic Migration Commission (ICMC) adapted with creativity and flexibility to continue assisting and protecting uprooted people and advocating on their behalf in the face of the COVID-19 crisis.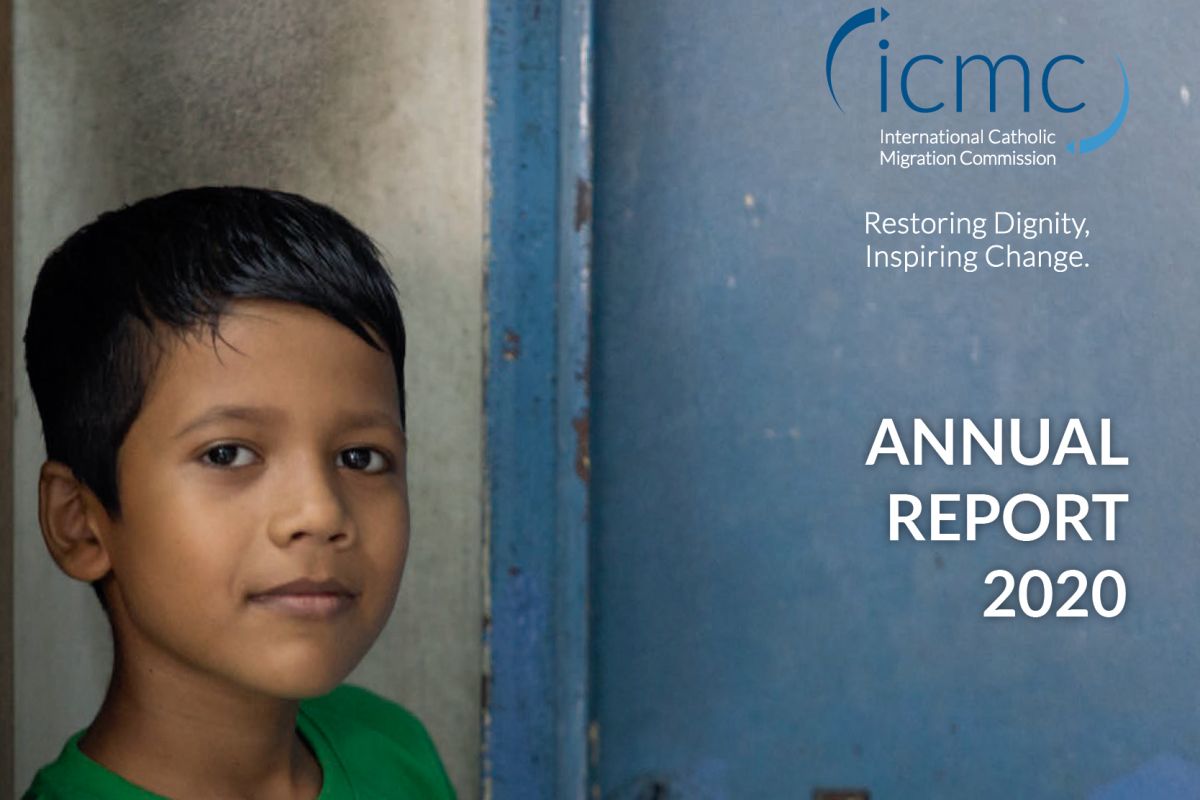 The ICMC Annual Report 2020 shows how, with creativity, flexibility, and partnership as guiding principles, ICMC worked to ensure safety, protection, and "policies that open new futures to uprooted people" throughout the world.
ICMC assisted refugees in Jordan, Malaysia, and Pakistan with essential services such as healthcare and education. We provided medical care to nearly 86,500 Afghan refugees in northwestern Pakistan and supported the establishment of a COVID-19 intensive care unit in the region. Our trusted health clinics are particularly vital to Afghan refugee women, who are otherwise restricted in their movements outside the home, says ICMC medical officer Dr. Maham Ali. "They can come here anytime to receive the care they need."
ICMC assisted nearly 2,200 Rohingya refugees affected by sexual and gender-based violence (SGBV) in Malaysia — survivors like Bibi Anisa, a 30-year-old single mother who is now a community influencer working to change harmful attitudes and practices.
We revised our Child Safeguarding Policy to ensure even stronger protection for children's rights and well-being throughout all of our work. In Jordan, ICMC offered over 6,125 refugee children a safe place to play and learn in our Child-Friendly Spaces, and we expanded efforts to prevent child marriage.
ICMC helped open the door to a new life in safety for refugees. Despite flight bans and lockdown restrictions, our Resettlement Support Center in Turkey and the Middle East supported the United States in offering protection to 695 refugees. We continued to operate the European Asylum Support Office's Resettlement Support Facility in Istanbul and worked with practitioners from EU resettlement programs to improve integration for newcomers.
ICMC coordinated advocacy by civil society groups to include migrants and refugees in pandemic response and recovery plans. We urged the international community not to rebuild broken systems but instead to take advantage of the opportunity to address underlying inequalities and discrimination.
Through the challenges posed by the global pandemic, ICMC "experienced the vulnerability and frailty that is the daily reality of migrants and refugees," says Secretary General Msgr. Robert J. Vitillo.
We called for international migration policy to focus on expanding possibilities for regular migration recognized by governments. This would give migrants more protection and respect their right to access services like healthcare. ICMC Europe called for the relocation of unaccompanied migrant children from Greek island reception centers and for the EU to put human rights at the core of its new agreement on migration and asylum.
Through our Deployment Schemes, we sent 200 protection and resettlement experts to bolster operations of UN agencies and governments throughout the world. In Greece, nearly 120 ICMC experts provided operational support to the UN Refugee Agency and national authorities. The effect, according to ICMC expert Erik Morrison in Mexico, has been to provide a lifeline for vulnerable refugees. A new agreement with UNICEF saw the first child protection expert deployed to protect families and children caught in the humanitarian crisis in Libya.
In nine roadmaps, the MADE West Africa program coordinated by ICMC Europe outlined concrete ways to tap into the benefits of migration for development and protect workers' rights in six countries in the region. ICMC Europe also introduced resources to help survivors of international sex trafficking integrate into host communities.
ICMC capped off research into labor migration and what the future of work could look like. A publication showcased best practices by Catholic-inspired organizations like the Jesuit-run Center for Research and Action for Peace (CERAP) in Abidjan, Ivory Coast, that helps migrant young people learn a trade and gain important life skills. A second book features migrants' first-hand accounts of their own journeys, in which issues take a real and very personal form.
We helped bring together our members — Catholic Episcopal Conferences and Catholic-inspired organizations — to respond in a concerted way to the pandemic and to protect displaced persons. We raised awareness of how displacement affects families and launched a new project with our national member in Burkina Faso to provide care and schooling for displaced children in the North of the country.
Pope Francis noted that COVID-19 has driven home the fact of our interdependence: "Like the disciples in the Gospel, we were caught off guard by an unexpected, turbulent storm. We have realized that we are on the same boat, all of us fragile and disoriented, but at the same time important and needed, all of us called to row together."
It is only by rowing together that the work of ICMC has been possible this past year. We are deeply grateful for all contributions from our dedicated staff and volunteers, supportive members and partners, loyal institutional and individual donors, guiding Governing Committee, and especially from the resilient migrants and refugees we have the privilege of serving.