An ICMC Counselor's Journey from Academia to Humanitarian Work
After witnessing the impact of his volunteer work in Jordan's Zaatari refugee camp, Rami Alkhalil chose to leave the academic world and dedicate himself to providing humanitarian assistance to those most in need. This article shares some of his experiences as an ICMC psychosocial counselor, a position he has held for the past five years.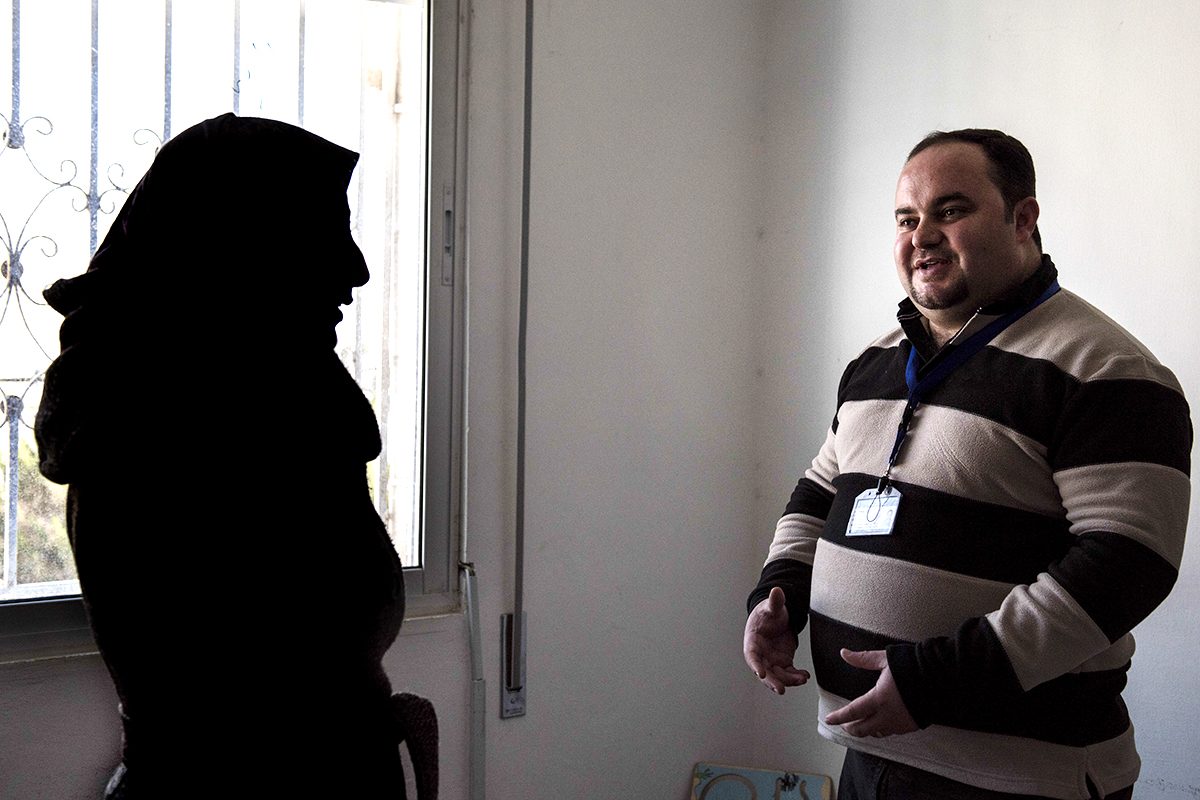 Before joining the International Catholic Migration Commission (ICMC), Rami Alkhalil was an accomplished academic. He held a bachelor's degree in Psychological Counseling and two master's degrees, one in Education Administration and another in Psychological and Educational Counseling.
He first experienced humanitarian assistance as a volunteer with different organizations in Jordan's Zaatari refugee camp, where he worked with vulnerable Syrian refugees of all ages and abilities. He also worked as a counselor at a hospital, assisting victims of the Syrian conflict suffering from life-altering injuries. "Seeing the happiness of the vulnerable people I assisted in the camp and their satisfaction with the results of our work motivated me to continue working in the sector," says Alkhalil.
In October 2016, Alkhalil joined ICMC Jordan's team as a psychosocial counselor at its Protection Centers in Irbid or Mafraq. There, the team of mental health professionals assists with the more complex psychological needs of vulnerable individuals from both the refugee and local communities. It supports survivors as they learn to cope with and overcome some of the most common psychosocial vulnerabilities, including trauma, anxiety, and depression.
Alkhalil considers his experience with ICMC to be more diverse than his previous work experiences. "It is the cornerstone of my professional career. The diversity of cases allows me to apply different approaches based on the nature of each case. Since my work is not confined to a camp or a hospital, I get the chance to work with people of all ages and walks of life. I am also exposed to different types of psychosocial situations every day."
"Each community has its unique psychological needs," he adds. "The cases we receive from the refugee community in Jordan, particularly the Syrian refugee community, include individuals living with depression, trauma, post-traumatic stress disorder, and other anxiety disorders caused by their exposure to fighting in Syria. We also work with survivors of sexual and gender-based violence." Most of the Jordanians assisted by ICMC cope with depression and anxieties caused by their financial situation.
Alkhalil finds working with refugees to be more delicate and demanding because of the absence of close friends or relatives on which they can rely. "We try our best to provide those individuals with a support system compensating their loss to ensure the success of their experience with us from the beginning to the end," he says.
Adapting to COVID-19
The COVID-19 pandemic brought many unprecedented challenges to ICMC's teams, including an increase in the number of vulnerable families and individuals and a need to adapt to remote work. The delivery of mental health services has also been impacted. The government-imposed lockdown made responding to these new challenges even more difficult.
To ensure the continuous delivery of its services, ICMC's psychosocial team relied on phone calls. "We had to prioritize our cases to ensure the success of this arrangement," says Alkhalil. "We continued with our ongoing cases and sorted them according to their sensitivity level, if they allowed for a remote follow-up or not, and whether the participants had the privacy enabling them to discuss their situation freely in their homes."
The lockdown brought major life changes. "Every member of each family was impacted. As schools closed down, children lost the opportunity to learn and socialize with their friends. With businesses closing, fathers and husbands could no longer earn a living for their family. With the closure of schools and businesses, mothers and wives lost the personal space they used to have for a limited time during the day. They also had to cope with the new burdens of following up with their children's online education and deteriorating financial situations."
These changes in daily routines led to an increase in incidents of gender-based violence, domestic violence and abuse, as well as depression, says Alkhalil. "The victims varied from one case to another. They could be wives, children, or husbands. Handling these situations always requires establishing an atmosphere of understanding and partnership between the members of a family. We also kept on drawing attention to the temporary nature of this situation."
Hanan's Story
Among the sensitive cases with which he has had to work amid the changes brought by COVID-19, Alkhalil recalls the story of Hanan*, a Syrian woman refugee and pharmacy student in her last year at university in Irbid.
"I learned about Hanan from her sister," says Alkhalil. "She was struggling with depression and the impact of a traumatic and abusive marriage." While living abroad with her husband, Hanan attempted suicide due to the pressures of her situation.
After her divorce, Hanan returned to Jordan, where she tried to pick up life where she had left off. But she was stigmatized and abandoned by her friends and colleagues because of her divorce. Since her ex-husband's brother is married to her sister, she could no longer see her sister freely. This aggravated her condition, leading her to lose her self-esteem.
Furthermore, Hanan survived two separate attempts of sexual exploitation at the hands of people on whom she depended for assistance. She began doubting everyone's intentions, particularly those of people trying to help her. As a result, she refrained from seeking outside assistance and resorted to substance abuse to cope with her situation.
"We had to manage Hanan's depression in order to guarantee her mental wellbeing," said Alkhalil. "At the same time, we had to assure her that she had come to the right place."
To improve her situation, Hanan also needed to reestablish ties with her sister. "Hanan had not told her sister her full story. I sat with her sister and told her about the sensitivity of Hanan's case. I explained to both of them the importance of family support in protecting the wellbeing of people in this situation."
Hanan was also under financial duress, which could derail her ambitions of becoming a pharmacist. To ensure that she could graduate, Alkhalil referred her to the United Nations Refugee Agency (UNHCR), through which Hanan now receives a stipend to secure her tuition. She also received a tablet to allow her to continue her studies online.
"At ICMC, our primary concern is our participants' wellbeing, regardless of their circumstances. Only when this has been achieved can we rest assured and label their cases as closed. In sensitive cases like Hanan's, we always keep an open line of communication so they can reach us when in need."
* Name changed to protect the person's identity.