Fire in Greek Refugee Camp Should "Serve as Wake-up Call", Say Church Leaders and NGOs
The 8 September fires that destroyed the Moria refugee camp on the Greek island of Lesbos have left 13,000 people without shelter. Church leaders and civil society organizations are calling the disaster a "foretold catastrophe." They urge the European Union and its Member States to protect all people seeking asylum on its territory.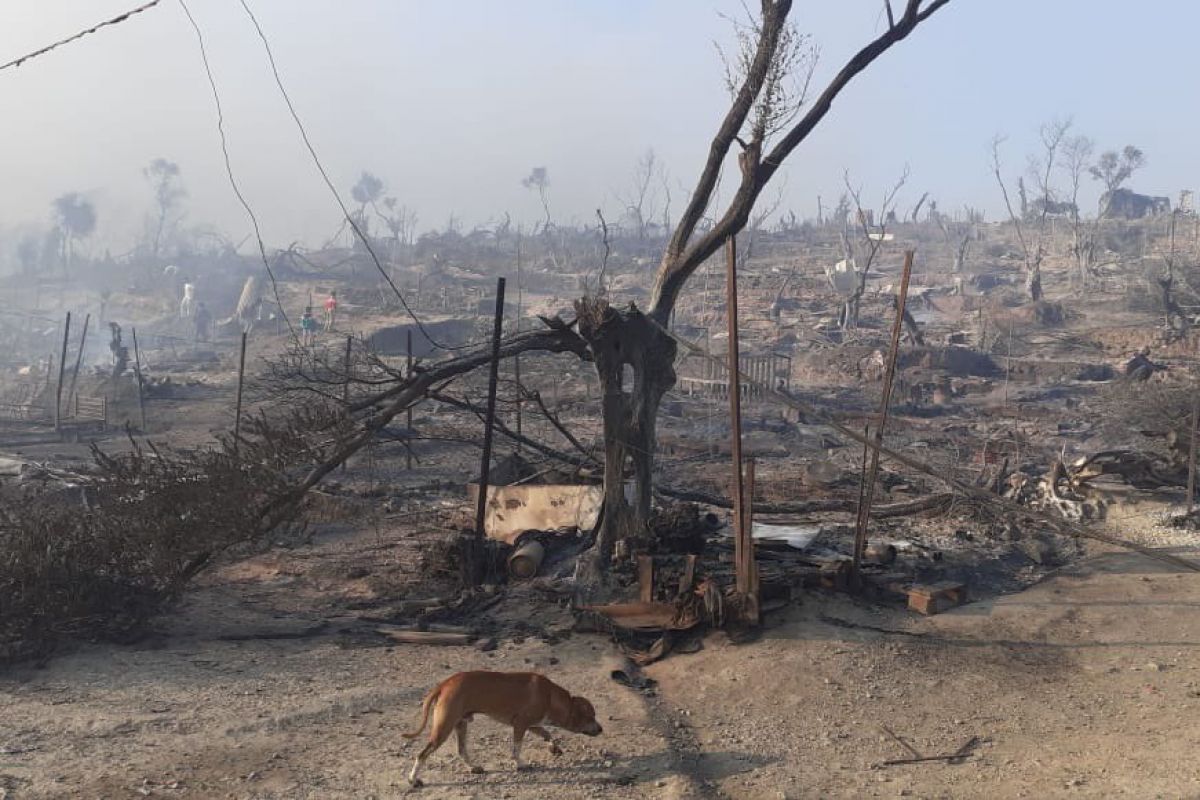 In the night from 8 to 9 September, a series of fires devastated the Moria camp on the Greek island of Lesbos. The largest settlement of displaced people in Europe, the camp has been almost completely destroyed. Its residents are now left without shelter. The cause of the fires remains unclear.
Designed in 2015 to accommodate up to 3,000 residents, Moria held 13,000 people at the moment the fires broke out. Among them were 4,000 women, children and vulnerable people, and hundreds of unaccompanied minors.
For years, Church leaders, civil society organizations, and aid workers have denounced Moria's squalid living conditions. Residents were forced to live in tents among piles of rubbish, without adequate clean water or sewage systems, medical facilities, or schools for children.
In 2016, during a visit to the camp, Pope Francis called for an EU asylum seeker policy reform. The first cases of coronavirus were reported in the camp at the beginning of September. Moria camp conditions did not allow for social distancing or sanitation, which made the camp an ideal hotbed for widespread propagation of the COVID-19 virus.
Church leaders and civil society organizations are now urging the EU and its Member States to consider this disaster as a wake-up call and to act swiftly and efficiently to succor protect asylum seekers in Moria and across Europe.
"While we are shocked and saddened [by the news of the fires]," says a statement signed by over 70 civil society organizations including ICMC Europe, "they come as no surprise. Lesbos and the other EU Hotspots on the Aegean islands have reached breaking point long ago." The statement calls upon the EU Member States to urgently relocate displaced individuals from Greece.
"Consternation at the political failure mixes with dismay at the misery of those seeking protection. It must be said openly: it is a foretold catastrophe," says Archbishop Stefan Hesse, of Hamburg, and a member of the ICMC Governing Committee member, in a statement in German. "The policy of deterrence pursued with the Moria refugee camp is applied at the expense of humanity."
He urges German and European decision-makers to muster the political will to welcome and protect asylum seekers in Europe, to "find a solution in the spirit of European solidarity" involving a fair division of responsibility between EU states when accepting asylum seekers."
For Cardinal Jean-Claude Hollerich, President of the Commission of the Bishops' Conferences of the European Union (COMECE), the fire gives witness to Europe's inadequate asylum policy. "It is a shame for Europe. What is on fire is not only the camp of Moria, but also the identity of Europe. We cannot claim Europe's Christian roots if we leave people in despair", he says in a COMECE press release.
EU-based Catholic Church officials hope that this tragedy will serve as a wake-up call to policy-makers as they enter the final phase of the new EU Pact on Migration and Asylum, which will lay out new proposals for reform of the EU's migration and asylum policy. The Church hopes that these new proposals will address fair distribution of refugees among EU Member States. In an interview with Vatican News, Cardinal Hollerich highlights the role of richer, Northern EU countries in welcoming refugees.
The Civil Society Action Committee, a worldwide alliance of over 250 networks of NGOs co-convened by ICMC, has issued a statement calling for an immediate plan to assist all people forced to flee the Moria fires. The statement asks that they be assisted with housing, healthcare, and protection from possible violence.
The Committee also urges national governments to support cities across Europe that wish to welcome Moria asylum seekers. It calls upon the European Union to plan sustainable solutions for asylum seekers in Greece and across Europe to avoid conditions like those found in Moria and asks governments to be accountable for their failure to act faster.