Welcoming, Protecting, Promoting and Integrating Venezuelan Migrants: Pope Francis' Roadmap Put into Action in Ecuador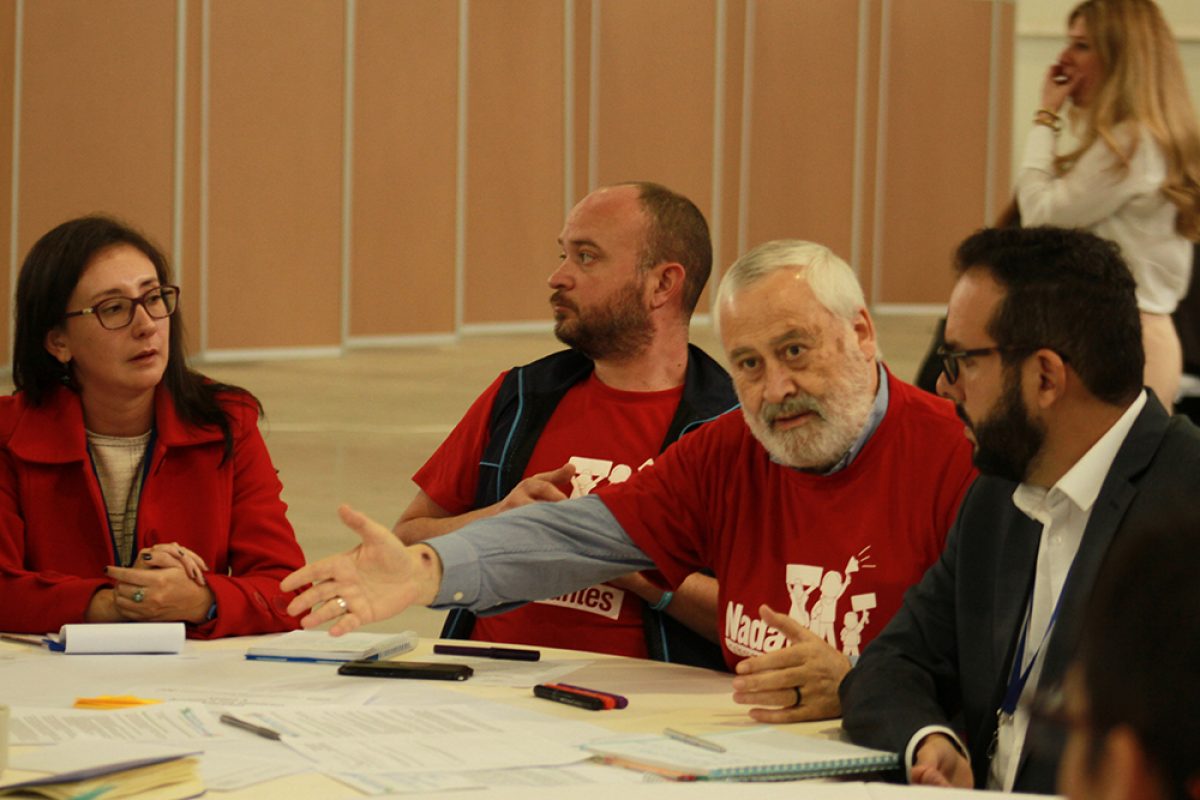 Since Venezuelans began fleeing their country in large numbers in 2015, 1.5 million of them have reached Ecuador. The local Church, inspired by Pope Francis' call to welcome, protect, promote and integrate migrants, is accompanying them.
In 2017, bishops, priests, religious women and men as well as lay people from various Church-inspired institutions across Latin America and the Caribbean created Red CLAMOR – the "outcry" network. It brings together organizations working with migrants, displaced people, refugees and victims of human trafficking, including several International Catholic Migration Commission (ICMC) national member Episcopal Conferences, and spans 23 countries in Latin America and the Caribbean and is supported by the Latin American Episcopal Council.
For the Ecuadorian section of Red CLAMOR, whose members include Caritas Ecuador, Jesuit Refugee Services, Scalabrini Missions and many others, responding to the needs of Venezuelan migrants was of first concern.
Since Venezuela's migratory crisis started at the end of 2015, some 1.5 million Venezuelans have entered the country, fleeing shortages of food and medication. Many continue their journey to Peru and Chile, but an estimated 400,000 have remained in Ecuador, a country of 16.6 million inhabitants.
Faced with the emergency, Ecuadorian Church officials and Catholic organizations took inspiration from Pope Francis' call to welcome, protect, promote and integrate migrants and refugees in order to assist the newcomers.
Welcome
"Three years ago, when we saw that Venezuela was coming apart at the seams, we started to meet and to ask ourselves what we could do as a Church," says Fr. Jose Garcia, Executive Secretary of Caritas Ecuador. "We began sharing our experiences of working with migrants and also invited other congregations to join us."
Over the past three years, Red CLAMOR has set up 12 shelters across the country to welcome migrants. The shelters take different forms, adapting to available resources in each location. For instance, a congregation of religious sisters whose school had recently shut down donated the building, which was modified to welcome families and now hosts 150 people.
"There is a playground in this center and children who spent months in their parents' arms or held by the hand as they journeyed can finally play, run and jump. Here they are free, they are protected," says Fr. Garcia. Marist Brothers also donated a house and asked the parents of their pupils to help run it. It welcomes 35 men traveling alone.
Residents typically stay in these shelters for two to six weeks, as they rest from their journey and decide what they will do next. The turnover allows thousands of migrants to benefit from the shelters every year at a time when they are most vulnerable.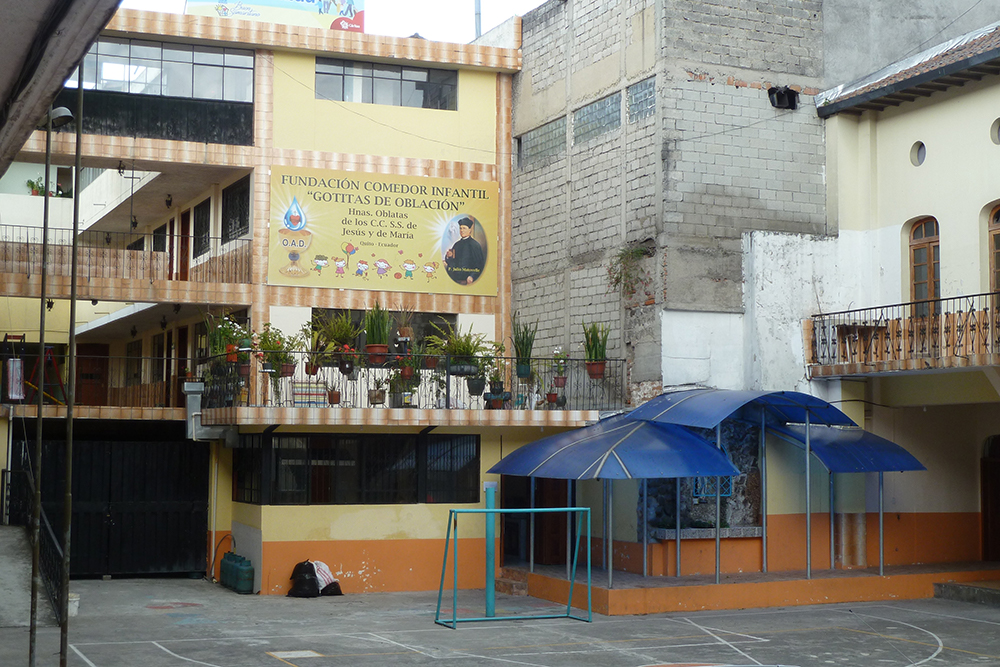 Protect
The Church is also devoted to ensuring that Venezuelans who need protection can enter Ecuador to find it. Since 2017, the Ecuadorian government has created a number of administrative measures that make entering the country more difficult for Venezuelans on the move, from requiring passports (when identity cards had been sufficient in the past) to demanding to see criminal records. For migrants, these documents can prove unreasonably expensive and/or impossible to obtain.
"The Ecuadorian government has created laws on mobility, but above those laws is the Ecuadorian Constitution," says Fr. Garcia, noting that the Constitution provides extensive protection of the fundamental rights of people seeking refuge. Red Clamor's judicial branch has lodged several claims of unconstitutionality, making the government's new requirements inapplicable until reviewed by the country's highest court.
"Another way we work to protect migrants is through communication," he adds. By distributing brochures and documents that tell migrants' stories, the network hopes that the local population will look beyond the numbers and issues and see people.
The network raises awareness of migrants' needs through advocacy. On 20 January, the eve of the start of the Global Forum on Migration and Development (GFMD) in Quito, it organized an alternative forum called "Nothing About Migrants Without Migrants." Some 300 migrants living in Ecuador were invited to tell their stories and share their demands.
Ecuadorian civil society participants at the GFMD then used these messages as the basis of their advocacy at the event. They addressed themes such as criminalization of migration, forced migration as a form of violence, refuge and human rights, gender-based vulnerabilities and migration, human trafficking, environmental crisis, development, and the return of migrants to their country of origin. The GFMD's civil society participation was coordinated by ICMC and gathered nearly 300 participants from around the world. The Forum's Civil Society Day allowed NGO representatives to meet and discuss priorities, which were compiled into a statement containing messages and recommendations to governments. On the following day, the Forum's Common Space allowed civil society representatives to exchange directly with national and local governments and business actors to discuss solutions to migration-related issues.
Promote
"In the first three years of the Venezuelan crisis, migrants would pass through Ecuador to reach Peru and Chile because these countries would offer them identity cards when they arrived, which allowed them to look for a job and access State services," says Garcia. But both Chile and Peru have tightened their borders since and Ecuador has become a place where migrants remain for extended periods. Thus, the Church needed to find ways to promote acceptance of migrants.
For Caritas Ecuador, this meant helping them access employment by supporting their initiatives. "What we are doing is helping them to find livelihood outcomes by becoming entrepreneurs so that they can live independently," says Garcia. In 2018, Caritas Ecuador helped 120 people secure livelihoods.
Integrate
The vast majority of Venezuelans are Catholic, and 43% of Venezuelans in Ecuador have a high level of trust in the Church. Church leaders and community members, therefore, are in a privileged position to help Venezuelan migrants integrate.
"In many parishes, we are making sure that Venezuelans feel that they are at home," says Garcia, who invites migrants to mass when he meets them on the street.
During the celebration of Mass, priests may introduce those who have recently arrived and link them with migrants who have been in Ecuador for longer, who understand the struggles they might be going through and who can share their experience.