A Journey to Religious Freedom and Education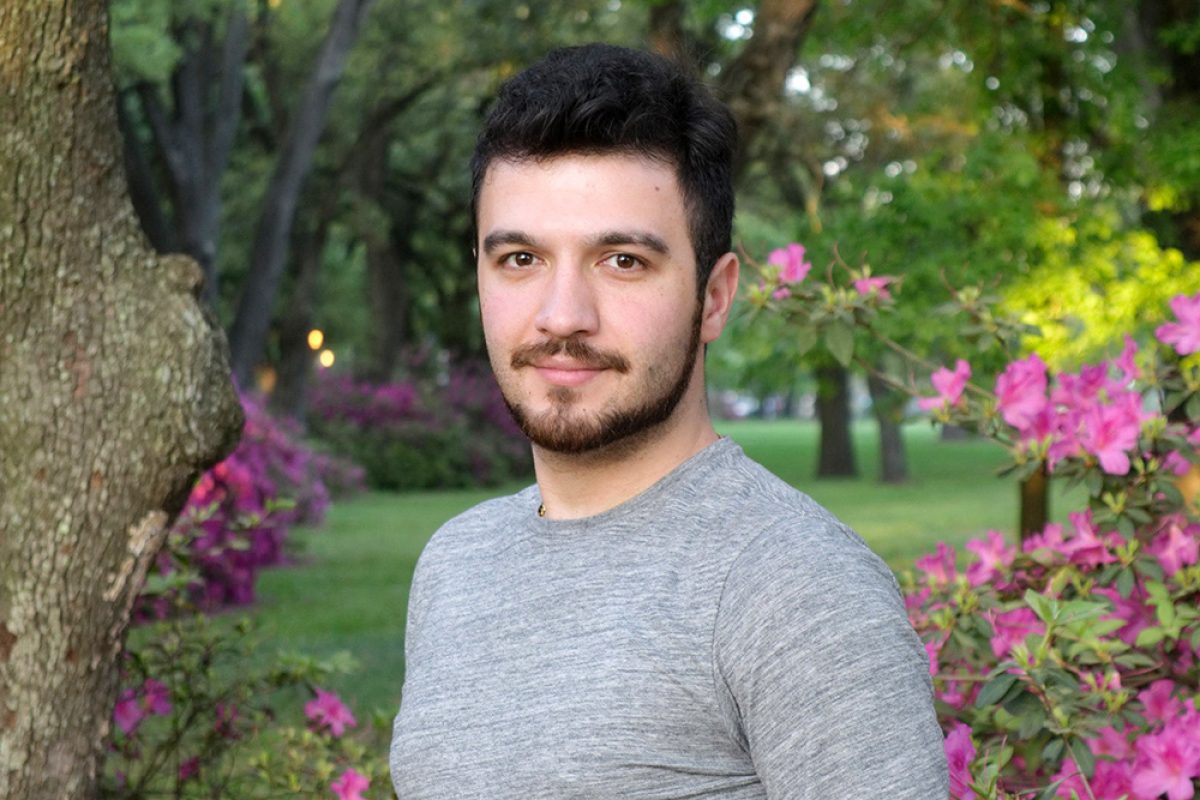 By Corinne Brodeur *
Imagine having to pack a few of your most precious belongings in haste before fleeing overnight across international borders. Holakou Rahmanian, a former Iranian refugee now resettled in the United States, doesn't have to imagine that. At 23, he left family, friends and the only place he'd known as home, not knowing if he could ever return. His crime? Talking about his Bahá'í faith and wanting to pursue higher education.
With his friendly personality and warm smile, addressing Dr. Holakou Rahmanian on a first-name basis comes naturally. It's easy to forget that the 30-year-old Doctor of Computer Science and Engineering's current work on Artificial Intelligence is helping to shape the digital experience of millions of people. It is also easy to forget that to be able to contribute to society in this way, Holakou had to be resettled to a country that accepted him — something that only happens to less than 7% of refugees in need of such a long-term solution.
Growing up in the Bahá'í Faith
From very early on, Holakou knew that he was different from his classmates. As an Iranian member of the Bahá'í community, he realized as a child that talking about his faith could be dangerous.
"At the age of eight or nine, I told a very good friend from elementary school that I was Bahá'í. That evening, I couldn't sleep for fear that our house would be raided and my family would be arrested," he recalls.
Holakou grew up in the Iranian capital of Tehran, where over 90% of citizens follow the Shia branch of Islam, the official religion of the theocratic State. The country's constitution allows certain degrees of religious freedom for other Muslims as well as for Christians, Jews and Zoroastrians. It excludes freedom of belief in any other faith. Members of the Bahá'í community, the largest non-Muslim religious minority in Iran, are neither recognized as an existing group nor permitted by law to practice their faith.
As a consequence, Bahá'ís are often persecuted and must worship in secret. Keeping quiet about their religion helps keep them safe from physical persecution. However, Bahá'ís can't be employed by the government – Iran's largest employer – or benefit from higher education.
As a child, Holakou would attend regular school on weekdays and go to religious classes in secret on weekends. Every 19 days, according to Bahá'í tradition, all the community's members would gather for a "Feast", a spiritual meeting of prayer and exchange. During these celebrations, they would share news on the persecution of community members. "Arrests were common but not the norm," says Holakou.
According to a 2010 report by the Bahá'í International Community's UN Office, over 200 Bahá'ís have been executed or murdered for their faith since the 1979 Iranian revolution. Thousands more have been arrested, detained and interrogated and Bahá'ís have systematically been deprived of jobs, pensions and educational opportunities.
Most at risk were people who dared to be open about their faith. They were arrested and accused of being terrorists or foreign spies. For Holakou, this meant a constant struggle: on the one hand, his religion required him to be honest and open; on the other, acting according to these ideals could put him and his loved ones in danger.
"The Biggest Injustice"
For Holakou, the biggest injustice was being prohibited from attending university. In 2006, a year before he reached university age, the government changed the rules regarding the "Konkurs," a nation-wide university entrance exam. For the first time since the 1979 Iranian Revolution, Bahá'ís could take the test. That year, 289 Bahá'í students started university. Most were expelled because of their faith during the following months.
When his turn came, Holakou ranked 54th of the 300,000 students taking the exam. This should have granted him access to any program in any university. He applied to 26 programs and was rejected by all of them.
He appealed to every possible ministry, asking for justification. Ministry staff were polite but told him that they could do nothing since he had been rejected because of his faith. No official agreed to state the reason for his rejection in written form, which made it impossible for him to take his case to court. According to the Bahá'í International Community's UN office, rejection and expulsion of Bahá'ís was the official policy that year.
"With my marks, it was very painful," recalls Holakou. "They were saying: 'It does not matter how skilled you are, you will never be able to get an education.' All I wanted to do was study mathematics; it's the common language between all humans."
Underground University and Flight From Iran
His rejection by Iran's formal education system led Holakou, like other Bahá'ís of Iran who long to learn, to the Bahá'í Institute for Higher Education (BIHE). Founded by community members in 1987, the underground university allows Bahá'ís to access higher learning opportunities denied to them by their government.
When Holakou enrolled, the institute had some classrooms, rented out by a high school in Tehran. In the course of his first semester, the institute was evacuated due to government pressure. Students began hosting secret classes in their homes. Some classes were given online by Bahá'í and non-Bahá'í professors from around the world, but the government would shut the BIHE website down from time to time.
Although studying under these circumstances was arduous, Holakou also has fond memories of that period. Bahá'í students from across the country would come to Tehran, hosted by local community members, for intensive classes lasting a few weeks. Then, they would return home to finish the semester studies on their own.
In 2011, Holakou graduated from the BIHE with a Bachelors' degree in Math and Computer Science. That same year, he appeared in "The Iranian Taboo," a documentary about a mother and daughter of Bahá'í faith who fled from Iran. In the movie, thinking that his identity would be protected, Holakou talks about his experience of being denied the right to higher education. But when the film was released, it revealed his face and his name.
Knowing that he could be arrested, Holakou decided to leave the country. Within 48 hours, he was on a train to neighboring Turkey.
The Iranian government does not issue passports to young men until they have completed their mandatory military service and most young men in Holakou's position flee Iran illegally with the help of smugglers. Holakou was luckier than most. He had been exempted from military service the year before and was able to leave the country through regular pathways. He didn't have time to say goodbye to his friends or his extended family.
Resettlement and a Fresh Start in the U.S.
In Turkey, Holakou was granted refugee status by the UN Refugee Agency (UNHCR). His case was then sent to the U.S. Refugee Admissions Program (USRAP) and handled at the International Catholic Migration Commission's Resettlement Support Center in Istanbul. Fifteen months later, in October 2012, Holakou arrived in the U.S. and was reunited in Texas with his brother, also a resettled refugee. His arrival was facilitated by World Relief Corporation, one of nine resettlement agencies accredited by the U.S. government.
Upon his arrival in the U.S., however, his fight to access his right to education did not end. Most universities don't recognize the BIHE, which is not accredited as an official university in Iran. Even with his diploma and excellent grades, Holakou had to persuade universities to even consider him. Six of the nine universities to which he applied rejected his application.
A friend advised him to apply to the University of California in Santa Cruz where a professor took an interest in his case. Recognizing Holakou's skill and commitment, the professor helped him enroll as a doctoral student rather than at the Master's level.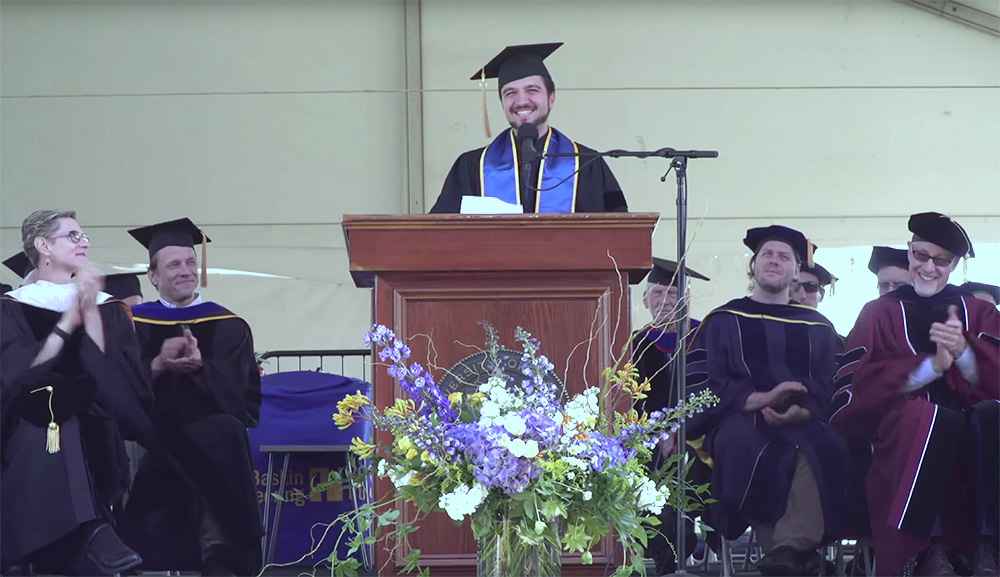 Throughout his continuing higher education, Holakou continued to advocate for access to education, teaching online classes to a new generation of BIHE students. "Teaching people science gives a lot of meaning to life. I try to serve as much as I can," he says. He is clearly eager to raise awareness of the rights of people of Bahá'í faith and to promote the right to education for all, regardless of ethnicity, gender or religion.
At his graduation ceremony in the spring of 2018, Holakou gave an inspirational commencement speech in which he shared parts of his life story. He then joined a team at Kyushu University in Japan as a visiting researcher. Last December, he took up his current position as an applied scientist for Microsoft in Seattle.
Things are not perfect, but Holakou counts himself lucky. He lives far from his family and cannot return to his home country, but his parents can visit him, an opportunity granted to few Iranians residing in the U.S. After seven years, during a recent family reunion in Turkey, he was also reunited with his younger sister, who still lives in Iran.
When asked if he has a message for refugees waiting for resettlement, he says, "Never lose hope." Then he quotes a line that comes from a Batman movie, "The night is darkest right before dawn." Although the fictional superhero has little to teach refugees like Holakou in terms of courage and determination.
* Corinne Brodeur is ICMC communications officer in Geneva.
---
Since its founding in 1951, the International Catholic Migration Commission has facilitated the application process of hundreds of thousands of UN-recognized refugees seeking resettlement to a third country.
Its largest resettlement support program was in the 1980s and 1990s, when ICMC assisted some 500,000 Vietnamese, Cambodian and Laotian refugees to be resettled in the USA, Canada, Europe and Australia. Since the 1960s, ICMC operates the Resettlement Support Center for Turkey and the Middle East, where it processes the applications for the U.S. Refugee Admissions Program.
The year Holakou arrived in the U.S., he was one of nearly 70,000 resettled refugees welcomed to the country. The ceiling for refugee resettlement for the fiscal year 2020 is 18,000, the lowest figure ever since the implementation of the current resettlement program in 1980 and approximately one-fifth of the yearly average.
Over nearly 70 years, ICMC has witnessed the hard work, expertise and talent that resettled refugees contribute to their resettlement countries. These refugees include persecuted ethnic and religious minorities as well as survivors of torture or sexual and gender-based violence for whom resettlement is the only long-term solution.