Member of the European Parliament Stresses the Value of Refugee Integration
The integration of refugees in the communities that welcome them must be a priority for Europe said Mr. Lukas Mandl, a Member of the European Parliament from Austria, during a visit to the headquarters of the International Catholic Migration Commission.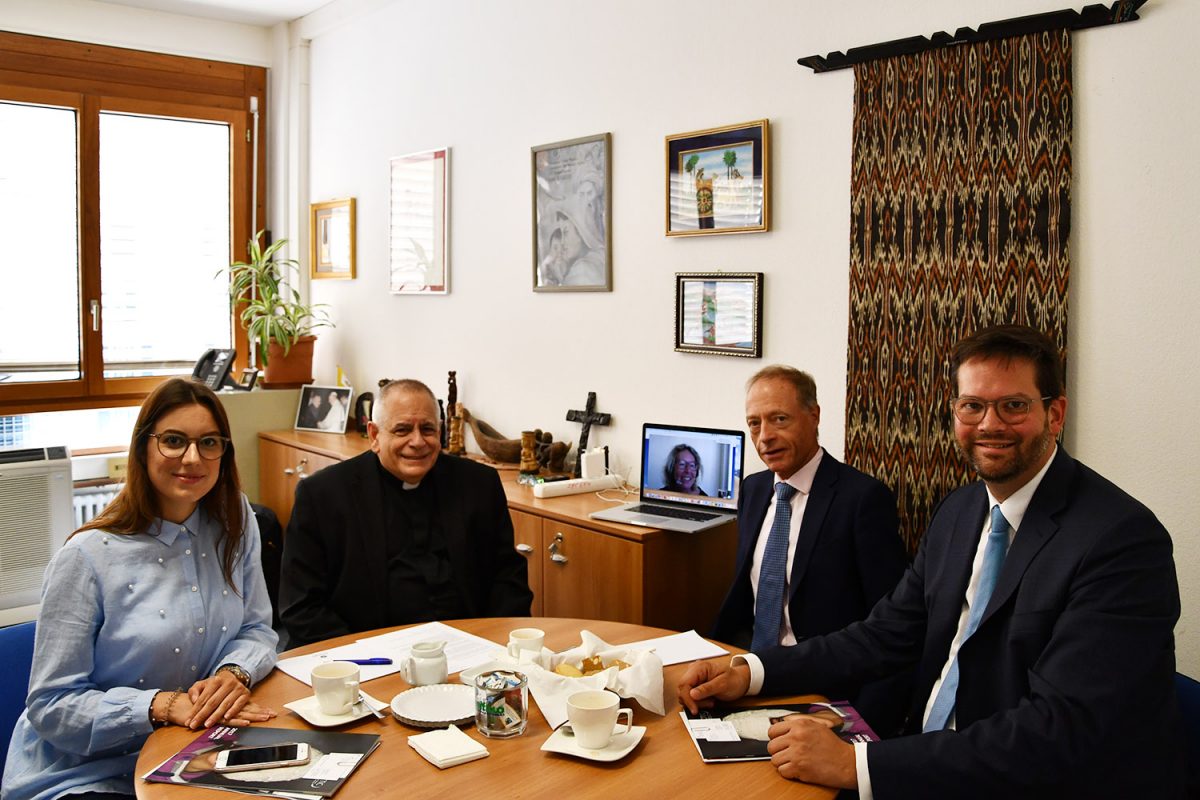 Mr. Lukas Mandl met with ICMC Secretary General Msgr. Robert J. Vitillo and ICMC Director of Policy Mr. Stéphane Jaquemet in Geneva on 30 August. ICMC Europe Head Ms. Petra Hueck joined the meeting via a teleconference. Mr. Mandl is Vice-Chair of the European Parliament's Subcommittee on Security and Defense and a member of the Committees on Foreign Affairs and on Development.
"We were very pleased to receive a request from Mr. Mandl to visit our headquarters in conjunction with his participation in other meetings in Geneva," said Msgr. Vitillo. "We shared with him the strong inspiration we have received from Pope Francis to 'welcome, protect, promote and integrate' migrants, refugees, asylum-seekers and survivors of human trafficking as well as to seek the integral human development of people in their countries of origin," he said.
During the meeting, Mr. Mandl was briefed on ICMC's expertise in the field of refugee resettlement, which dates back to the Commission's origins in the 1950s, when it helped facilitate the resettlement of thousands of World War II refugees from Europe to the Americas and Australia; its expertise developed further during the 1980s and 1990s, when it helped resettle some 500,000 refugees from Vietnam, Cambodia and Laos to the U.S. and some European countries. In more recent years, its focus has been on resettling refugees from the Middle East.
Ms. Hueck introduced ICMC Europe's work to facilitate the integration of migrants and refugees on the continent by building the capacity of governments and civil society to implement initiatives such as community-based sponsorship programs.
Mr. Jaquemet described ICMC's advocacy work to promote just and fair migration policies throughout the world and to increase the protection of refugees and the sharing of responsibility among countries.
"Migration remains one of the most important issues of our time. We must, by all means, avoid people being uprooted. If it nevertheless happens, mankind is obliged to treat each and every person with respect," said Mr. Mandl. In his view, it is important "to ensure that as many refugees as possible are able to return to their homes."
Mr. Mandl stressed that "within Western societies, the integration of refugees in terms of culture, rule of law, democracy, freedom of belief and expression as well as equal rights for women and men must be one of our main priorities."
For Mr. Mandl, successful integration means that "people of many different cultures and backgrounds can live together in harmony and learn from each other." He praised the ICMC for its contribution in this field, including its "hands-on mentality."