Increasing Opportunities for Syrian Refugees and Vulnerable Jordanians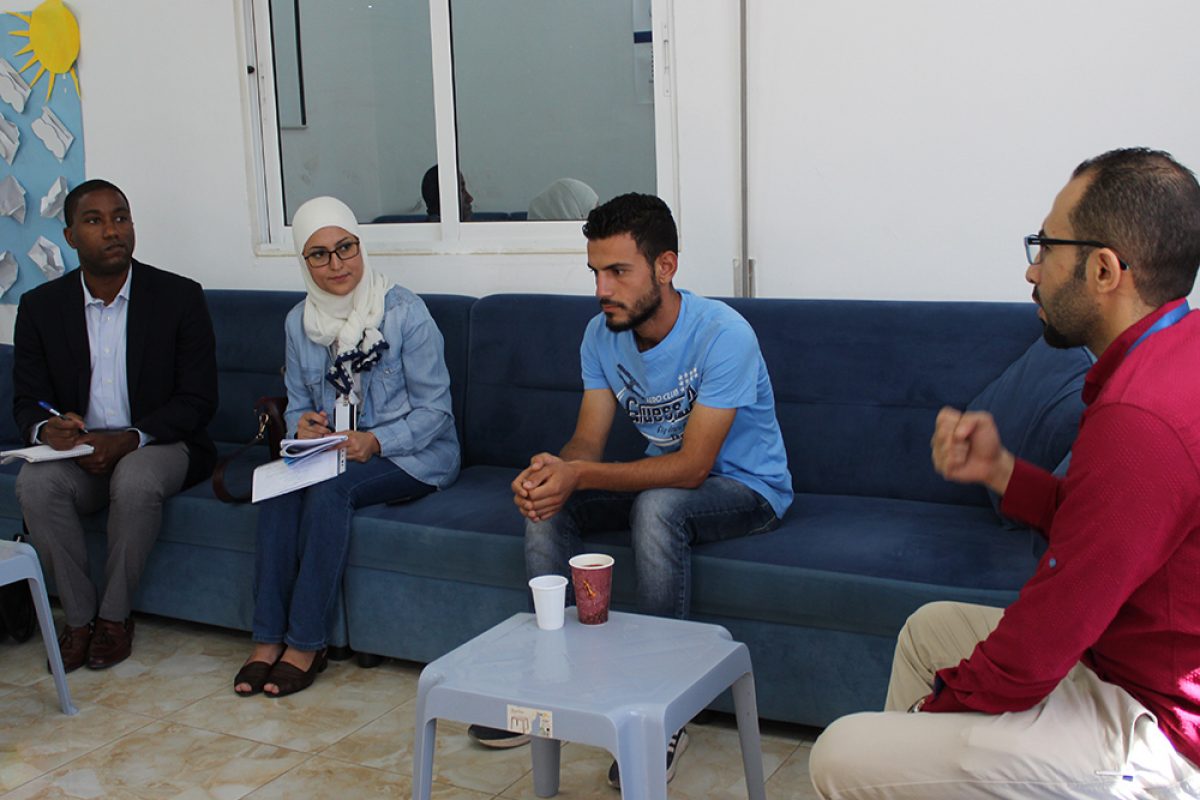 From promoting gender equality to providing youth living with disabilities with skills for employment, the work of the International Catholic Migration Commission in Jordan is empowering Syrian refugees and vulnerable Jordanian locals.
Early in July, a delegation from the U.S. Bureau of Population, Refugees and Migration (BPRM) had the opportunity to see at first-hand ICMC's BPRM-funded activities in Jordan and their empowering impact on Syrian refugees and vulnerable Jordanians' lives. BPRM is the primary donor to ICMC's work in Jordan.
The delegation attended a life skills session at ICMC's Protection Center in Mafraq. The awareness-raising course is one of the center's activities that address the needs of vulnerable girls and women between the ages of 14 and 21. In this course, participants learn about such topics as adolescent health and rights, self-care, dealing with emotions and the negative impact of child marriage in addition to financial literacy and computer skills. In 2019, 105 girls and women attended the program.
The visitors also met with 18-year-old Yaseen, one of the participants in an awareness-raising course for men and boys. This activity seeks to identify and empower change-makers in the local community. Yaseen explained how attending the course had contributed to the positive development of his character. It empowered him to become an example of positive change in his community, particularly when addressing social misconceptions about gender roles and gender equality. In 2019, 12 boys and men completed the course, which is open to those aged 14 and above.
Furthermore, the delegation met with Jordanian brother and sister Sameer and Randa as well as with Samah, a Syrian refugee woman, all of whom took part in ICMC's livelihoods program, which targets 18 to 30-year-old women and men.
The three young people, who are all affected by speech and hearing impairments, shared their experience of how the course had increased their confidence and capacities. They said that that the program had made them eager to experience the world around them; moreover, the skills they had gained had allowed them to become productive members of the community.
Twenty-five Syrian refugee and Jordanian students living with disabilities, mainly hearing and speech impairments, graduated from the six-week program in 2019.
ICMC's livelihoods program develops beneficiaries' capacities and provides them with a variety of trade courses in fields such as sewing, plumbing, making confectionery and sweets, barbering and beauty courses.
During their meetings with the BPRM delegation, beneficiaries expressed their gratitude and the wish that ICMC offer longer courses so that they might continue to acquire life-changing skills.
Since the beginning of the war in Syria in 2011, over 11 million Syrians have fled the country. Over 660,000 of them are registered refugees in Jordan. ICMC's Protection Centers in Mafraq and Irbid, areas with dense refugee populations, offer educational and psychosocial support to refugees and vulnerable locals, mainly women and children.