Supporting Integration of Refugees in Small European Communities
More refugees than ever before are settling in smaller towns across Europe than ever before. These communities may face different challenges than their larger counterparts when it comes to welcoming refugees. Early in November, ICMC Europe's SHARE Integration Project held an international conference in The Hague to discuss the integration of refugees in smaller municipalities across Europe.
Some 55 representatives from central and local government and civil society of 13 countries debated how best to match refugees' needs with the potential of hosting communities.
Historically, refugees in Europe moved mainly to large cities. In the past few years, however, smaller municipalities have begun to welcome more and more forcibly displaced people.
Participants at the conference highlighted the advantages of settling refugees in smaller communities, and discussed some challenges. They also shared solutions and best practices to ensure that the needs of refugees in small communities are met.
Small municipalities: space for integration
The human scale of smaller municipalities can often be an advantage to integration. Where people tend to know one another, refugees are easily guided to the appropriates service offered in the region, which betters their overall experience.
Members of small-town communities can play a significant role in the integration process. According to several participants, community members of small and medium-sized municipalities are often very eager to be involved in welcoming refugees.
Since the 2015 influx of refugees into Europe, many inhabitants of small communities have felt call to assist those displaced people who need it most, and have become volunteer helpers. Smaller towns and dedicated volunteers offer refugees better opportunities for practicing local languages, which can significantly facilitate their integration.
Small towns often offer easier access to affordable housing than big cities. This is especially true for large refugee families who require more spacious accommodation.
The human scale of smaller municipalities, the involvement of community members and the availability of housing all enhance refugees' integration and help give them a sense of belonging to their new community. Small towns can also gain a lot from the experience of welcoming refugees.
According to Jean-Marc Vareille, responsible for social cohesion in the department of Corrèze in France, refugees sometimes help save small municipalities from the consequences of aging and depopulation.
In some cases, he said, enrolling refugee children in local schools saved the school from shutting down. He also mentioned small municipalities in which businesses require younger workers to replace an aging population.
For Matthieu Tardis, a researcher specialized in international migrations and European policies and a SHARE project partner, the advantages of integrating refugees into small communities outweigh the disadvantages.
Matching refugees' needs with the potential of their new community
However, integrating refugees into smaller communities also brings certain challenges that must not be overlooked.
Sometimes, small centers may find it difficult to meet refugees' special needs, from specialized health care to interpretation services to access to public transport and suitable places of worship or culturally-appropriate grocery stores.
Matching the needs of refugees with the potential of the area in which they will live is essential, especially for those who do not choose where they will be resettled.
According to Minna Hirsova, a municipal planning officer in Southern Finland, four aspects are considered when resettling a refugee in the Uusimaa region where she works.
The chosen location must have good public transport to the metropole. It must offer access to sufficient health care services and language courses. If a refugee has relatives in Finland, he or she should be relocated near them. And other members of the refugee's community of origin should be nearby to provide a supportive environment.
Charlotte Cooke, from Migration Yorkshire in the UK, added that when a few families with a shared cultural background resettle in a given area, this can prevent feelings of isolation.
Several participants reiterated the importance of resettling refugees near relatives whenever possible and of involving the latter in the newcomers' integration process. Relatives and earlier migrants from the same cultural background know both the country of origin and of arrival. They can often assist in integration in ways that local volunteers cannot.
Regional support can facilitate local integration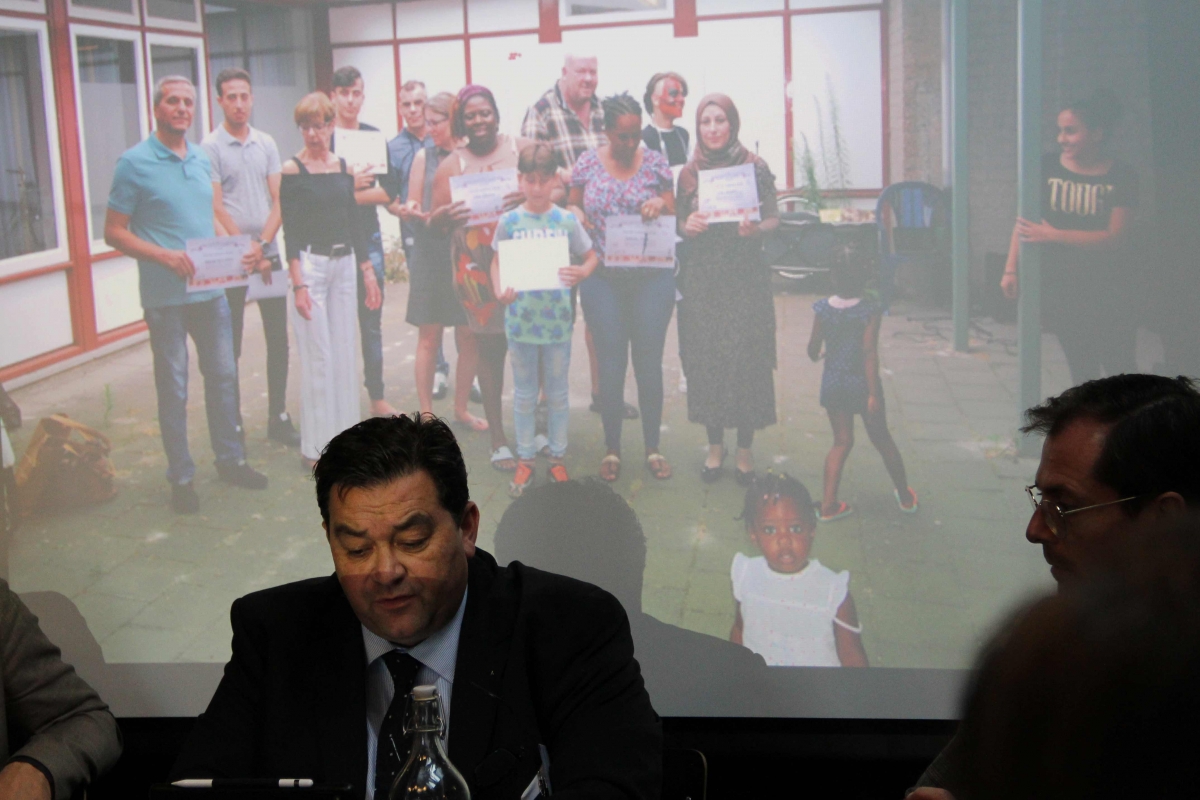 Pooling a larger area's resources can often be a solution to help alleviate the pressure that small communities face when responding to refugees' needs. It allows access to expertise that towns may not be able to afford on their own.
In Finland, regional offices coordinated by a national center are in charge of placing refugees by suggesting yearly quotas to municipalities, which are free to accept or reject them.
Although the system is voluntary, it has been successful: the number of refugees that municipalities were willing to welcome increased from 174 in 2015 to approximately 1000 in 2016 in the region of Uusimaa, mostly in rural areas. Hirsova attributes the success to planning and honest communication about refugees' needs.
According to Cooke, the Migration Yorkshire regional office in the UK fills in the gaps in resources for specialized services such as care for children with trauma and mental health support for families. This has allowed smaller towns to participate in refugee integration. Offering a single, professional point of contact between the national government and local authorities helps municipalities handle refugee resettlement.
Economic perspectives, a driving factor for integration
According to Tardis, successful integration has more to do with a region's economic prosperity than with whether it is an urban or a rural setting. Refugees with viable economic perspectives are more likely to integrate, regardless of the size of the community.
Municipal representatives also agreed that smaller municipalities can offer many opportunities for newly-arrived refugees. Djamal Hamaili, responsible for integration at the Swedish municipality of Valdemarsvik, said that in rural areas it is sometimes easier to find a job. In Valdemarsvik you do not always need to have a nicely written CV; the most important thing is to be motivated and make connections with the community around you, he explained.
Some countries try to match refugees' past work experience with employment opportunities in their resettlement location. However, one participant shared that this was often difficult to achieve, especially when there are language barriers or a mismatch in diploma equivalencies.
According to Emma Brech of the British Refugee Council, small grants for entrepreneurs may be an underexploited opportunity to improve refugees' economic status.
She shared the experience of the Syria Grant Fund, in which refugees were given small grants to help them in their job search. Although this money could be directed towards finding employment in any kind of field, an unexpected proportion of refugees invested in becoming self-employed. Their expenses ranged from courses to become a taxi driver to purchasing equipment to open a cell phone repair shop.
Preparation eases integration
Conference participants agreed that preparing both refugees and host communities is a key factor for refugee integration in small towns.
Most countries offer pre-departure cultural orientation courses for refugees in the resettlement scheme. Many also provide courses after arrival, which may include classes about the country, city, and neighborhood where they will live, as well as basic language skills and civic life.
For example, refugees resettled to Germany must spend two weeks in the initial reception center in Friedland. There, they find out where in the country they will live and begin to learn about their new town.
Although some small community members are eager to welcome refugees, participants have mentioned resistance in some communities. To increase the chances for a smooth integration, receiving communities must be prepared.
Meeting neighbors before the arrival of refugees and explaining that the newcomers will soon be living near them gives the former a chance to learn about the refugees and plan a better welcome.
Raymond Vlecken, Mayor of Landgraaf in the Netherlands, described how political leadership can mobilize community support for refugees and emphasized the need for local authorities to maintain regular contact with local citizens.
He faced many opponents when his community began receiving resettled refugees. However, by keeping the discussion open and by explaining why refugees were resettled, he converted some of his most fervent opponents into allies.