Families Should Be a Priority When Dealing with Migration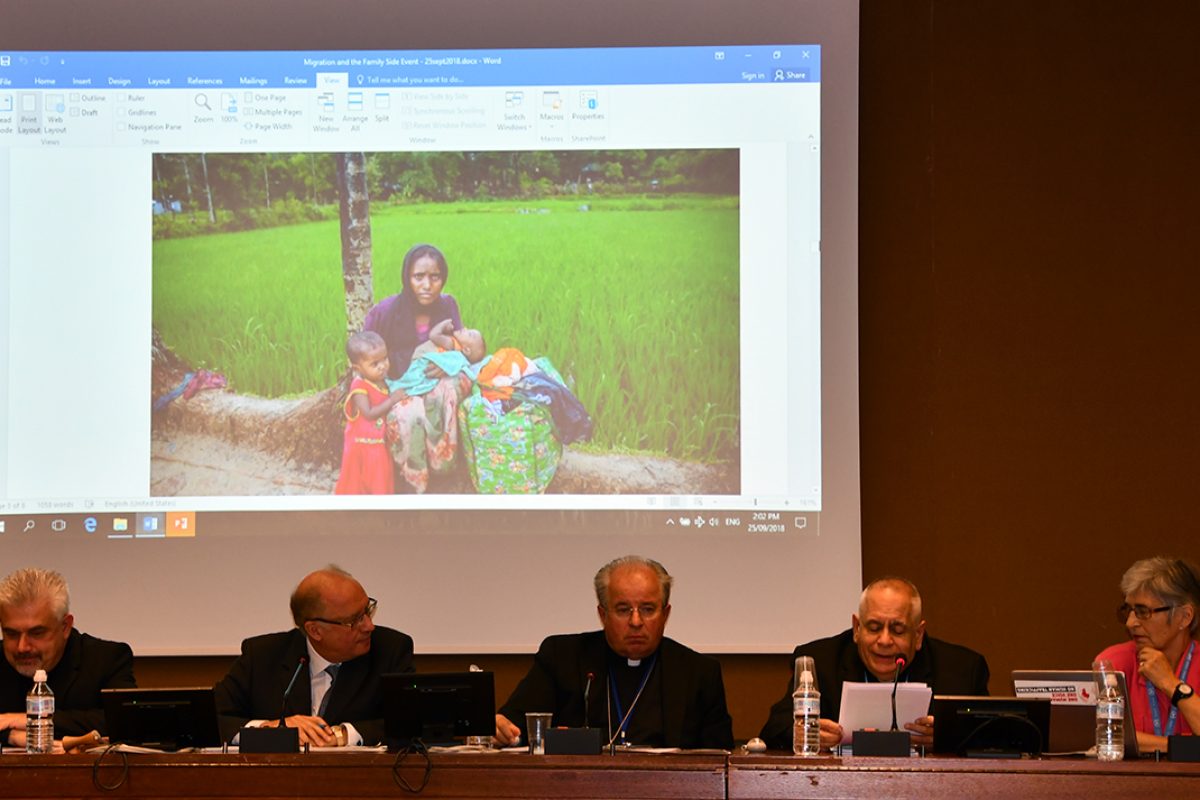 Governments and institutions must prioritize family ties when dealing with migration said Catholic organizations at a discussion panel parallel to the 39th Session of the UN Human Rights Council.
The role that governments, institutions and society should adopt to protect migrant families was the focus of a discussion panel on "Family and Migration" organized by members of the Geneva-based Forum of Catholic-Inspired NGOs.
"I have never met a migrant who did not give evidence of a deep connection to her or his family – the connections were vibrant, palpable and omnipresent," said Msgr. Robert J. Vitillo, Secretary General of the International Catholic Migration Commission (ICMC) in his presentation, citing his experience in social and pastoral services to refugees and migrants around the world.
Msgr. Vitillo explained that although scientific evidence demonstrates that family is an essential factor in protection and integration of migrants, little is known about the number of migrant families in the world. Consequently, too few measures are put in place specifically to protect and promote migrants and their families.
Migrants separated from their families are often extremely vulnerable to abuse ranging from human trafficking to sexual exploitation and recruitment by extremist groups. In the face of this evidence, the international community can draw upon the experience of Catholic organizations that put families at the center of their protection and integration efforts.
H.E. Archbishop Ivan Jurkovič, the Permanent Observer of the Holy See Mission to the UN in Geneva, stressed the importance of focusing on Pope Francis' injunction to Welcome, Protect, Promote and Integrate, as well as on the importance of family reunion.
His words were echoed by Fr. Fabio Baggio, Co-Under-Secretary of the Vatican's Migrants and Refugees Section, who reminded the audience of the Church's constant efforts to advocate for migrant families.
Fr. Baggio cited the 20 Action Points, prepared by the Vatican in collaboration with Catholic-inspired organizations such as ICMC, for advocacy to promote the two Global Compacts soon to be launched by the United Nations.
Among other actions, they encourage countries to expand family reunification visas, find alternatives to detention of migrants, particularly minors, and establish policies that preserve family integrity. These recommendations were considered in the drafting of the Global Compact on Safe, Orderly and Regular Migration, and the Global Compact on Refugees, both of which are scheduled for adoption my UN Member States before the end of 2018.
Dr. Maria Mercedes Rossi of the Pope John XXIII Community Association (APG23) discussed first-hand experiences of the role of families in migrants' lives as she described her organization's efforts in family reunification and protection of women and minors. She gave the example of an 11-year-old unaccompanied girl whose psychological distress was evident upon her arrival in Italy after she had lost her parents, witnessed torture and survived the hardships of a desert crossing.
"The question is no longer if Europe can manage the numbers of [newly arrived] migrants, but if it can muster the humanity" to welcome and protect them, concluded Ms. Maria Lia Zervino, of the World Union of Catholic Women's Organizations.
The event was organized jointly by APG23, Dominicans for Justice and Peace, the World Union of Catholic Women's Organizations and ICMC. It was sponsored by Caritas Internationalis, Caritas in Veritate Foundation and Geneva Forum of Catholic-Inspired NGOs.