Coming Soon: Zero Draft of Global Agreement on Migration
The first — or "zero" — draft of a new Global Compact on Migration will be released for governments to begin related negotiations in early February 2018.
February marks the beginning of negotiations among UN member states on a new agreement on principles, responsibilities and cooperation on challenges and opportunities in international migration.
Known as Global Compact on Safe, Regular and Orderly Migration, the negotiations should have achieved consensus by the end of July 2018. It will then be referred to the UN General Assembly in September and adopted at an intergovernmental conference in Morocco in December 2018.
Civil society makes its voice heard
On 4-6 December 2017, some 600 representatives of governments plus another 200 non-state actors including agencies, parliamentarians, civil society and the private sector convened in Puerto Vallarta, Mexico. They reviewed and "took stock" of the results and recommendations of the many consultations held across the world on the Compact over the previous ten months.
These consultations were at national, regional and international levels and involved governments, UN and other agencies and a wide range of faith-based, labor, human rights and development organizations as well as academics, businesses and parliamentarians. A significant percentage of the non-government participants were migrants, refugees or the children or grandchildren of migrants and refugees.
In the two days immediately before the government stocktaking meeting in Puerto Vallarta, some 80 leading civil society organizations and networks convened nearby in order to strategize and lobby government officials ahead of their meeting.
The civil society gathering was organized by the International Catholic Migration Commission (ICMC) and 11 "migration-centered" members of the civil society Action Committee, an independent global advocacy group of non-governmental networks initiated by ICMC.
Ignacio Packer, Executive Director of the International Council of Voluntary Agencies (ICVA) and Roula Hamati from the Cross Regional Center for Refugees and Migrants in Lebanon chaired the civil society event.
Civil society leaders reviewed the main results of seven regional consultations and the numerous global events focused specifically on the Compact on Migration that had taken place since December 2016, including the civil society program that ICMC organizes in the Global Forum on Migration and Development.
About 50 representatives of 23 governments at the forefront of international policy on migration participated actively in a plenary hearing, where they were able to listen and respond to civil society priorities.
The plenary was followed by a round of ten small-table discussions, each bringing together government representatives and civil society leaders. The small groups exchanged perspectives on each of the issues in civil society's global document Now and How: 10 Acts for the Global Compact.
During the civil society meeting, Louise Arbour, the UN Secretary-General's Special Representative on International Migration, emphasized the key role of civil society advocacy during the negotiations. She praised the clear, unified vision for the Global Compact presented in the Ten Acts document.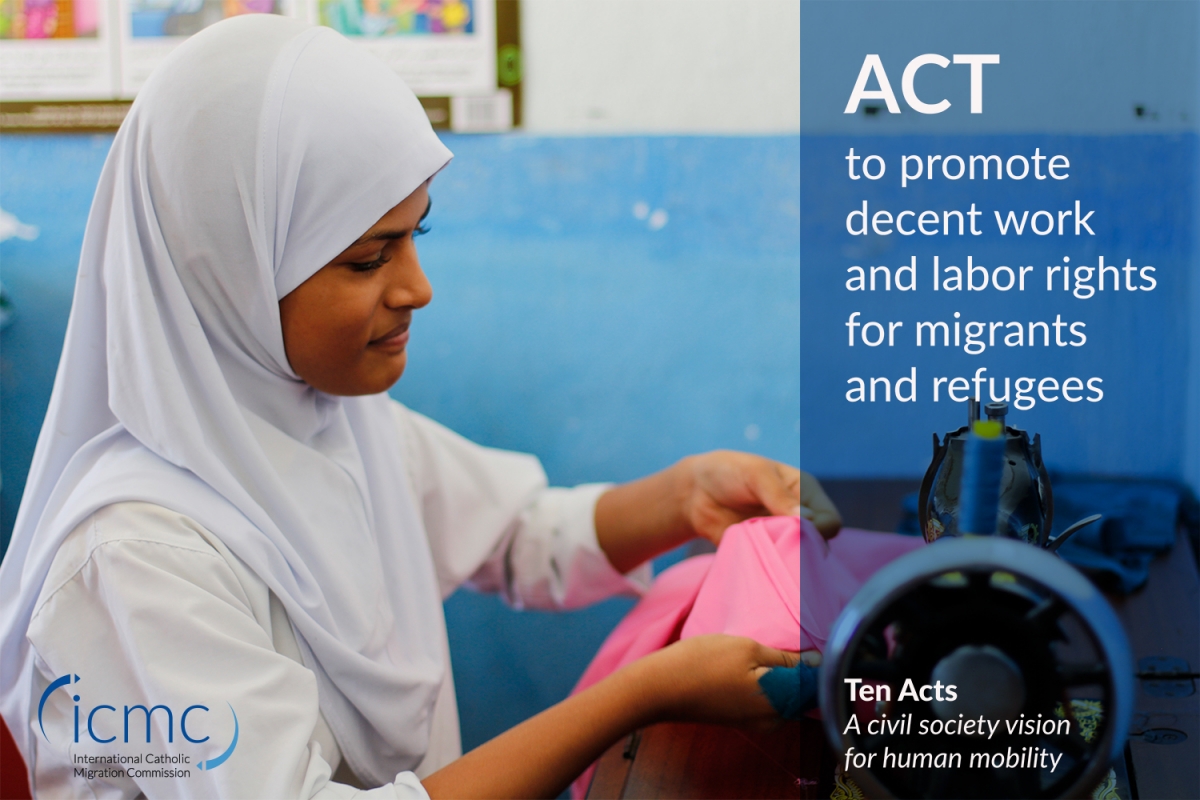 The document draws together essential recommendations agreed upon by civil society and condenses a bold vision for the Global Compact on Migration.
It presents a graduated timeline to increase cooperation on a range of concrete migration solutions, including expanding regularization, developing principles and practices of return, improving protection and assistance to migrants in vulnerable situations or displaced by climate or environmental change.
ICMC Head of Policy John K. Bingham reported that government representatives had expressed their appreciation for this key civil society advocacy tool, which has thus far been signed by some 240 civil society organizations around the world.
As one ambassador put it, "Our government appreciates the efforts that have gone into what from our perspective is a very coherent document: a short, pragmatic set of proposals that we can consider in our stocktaking."
Another government representative commented, "It is very useful to deal with a civil society that is coherent and brings together unified messages."
The need to move from 'poetry' to 'plumbing'
Less than two weeks later, another step in the process towards the global compact took place at UN headquarters in New York City. On 18 December, some 300 representatives from states, UN agencies and civil society participated in an informal multi-stakeholder hearing.
John K. Bingham was the civil society opening speaker. He reported on the conversation that civil society organized with state representatives in Puerto Vallarta.
"The surprise in our meetings in Puerto Vallarta and in many regional consultations around the world," Bingham said, "was to see how much shared interest on the issues there is among governments and UN agencies, local authorities and civil society."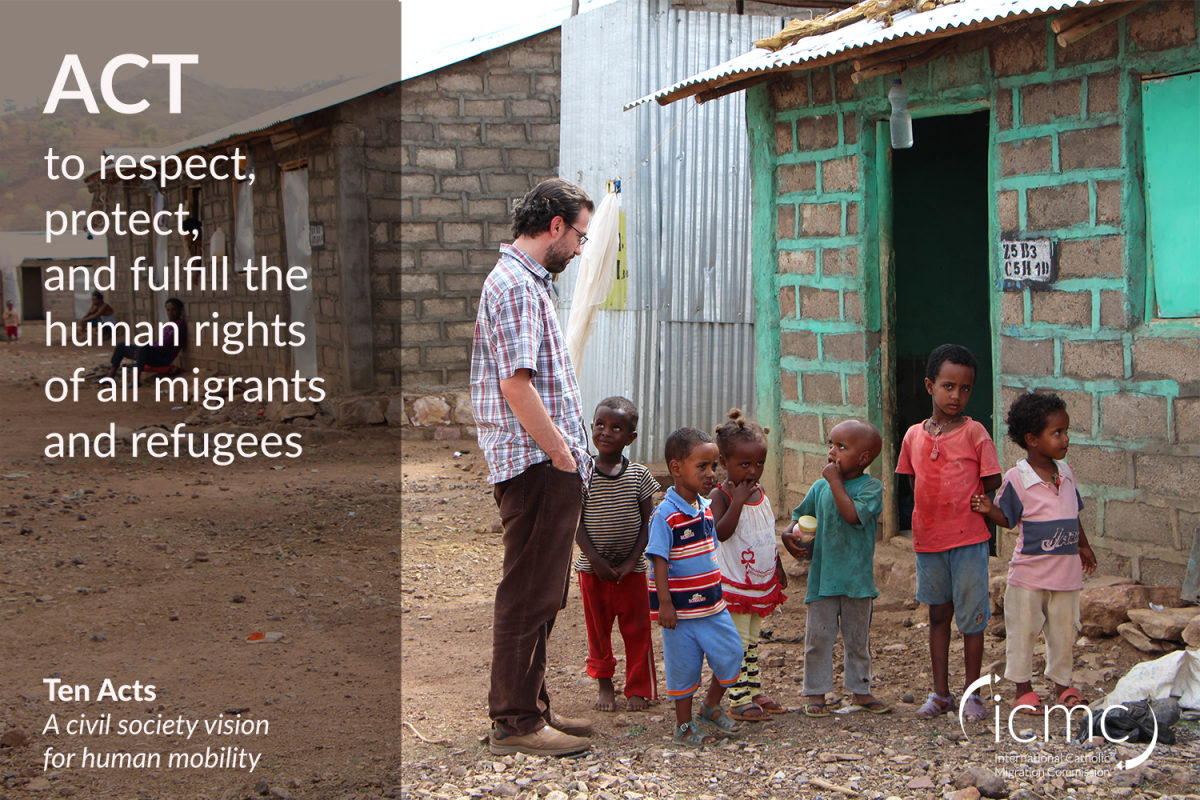 From the perspective of civil society, he said, the rights already exist. "Widely ratified conventions on human rights, refugee, labor and trafficking include crystal-clear language on non-refoulement of refugees and others, as well as on rights to life, health, education and so on."
And not only do the rights already exist, but a myriad of implementation mechanisms do too. Granted, Bingham said, they are "not enough and not consistent enough and yet, those multi-actor mechanisms are part of the solutions to change the narrative as well as the reality on the ground."
Given this, he said, the challenge is "How does the next step into not one but two compacts — on migration and on refugees — actually move us from the 'poetry' of beautiful declarations to the 'plumbing' of the mechanisms that make them work?"
One of the aspects of this "making them work" is to not treat the two compacts as separate, unconnected entities. "Madame Arbour and others have referred to the importance of these two compacts talking and walking together, particularly in areas of mixed migration," Bingham said.
This approach is in line with the experience of civil society organizations. "What we experience on the ground is that these two compacts have to interact. Complementarity is much too soft a word for the reality on the ground. The two compacts need to interact across the whole range of human mobility."
The process to develop the two compacts continues at fast pace. On 11 January, the UN Secretary-General António Guterres issued his report Making Migration Work for All as input to the zero draft of the Global Compact on Migration.
The report focuses on promoting regular migration, recommending policies that would help migrants fulfill their economic and social potential while ensuring that the rights of all migrants are fully respected.