Implementation, Implementation, Implementation: The 2017 GFMD Civil Society Days Ended in Berlin With a Call for Achievable Solutions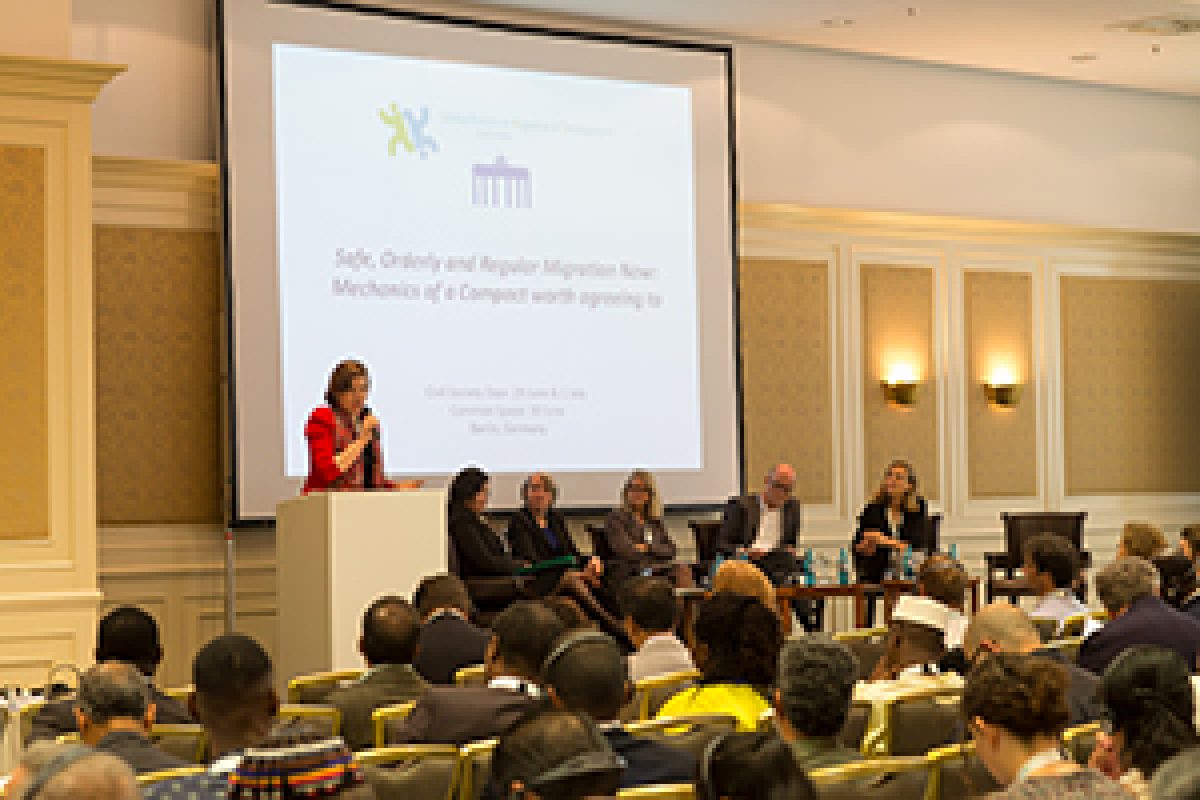 The Civil Society Days of the Global Forum on Migration and Development (GFMD CSD) came to an end on Saturday 1st July, with a clear message from civil society delegates to governments and the world: we need to focus on the implementation of commitments.
The CSD concentrated this year largely, but not exclusively, on the Global Compact for Safe, Orderly and Regular Migration, whose process of creation was agreed on September 19, 2016 at the UN Summit for Large Movements of Refugees and Migrants. Calling for effective mechanisms for a Compact worth agreeing to, over 300 civil society delegates from every region of the world met in Berlin to discuss how to make the input of civil society visible and valuable throughout the process of consultations.
"For all of us, migration is not just politics, and policies; it is not just professional or practical: it is personal. It touches our lives, our families, and our communities," stated Civil Society Chair Wies Maas on her opening statement to the governments during the Common Space on Friday 30 June. More than half of the CSD delegates were migrants, refugees or members of the diaspora themselves, and all of them had a personal connection with the impacts – both positive and negative – of migration.
Ms. Wies Maas, who coordinated ICMC's MADE network for the first three years of its implementation, presented the 10 recommendations that came out from the first day of CSD meetings, at the GFMD Common Space. Among them were a commitment to the protection of children on the move and an absolute ban on child detention, the facilitation of human mobility with an increase of pathways to safe access to countries, addressing the human rights of women in a situation of migration, ensuring that returns are voluntary and that alternatives to detention exist and are put in practice, and better protection for the rights of migrant workers, including ethical recruitment, decent jobs and labour mobility.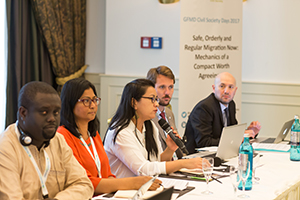 At the opening event at the Brandenburg Gate, Civil Society Co-Chair Berenice Valdez Rivera from Instituto para las Mujeres en la Migración reminded the audience that, as unlikely as it may seem sometimes, walls do come down. Civil society delegates who attended the ceremony shared their personal stories of migration, from mothers who are still looking for their children disappeared on the migration route through Central America to refugees of war and survivors of the sea.
The second day of the CSD on 1st July focused on Commitments that civil society itself can undertake, with Special Sessions on climate change and disaster-led displacement, return and reintegration, both labour and non-labour mobility, countering xenophobia in migrant-receiving countries, and more.
During the GFMD CSD closing session, the Government Days Co-Chairs, Dr. Götz Schmidt-Bremme, German Ambassador for the 2017-2018 GFMD Co-Chairmanship and El Habib Nadir, Secretary General, Ministry Delegate to the Minister of Foreign Affairs and International Cooperation in charge of Moroccans Living Abroad and Migration Affairs, reiterated their willingness to work with and listen to civil society in the Global Compact process. "The Global Compact process is state-led but not state-owned," stated Amb. Schmidt-Bremme, echoing the calls from CSD Chair and Co-Chair that "nothing about us can be done without us".
Ms. Louise Arbour, UN Special Representative of the Secretary General on International Migration called on civil society to provide "bold solutions, innovative ideas and practical achievements". "I count on you, civil society delegates," she said "I count on you to deliver a Global Compact which is able to protect the rights of all migrants and achieve positive changes on the ground."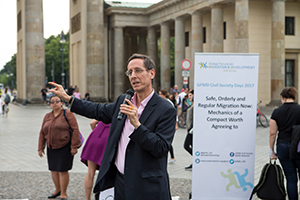 ICMC has organized the GFMD CSD since 2011, through the MADE Network-coordinated GFMD Civil Society International Steering Committee, bringing together over 30 thought- and action- leaders from all over the world for the past 7 years, to address issues of paramount importance in the discourse on migration and development. The GFMD CSD are a unique occasion to share good practices from around the world, put forward demands to governments and learn from one another. The next GFMD CSD will take place in Morocco in December 2018.
Read Civil Society Chair Wies Maas' full address at the opening of GFMD Common Space, 30 June 2017.