Canada, UNHCR And ICMC Join Together to Offer Resettlement Opportunities to Refugees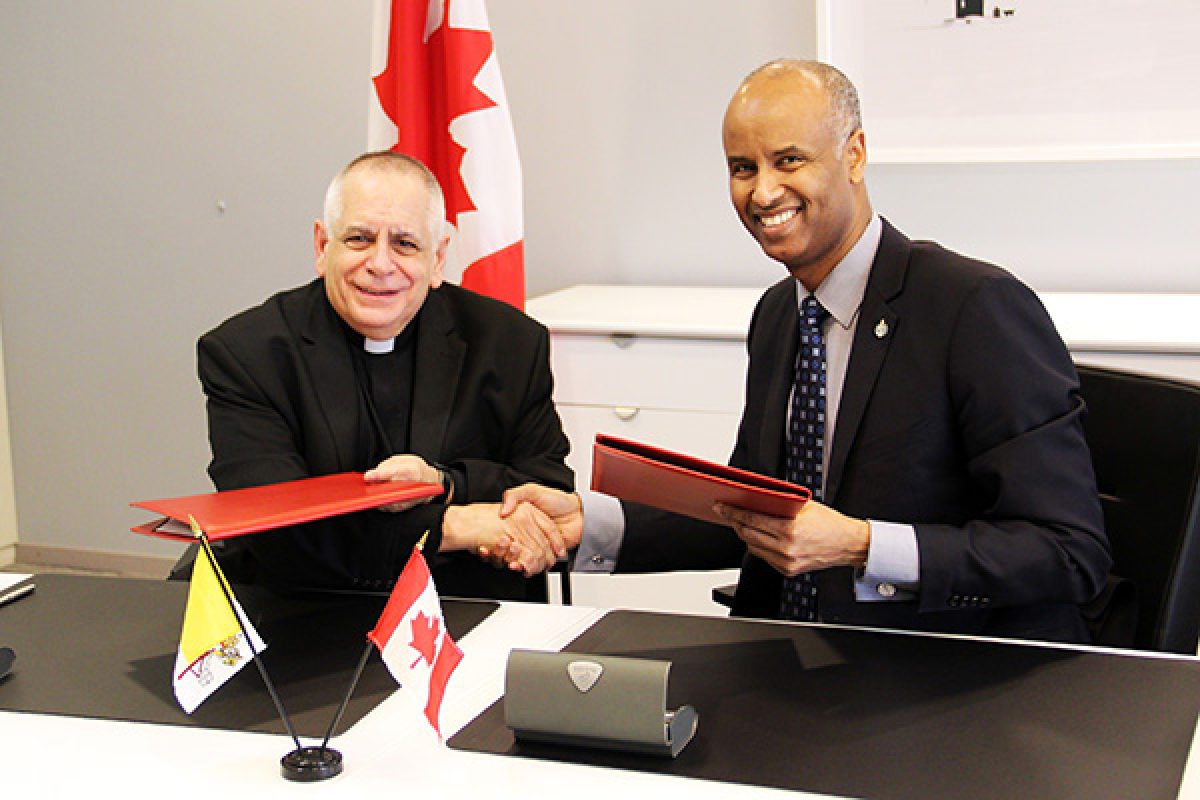 The Canadian Government, the United Nations Refugee Agency (UNHCR) and the International Catholic Migration Commission (ICMC) are joining forces to ensure that the world's most vulnerable refugees can find protection and safety by being resettled to countries willing to welcome them.
Through an agreement with ICMC, which was signed during an official event at the Permanent Mission of Canada in Geneva on 15 March 2017, the Canadian government renewed its financial support to the refugee resettlement activities operated by ICMC and UNHCR, within the framework of the Resettlement Deployment Scheme. The agreement builds upon the commitments already taken by the three parties in 2013, when they first came together to strengthen the activities of the Scheme.
The event saw the participation of the Honourable Ahmed Hussen, Canada's Minister of Immigration, Refugees and Citizenship. "Canada will continue to do its part in providing protection to refugees", the Minister said. "We are working with other governments, international organizations, civil society and the private sector to find new and innovative approaches to offer solutions for refugees and to help other countries develop greater capacity to offer protection to those in need. Canada believes that the successful integration of refugees benefits not only the refugees themselves but also our society as a whole."
Since 2013, Immigration, Refugees and Citizenship Canada (IRCC) has contributed more than 5 million USD to the ICMC-UNHCR Resettlement Deployment Scheme. "This financial support has allowed the Scheme to deploy 88 ICMC resettlement experts", stated Msgr. Robert J. Vitillo, ICMC's Secretary General. "Our Canada-funded experts alone interviewed and assessed the cases of 41,300 refugees during the past three years." UNHCR's Deputy Director or Resettlement, Kate O'Malley, was also present during the event.
The ICMC managed Scheme consists of a pool of more than 400 resettlement, child protection, and refugee status determination experts who are assigned on short notice, whenever their expertise is needed, to UNHCR's field operations globally. The work of these experts includes determining a refugee's legal status, interviewing refugees to assess their eligibility for resettlement, and evaluating the needs of unaccompanied or separated refugee children to ensure that their best interest is taken into account.
Thanks to the generous contribution of the Canadian government, ICMC will be able to deploy through March 2018, 11 additional resettlement experts to UNHCR offices in Africa, Asia, Latin America, and the Middle East, where they will put their expertise at the service of refugees who find themselves in the most difficult situations. Resettlement is indeed the only viable solution for many vulnerable refugees who cannot return to their home countries or remain in the State where they first sought protection. Following an extremely rigorous vetting process, some refugees are finally given the opportunity to start a new life in another country as legal residents.
Read the Canadian Government's news release: "Canada funds international refugee resettlement efforts".