Refugee Resettlement and Integration in Europe: the SHARE Network Discusses Experiences and Lessons Learnt in Brussels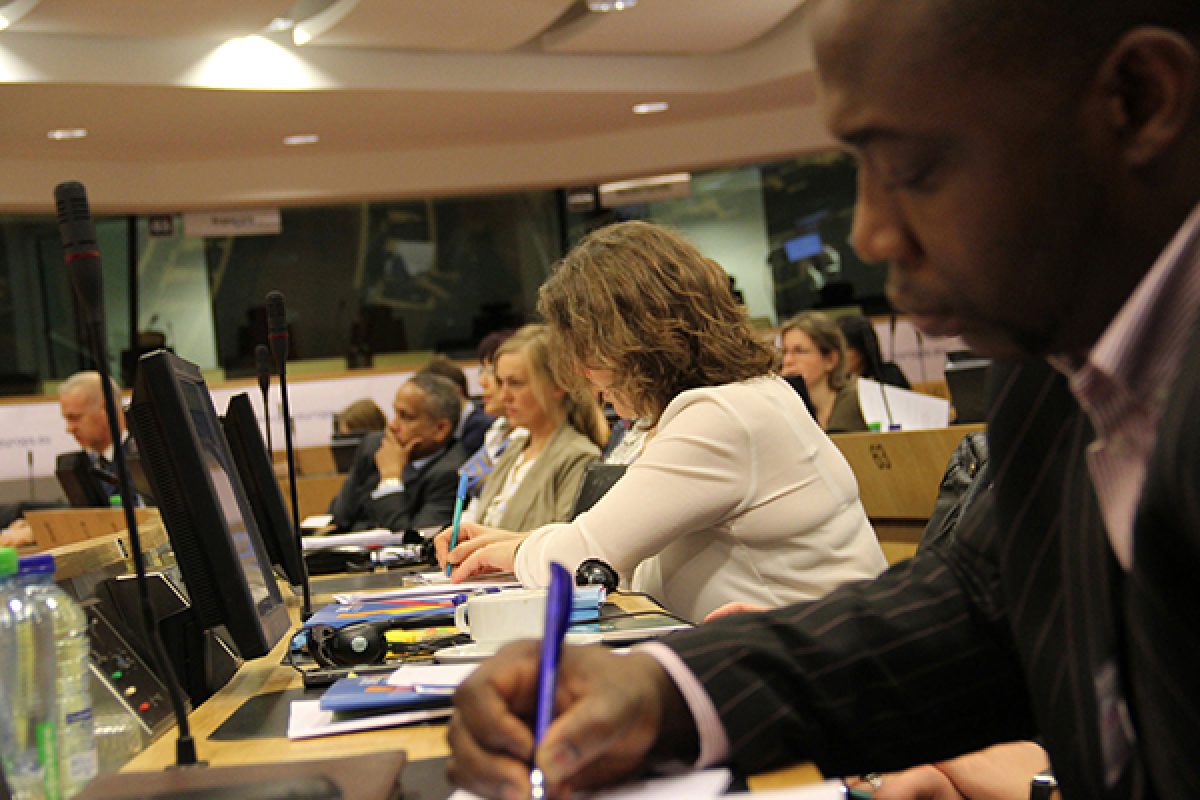 Over 140 representatives from 20 European countries including regional and local authorities, cities and municipalities, civil society organizations, citizens' initiatives, previously resettled refugees and international organizations gathered in Brussels on Tuesday 20 October to discuss experiences and lessons learnt about resettlement and integration of refugees in Europe during the three years since the SHARE Network was established.
Co-hosted by the Committee of the Regions, the European institution representing the interests of regional and local authorities, the conference – titled "Protecting and Welcoming Refugees in Europe: responding to an unprecedented refugee crisis" – opened with a high-level panel of speakers from the European Commission, the UN Refugee Agency (UNHCR) and the European Council on Refugees and Exiles (ECRE). They outlined the current refugee situation both within Europe and at its borders, and the EU resettlement and relocation measures and proposals for their implementation – for example via "hotspots" in Greece and Italy. Increased refugee arrivals will affect all European countries which will need to upscale their reception and integration capacity accordingly. In this context, tools, resources and learning produced by the SHARE Network since its launch in March 2012 were discussed. As Michael Diedring – Secretary General of the European Council on Refugees and Exiles (ECRE) – noted, "the SHARE Network has not been just about exchanging best practices – it has also helped to create a culture of resettlement and welcome in Europe".
"I arrived in Europe in 2011 from Ethiopia", recounted Filmon Ghebrehiwot, a SHARE Resettlement Ambassador from the city of Antwerp. "I was like a 'raw material' – I had no idea of what to expect from my future. Thanks to NGOs and city integration services, I learned Dutch, took up some job training and managed to integrate into society. Now I work as a social orientation teacher for other refugees: I feel as if the 'raw material' has turned into something useful and productive."
Subsequent panels showcased the efforts of grassroots associations, citizen and volunteer-led initiatives, faith-based organizations and others to welcome refugees to Europe. David Zistl, an Austrian student and one of the founders of the "Refugees Welcome" website, explained how a simple online platform developed into a widely-used tool enabling individuals to offer housing for refugees (a tool that will now be replicated in 8 other European countries). A Polish foundation displayed its engaging infographics aimed at educating and raising awareness about what refugees are and why they need protection, in the lead-up to Polish national elections. Representatives from bigger cities like Madrid, Vienna and Dortmund and smaller municipalities like, Aachen, Coventry and Sittard-Geelen presented a variety of awareness-raising campaigns, reception initiatives and partnerships for integration undertaken in their cities.
Overall, the interventions painted a picture of an exceptional and unprecedented desire to welcome refugees in Europe, with many new grassroots, citizen-led initiatives and partnerships flourishing all over the continent. The conference was another step in the SHARE Network's facilitation of mutual learning, sharing of information, and exchange and dissemination of best practice amongst actors working on refugee resettlement, protection and integration in European towns and cities.
"The role that ICMC plays in this historical moment is an important one", commented Peter Sutherland, UN Special Representative for Migration and President of ICMC, concluding an intense day of discussions and reflection. "Either we enable migrants to become part of the community, or we will witness tensions and a further growth of xenophobic movements. SHARE brought together cities, towns, communities, churches, migrant associations to promote and coordinate a real response to the needs of integration. I am proud of it".
The conference marked the drawing to a close of the second phase of the SHARE program. After three and an half years of engagement in refugee resettlement, protection and integration, the conference was also the occasion to publish the SHARE Network policy statement "Protecting and Welcoming Refugees in Europe" (pdf, 330 Kb), which draws on the collective expertise of the network to advance recommendations for actors at all levels to contribute to the successful integration and welcome of refugees in Europe.
Photos
You can find the conference pictures on ICMC's Flickr account.
Video
You can watch Peter Sutherland's full address on ICMC's Youtube channel.
---
About the SHARE Network
Created in March 2012, the SHARE Network has built toward a network of European regions, cities, municipalities and their civil society partners involved in and/or with a commitment to refugee resettlement, protection and integration of refugees.
Led by the ICMC Europe office in Brussels and co-financed by the European Commission, SHARE has provided a platform for peer exchange and mutual learning between actors working at the regional and local levels across Europe, and facilitated the inclusion of these actors in the wider European Resettlement Network and European and international discussions on resettlement and relocation.
SHARE Network resources, tools and reports can be accessed via the network's webpages.