Syrian Women and Children Find Support at the ICMC Protection Center in Northern Jordan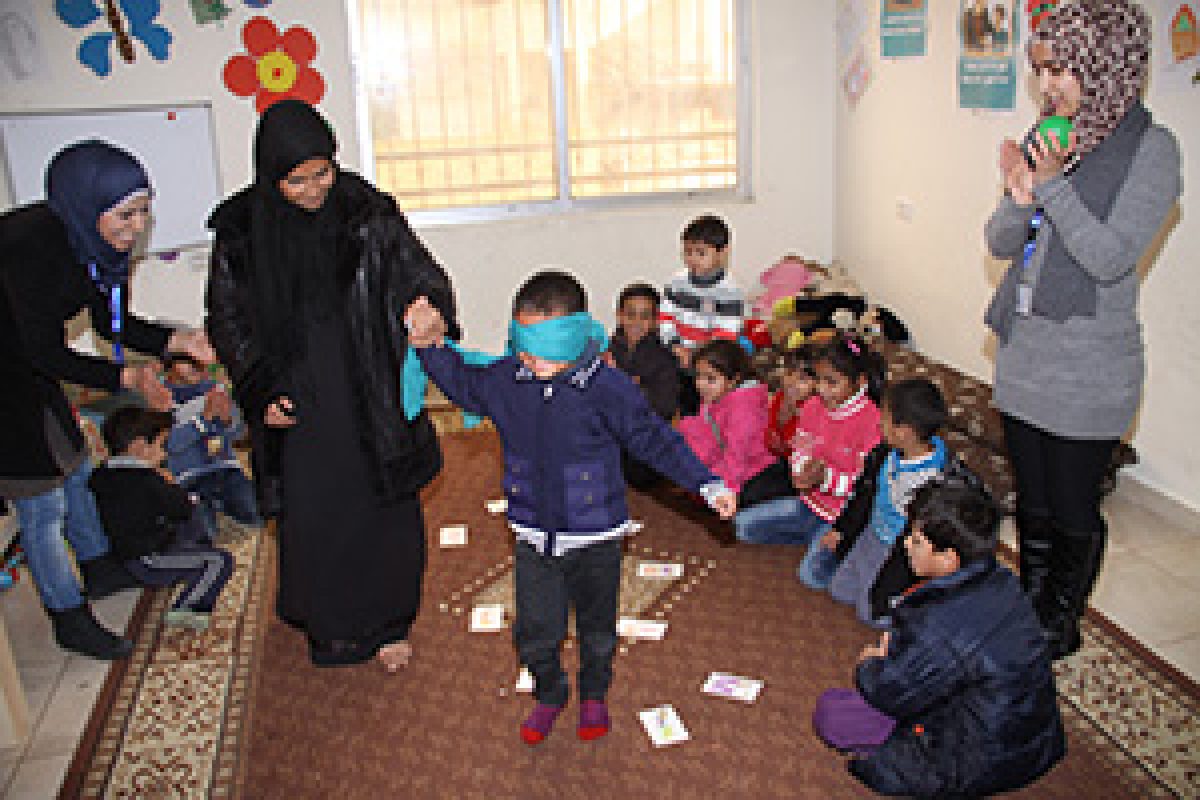 Four years since the beginning of the Syrian conflict, the landscape of Syria is a country close to ruin: whole cities look nothing more than a maze of shattered buildings and debris, overlaid by a thick layer of black smoke due to shelling.
The city of Damascus itself has been spared, but the surrounding area has been severely impacted by a decrease in access to basic services, such as regular medical care. Life in Syria is not only very difficult, but can be extremely dangerous for those who try to remain in their homes.
Ramia*, a mother of five, is one of the many Syrians who personally suffered the consequences of this disastrous situation. Ramia used to live in the outskirts of Damascus, in a neighborhood were threats of death and rape by neighbors were not infrequent, due to her family's belonging to a minority religious group. Yet, in spite of the intimidations and the constant fear of bombs falling over their roof, the family had decided to remain in Syria.
In 2012, Ahmed*, one of her youngest sons – who was suffering from chronic asthma – had a sudden attack. Tragically, this happened on a Friday, the day of the week when, since the beginning of the war, all the hospitals in the area are shut down. Ramia ran frantically around town, looking for an open hospital and for help: unfortunately, neither could be found. Ahmed died in her arms on that very Friday.
After Ahmed's death, Ramia and her family realized that they could not remain in Syria any longer and decided to leave the country. In September 2012, the family walked from the border to the Al-Zaatari refugee camp, in Northern Jordan, but ended up staying there for only a few weeks, due to the poor living conditions in the camp. "It was a disaster there," Ramia explains. "We had to leave again."
Ramia, her husband and her children have since then settled in Mafraq, an urban area in Northern Jordan. Life is not easier: Ramia's husband is unable to work, incapacitated by a chronic health condition; her eldest son, who was arrested and severely beaten in Syria, is still suffering from the consequences of violence, as his broken bones were not properly treated. Ramia sometimes earns some money by cleaning the houses of her neighbors, but the amount is hardly enough to support her large family, who depends on cash assistance and food coupons provided by humanitarian organizations.
"I am so much more stressed now than when I was in Syria", she says. "Back then, my only concern was to take care of my children. Now I also have to earn a wage to support everyone". To better manage stress, Ramia often comes to the ICMC Protection Center in Mafraq, where she can attend focus group discussions and talk about her problems. "I feel fortunate to have found someone who wants to hear my story and comforts me. I have also suffered domestic violence, and I only found the courage to speak up about it during the focus group sessions". When she comes to the Center, Ramia brings along her eleven-year-old daughter, Huda*. "While I'm in the group discussions, she plays with volunteers and other children at the Child Friendly Space. She also seems to be happier when we come back home".
All the names were changed to protect the identity of the beneficiaries.