How ICMC Is Responding to COVID-19 in the Field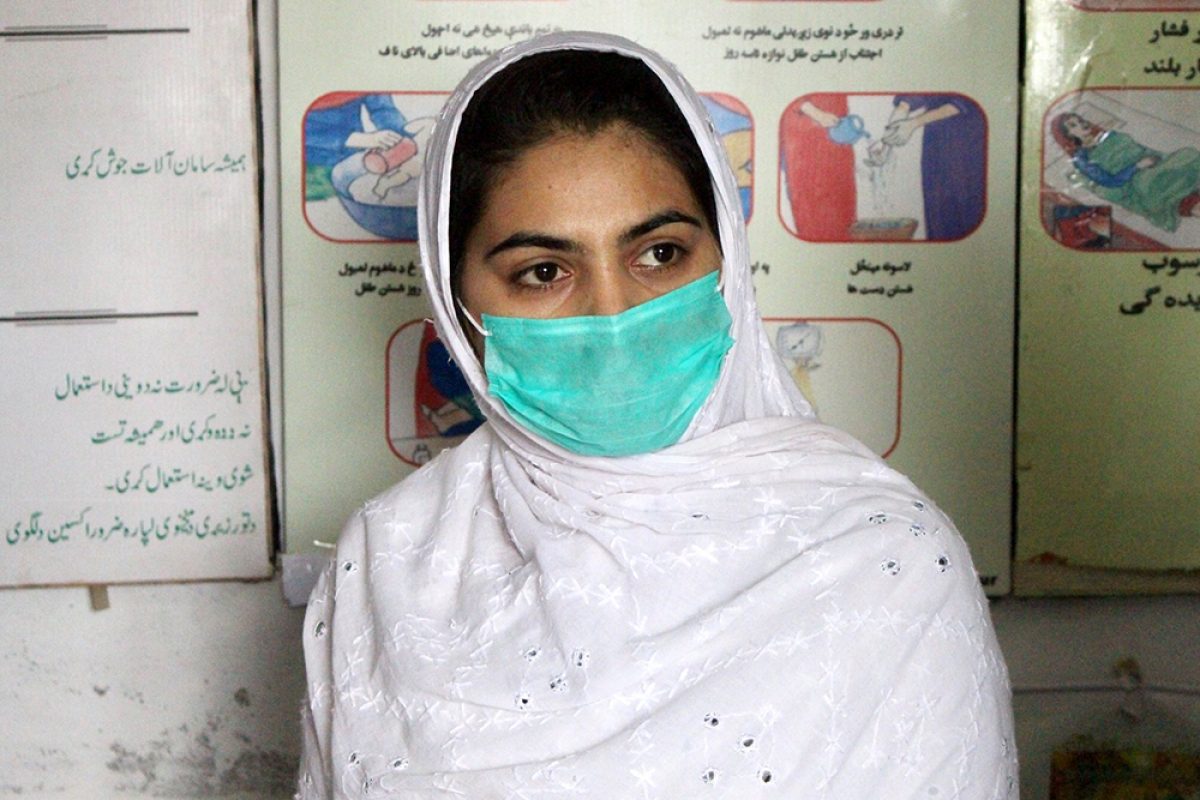 The current global health crisis is having a significant impact on economic growth, social relationships and healthcare infrastructures. Its effect on refugees, migrants, and internally displaced people is even greater. In a webinar, ICMC Secretary General Msgr. Robert J. Vitillo discussed this grave impact and explained how the International Catholic Migration Commission is addressing their particular concerns.
Eighty-four percent of the world's displaced population live in low- and middle-income countries, whose health and sanitation systems are often weak, said Msgr. Vitillo during a webinar on 23 April. Some of those countries are also dealing with other emergencies such as conflicts, abject poverty or environmental degradation.
Displaced people often live in overcrowded situations, be it in camps or urban settings. Areas with high population density are among the most affected by the new coronavirus. In many of those areas, resources for COVID-19 tests are scarce and the number of refugees and migrants who have been infected is unclear.
What is clear, however, said Msgr. Vitillo, is that, once the infection starts to rage in these places and given the unsanitary conditions in which refugees and migrants are forced to live, it will spread like wildfire.
ICMC's Response in the Field
"It is essential to ensure that refugees and migrants are afforded the same kind of assistance that is available for the general population in countries where they live," said Msgr. Vitillo. Everyone, and that includes refugees and migrants, should understand how the virus spreads so that they can try to prevent transmission. Likewise, refugees and migrants must receive the necessary medical assistance if they show symptoms of COVID-19.
Msgr. Vitillo spoke about what he defined as the "most dangerous reaction": when refugees and migrants are blamed as being responsible for the infection. This not only deprives them of assistance but also exposes them to violence and further marginalization and renders them more afraid to seek help.
ICMC staff have been making brave efforts to maintain contact with refugees and migrants, and are doing so in increasingly creative ways.
In Malaysia, ICMC's Refugee Protection Corps is working to counter the spread of COVID-19 among the Rohingya and other refugee communities through education on how to prevent transmission and recognize symptoms. Staff in the country are also developing internet-based tools to prevent domestic violence among these families and local communities.
In Pakistan, in addition to prevention education on the virus, ICMC is keeping open its medical services in camps along the border with Afghanistan. Staff are equipped with personal protection equipment, and access to the clinics is now also available for the local Pakistani population.
In Jordan, ICMC has been granted special permits to make home visits to be able to deliver cash assistance and other daily living supplies to refugees. In Greece, legal and social experts work remotely, while protection experts visit refugee camps on a rotation basis to monitor the situation – especially for unaccompanied children – while at the same time minimizing the risk to themselves.
Advocacy work does not stop either. Together with ICMC's national member Bishops' Conferences and other partners, the organization continues to advocate for policies and laws that offer health care, psycho-social and economic support to all, especially to migrants, refugees and internally displaced people. ICMC has joined other civil society organizations to call on governments to ensure continued access to asylum.
One aspect of work that has been severely affected is refugee resettlement, said Msgr. Vitillo. Although the United States and European countries have temporarily suspended arrivals, ICMC continues to conduct interviews and gather necessary documentation for resettlement applications, in collaboration with concerned governments. "We hope that governments will not use this situation as an excuse to stop refugee resettlement or other safe, orderly and regular immigration, including family reunification, on a long-term basis," said Msgr. Vitillo.
ICMC has also collaborated with many religious leaders and the World Health Organization (WHO) in developing guidance for religious leaders, faith-based organizations and communities of faith; guidance is also offered on the conduct of religious mass gatherings; these recommendations are now available online.
The Church's Response
Churches are mobilizing resources in response to the COVID-19 crisis. Msgr. Vitillo gave the example of India, where its national member, the Catholic Bishops' Conference of India and local dioceses and parishes, are assisting migrant workers who have lost their jobs as a result of the lockdown.
Since many are daily wage earners with no social protection coverage and in the absence of governmental or private support, they have no choice but to walk home, often hundreds of kilometers. "We are doing all we can just to give them something to eat," reported Sr. Kochurani Joseph, an active participant in ICMC's Asia-Pacific Working Group.
The Vatican's Migrants and Refugees Section convenes Catholic agencies and partners to regularly discuss and share experiences and good practices. ICMC is also involved in the Vatican's COVID-19 Commission, which Pope Francis has mandated to design the Catholic Church's immediate response to the pandemic and to develop recommendations for the more just and equitable world in which we hope to live after this crisis.
In his Encyclical Letter, Laudato Sì, Pope Francis urged us to examine our relationships with the world and the environment, with God and each other, Msgr. Vitillo recalled. "The worst thing we could do" after the pandemic is over, he said, "is to simply go back to what we were doing, exactly the way we were doing it before," which has made us so vulnerable to this pandemic and to so many other global crises.
Msgr. Vitillo concluded with Pope Francis' words of inspiration, during his Extraordinary Urbi et Orbi (to the city of Rome and to the world) prayer and blessing on 27 March 2020: "We have realized that we are on the same boat, all of us fragile and disoriented, but at the same time important and needed, all of us called to row together, each of us in need of comforting the other."