Photo: An internally displaced woman and her child in Dori in northern Burkina Faso. Thousands of Burkinabe have fled violent attacks on their home villages and are now sharing scarce resources with vulnerable host communities. © Sylvain Cherkaoui/UNHCR
A Catholic-Inspired Pandemic Response
As the pandemic emerged and widened, ICMC raised an international, Catholic-inspired voice regarding COVID-19's disproportionate impact on refugees, migrants, and internally displaced people, with a call for solidarity and empathic action.
In an ICMC reflection on 18 March, Secretary General Msgr. Robert J. Vitillo urged national member organizations and individual Catholics to respond to the pandemic in a spirit of mutual care. He stressed the need for actions of solidarity, namely adopting preventative health measures and supporting the more vulnerable in society — particularly uprooted people.
In early April, ICMC launched a dedicated webpage offering information about its COVID-19 response and related video resources.
On 23 April, ICMC hosted a public webinar giving an in-depth look at the disastrous effect of the pandemic on the lives of vulnerable refugee and other displaced populations, and focusing on Catholic-inspired responses. The ICMC Secretary General highlighted the need to ensure that pandemic assistance be accessible to refugees and migrants, from healthcare and social protection, to measures aimed at stopping the spread of the virus.
During the webinar, the Secretary General shared a series of actions by ICMC national members and Catholic-inspired partners to help migrants survive and to plan strategies for a more just post-pandemic world. Participants were informed about the untiring efforts of ICMC field staff to assist refugees and migrants with COVID-specific resources and to continue offering other essential services. The webinar also outlined how ICMC engaged in advocacy for inclusive pandemic responses and in facilitation of refugee resettlement despite temporary travel bans.
In 2020, ICMC worked closely with the Vatican's COVID-19 Commission, created, at Pope Francis's initiative, in March, and led by the Vatican's Dicastery for Promoting Integral Human Development. An innovative response to the pandemic's defining character, the Commission is working to build a healthier future rooted in solidarity and care for the whole human family. ICMC has been involved in analyzing the pandemic's impact on the world of work and workers, including labor migrants.
The ICMC Secretary General shared ICMC perspectives on migration and COVID-19 with different media serving Catholic audiences, including an interview with the Swiss-based Catholic news website Kath.ch in September, another with Vatican News in October, a 19 March article with Novena, and video interviews with EWTN Global Catholic Network on 26 March, 29 March, and 19 April.
We now are confronted by a time full of anxiety and fear. Let's also make it a time for empathy and solidarity; let's also be deeply sensitive to the needs of the most vulnerable, including the migrants and refugees.

ICMC Secretary General Msgr. Robert J. Vitillo, 18 March blog reflection "May the Coronavirus Crisis Open Our Eyes and Hearts"
Protection for Forcibly Displaced Persons
ICMC held a public webinar on 25 September in response to Pope Francis's call to remember internationally displaced people in a special way on the World Day of Migrants and Refugees. Panelists from Catholic Episcopal Conferences in Burkina Faso and India, and ICMC's Deployment Scheme and program in Jordan joined the ICMC Secretary General to explore the effect of displacement on families. The event aimed to engage Catholics worldwide in the Church's response to forced displacement.
To further mark the World Day of Migrants and Refugees, the Secretary General reflected on the benefits of migration in an ICMC blog post. He looked back on 40 years of refugee resettlement to the United States, life-saving protection in which ICMC and its national member organization in the country, the U.S. Conference of Catholic Bishops, continue to play a core role. The Secretary General spoke of the vital contributions that migrants make to their new communities — including as front-line and essential workers during the pandemic — and advocated for continued resettlement as a beacon of hope.
The ICMC Secretary General contributed to the development of a new resource on pastoral care for internally displaced persons, published in May by the Migrants & Refugees Section of the Vatican's Dicastery for Promoting Integral Human Development. The Pastoral Orientations on Internally Displaced People offer local churches and Catholic-inspired organizations tools to serve people uprooted within their own home country. ICMC welcomed the resource, which proposes ways for the Church to provide greater protection, promote full inclusion, and help to find durable solutions for internally displaced persons.
In September, ICMC and its national member organization in Burkina Faso launched a joint program to protect internally displaced children forced to flee violence in the North of the country. In 2020, the project began offering 80 girls and boys aged seven to 15 schooling, healthcare, and psychosocial support via a new child-friendly space in the region. ICMC and the Episcopal Commission for the Pastoral Care of Migrants and Refugees in Burkina Faso (CEPMR) also worked to provide the children's caregivers with information on positive parenting, hygiene, and children's rights, and to help them obtain vital documentation.
At an international anti-trafficking conference organized by the Federation of Asian Bishops' Conferences in January, the ICMC Secretary General outlined four root causes of human trafficking. Among the drivers of trafficking and forced unsafe migration are extreme poverty, low public awareness, a lack of vital documentation, and the commodification of people, Msgr. Vitillo told participants at the meeting in Yangon, Myanmar. He stressed the importance of knowing more about such underlying factors to better combat what is a complex problem.
We are grateful for [this] partnership with the Catholic Church. This is the welcome that Jesus asked us to give. It is with the same Gospel message that Pope Francis constantly encourages us to protect refugees, migrants, and internally displaced persons.

ICMC Secretary General Msgr. Robert J. Vitillo on the joint ICMC-CEPMR project to protect displaced children
MEMBER'S STORY
Called to Offer Protection for Refugees in Europe
In 2020, three prominent Cardinals urged the Church in Europe to come together and put the Gospel into action by opening new paths to dignity and a future for refugees living in camps in Greece.
In late January, the Archbishop of Luxembourg and President of the Bishops' Conferences of the European Community, the Co-Under-Secretary of the Vatican's Migrants and Refugees Section, and the Almoner of Papal Charities sent an appeal to the Church in this region.
The Cardinals called on the Catholic Bishops' Conferences in EU member countries to advocate with their respective governments to set up or expand life-saving humanitarian corridor programs.
Their letter highlighted Pope Francis' example of giving welcome, in 2016, to refugee families who had been living in precarious conditions in temporary reception camps in Lesvos, Greece — "in Europe but outside European society."
The Church leaders appealed to the Episcopal Conferences in Europe to respond to the "heartfelt invitation to awaken new, evangelical energies of welcome" by taking up the path of working together to offer protection to forcibly displaced people through humanitarian corridor programs.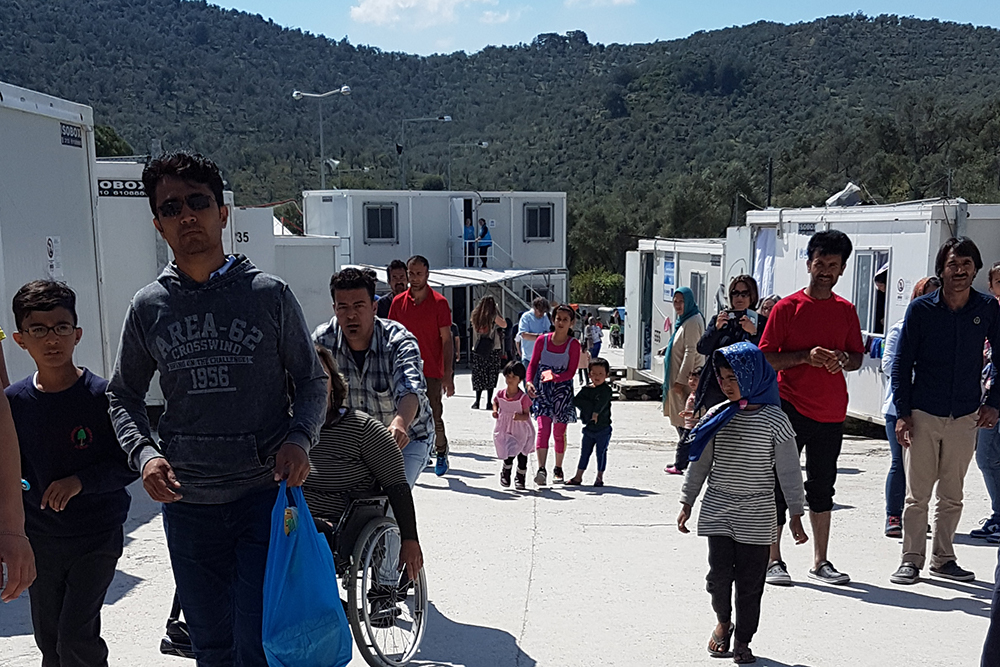 Three prominent Cardinals called on the Catholic Bishops' Conferences in EU member countries to advocate with their governments to set up or expand humanitarian corridors to welcome refugees living in overcrowded Greek island camps. Photo: Residents of Moria camp, Greece, May 2019. © Tanja Zwack/ICMC
With their appeal, the Cardinals included guidelines from the Community of Sant'Egidio that outline a seven-step process for the Episcopal Conferences to work, with both the Greek government and their respective national governments, to establish humanitarian corridors. Such programs offer safe and regular admission pathways that complement traditional resettlement programs led by governments.
Since February 2016, the Community of Sant'Edigio has worked with governments and different faith-based partners, including the Episcopal Conferences in Italy and France, to welcome over 3,500 vulnerable refugees — originally from Iraq and Syria and living in Libya, Ethiopia, and Greece — through humanitarian corridor programs in European countries, particularly Belgium, France, and Italy.
In Italy, this has taken the form of a humanitarian corridors pilot project launched in 2015 that has enabled the safe entry of over 2,200 highly vulnerable refugees living in Lebanon and Ethiopia.
In France, since 2017, Sant'Edigio has partnered with the Episcopal Conference, Caritas France, and other faith-based organizations to set up a humanitarian corridor that has given a chance for a new life to more than 500 Syrian refugees living in Lebanon.