Back to School: Syrian Refugees Have a Chance at an Education Through ICMC's Child Friendly Space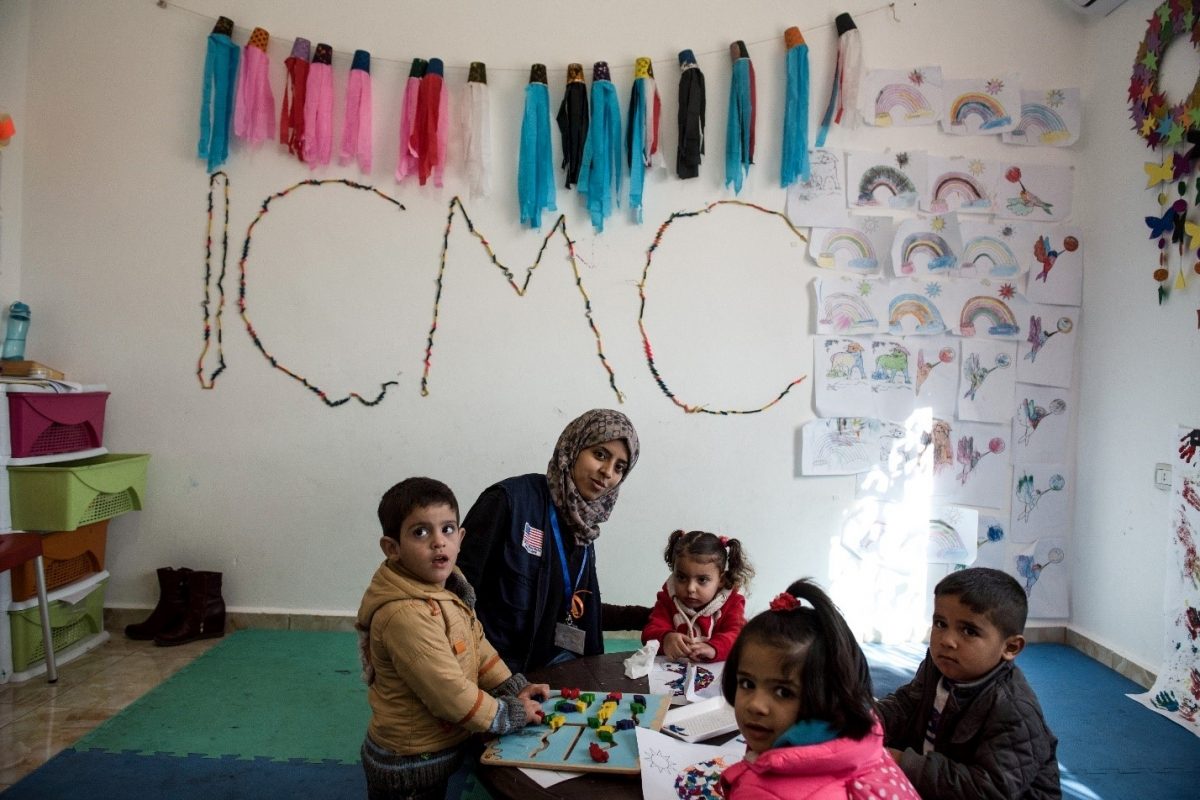 The sound of cutting paper, squishing paint and dropping pencils accompanies the laughter, singing and clapping of hands that echo through ICMC's Child Friendly Space. Eleven-year-old Zaid*'s voice can be heard above the buzz. "I'm going to give my story to my mum," he says.
The walls of the Child Friendly Space are adorned with handmade paper-chains and butterflies. The ICMC logo, which has been lovingly crafted out of pasta, hangs above the play area. The room looks welcoming and friendly. In Mafraq, ICMC found that, in many cases, refugee children had little to satisfy their recreational needs. The lack of physical or intellectual activities can have significant detrimental effects on the wellbeing of the children. ICMC also knew that the provision of appropriate psychosocial, educational and recreational opportunities to refugee children can be a key factor in the development of their skills and capacities; it can encourage them to thrive, rather than merely survive.
Social workers in the Child Friendly Space play an extremely important role in promoting the development of the children through learning and growing socially. For example, the staff are proud of how far one refugee child, Zaid, has come since his first session. "When he first joined, Zaid was more aggressive, withdrawn and un-cooperative," says Safa, one of ICMC's Syrian social workers.
Now, there has been a significant change in Zaid's behavior. "He is more interested and engaged, is quieter and listens to instructions, and is more disciplined and cooperative with the other children around. Yes, Zaid is very different from when he first joined," Safa notes with approval.
In fact, 98% of parents whose children attend the space's activities report improved behavior of their children and increased social engagement. Just a few weeks at the space is usually enough time for ICMC social workers and counsellors to see positive changes in children. Through the provision of a safe space and participation in psychosocial and educational activities, children are exposed to new situations, and experience a positive way of interacting with the people around them, which helps them strengthen their relationships with others. They are encouraged to express themselves in healthy ways and regain a sense of control over their lives, which in turn, positively impacts their confidence and self-esteem. Since September 2016, ICMC's activities have supported nearly 3,000 children, 89% of whom were Syrian refugees. This program is funded by the United States Bureau of Population, Refugees, and Migration.
"If there is any hope for the future generation," says Safa "We must work to create a suitable environment for our children to make them strong and successful… A generation capable of building our country."
Zaid's parents describe feelings of optimism and hope, when asked about the impact of the program on their son's life: "I would love for my children to complete their education to be the best that they can be. I want them to be in an environment where they feel safe."
However, the parents of Zaid and of many other children in Mafraq are struggling with their own financial concerns and have felt frustrated with lack of educational opportunities for refugee children in Jordan. Zaid attended school in Syria and wishes to continue now that he lives in Mafraq. Despite efforts to increase capacity by doubling school shifts, the education system in Jordan has been under much strain as a result of the large number of Syrian refugee children who have arrived in the country. Like many other Syrian children, Zaid is currently not enrolled in formal education.
To lessen the financial barriers to education that refugees face, ICMC will be distributing an additional 400 'Educational Recreational Kits' in August, of which Zaid and his friends will be happy recipients. With the kits providing the educational guidance, and the Child Friendly Space providing the emotional support, children like Zaid are encouraged and motivated to work towards their goal of returning to school.
"I am so happy to be here," Zaid expressed, "The staff make me feel excited about my future again." Safa and the other social workers support Zaid to improve academically, with the hope of getting him back to school. "We work on his reading and writing skills together so that he can return to school. We have set goals together and he is committed to them."
Surrounded by a supportive community and a loving environment, refugee children in Mafraq are given the opportunity to thrive in the present and reach out to the future.
*Beneficiaries' names have been changed to protect their identities.